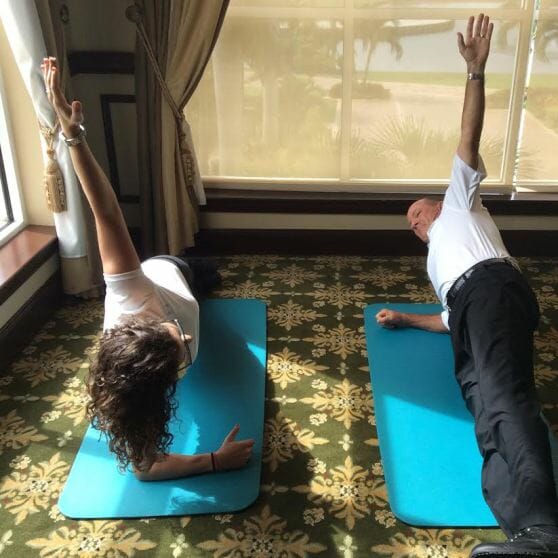 On Tuesday, September 15, 2015, Wycliffe Golf & Country Club held its Annual "Wycliffe Wellness Extravaganza." We created this event to educate our employees on the benefits of keeping healthy habits. Some of the vendors that donated their time included: Humana Health Care, Trader Joe's, Costco, Aflac, T-Mobile, Walgreen's, Wells Fargo and Smoothie King. Among our Vendor's were various booths created by every Department at Wycliffe. Each booth had a certain theme as well as fun and exciting health themed games for everyone to enjoy, such as golf and tennis ball tosses and a fitness fun area where employees could work with our Trainers on different tasks. We even had "brain games" to play from our clever Accounting department.
Along with our Wellness Extravaganza, was an awards ceremony torecognize the efforts of our incredible employees. It was hosted by Director of Human Resources, Beth Sandham and General Manager/COO, Darrell Wilde and included all Wycliffe Employees. "It's very important to us to show our employees just how much their hard work and dedication means. They help keep our members happy and healthy constantly and that is huge in this business" said Wilde. Wycliffe Board of Directors Vice President Murray Palent also stated "They say Disney is the happiest place on earth, they got it wrong, WycliffeGolf & Country Club is. We would not be where we are without our dedicated employees giving their all each day. They are family in many ways."
This past August, Wycliffe was named one ofAmerica's Healthiest Club's. That means we are recognized for our healthy dining options, fitness programs and our continuous education on living a healthy and active lifestyle for both members and employees. This is an honor we are all
extremely proud to receive and will continue to promote healthy habits to all at Wycliffe Golf & Country Club.
Click here to learn more about what makes Wycliffe Golf & Country Club the premiere private residential community in South Florida.
Request More Information from: