Wycliffe Raises Money For Local Charities With Marathon Golf Event
Wycliffe Golf & Country Club hosted "Fore the Community" Marathon Golf Event for the Seminole Region of the Florida Chapter of the Club Manager's Association of America (CMAA) The event benefited the Special Olympics of Palm Beach County, SOS Children's Services of Florida and Marine Toys for Tots Florida. The goal is to play as many holes as possible from sun-up to sun-down.
What made this event special was being joined by Richard Fleming, Director of Special Olympics of Palm Beach County, FL and Jonathan Doring, Special Olympics Gold Medalist. We had other participants which included: Shannon Wheeler, Wycliffe's Director of Golf Course Maintenance, Paul Rifenberg and Robb Heering Jr., Wycliffe's Assistant Golf Professionals as well as Krista Martinelli and Tosca Casinelli from AroundWellington.com In total, there was 45 holes played before the day ended. Going for the player with the most holes, Wycliffe's Food & Beverage Director, Richard Chase, who played an incredible 217 holes, starting at Mirasol Country Club and ending at Wycliffe.
Besides Wycliffe Golf & Country Club participating in this event, other clubs such as Harbour Ridge and Addison Reserve came together to play and donate to these incredible charities. Our story was also graciously covered by Stephen Waters of the Sun-Sentinel.
"The Special Olympics of Palm Beach County is honored and very proud to be a part of this wonderful charity event. All monies raised do not just help fund our organization, but it also helps us create specific programs dedicated to helping children and adults with special needs. It's incredible how everyone comes together to help those who need it the most. "Richard Fleming, Director, Palm Beach County Special Olympics.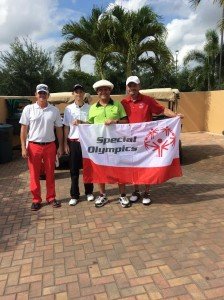 Since this event began a few years back, it's been incredibly successful thanks to the support of the CMAA, the charities involved and of course, the support of Wycliffe members and other organizations throughout Palm Beach County. There really is no greater feeling than to give back to those who need it the most in your community. We are very proud to say that we've risen over $9,000; with more donations coming.
About Wycliffe Golf & Country Club:
Wycliffe Golf & Country Club is a private golf community real estate property that offers luxury living for its club members. Located in Wellington, FL, the gated community boasts lush landscapes that host impressive homes, two 18-hole golf courses, 16 Har-Tru tennis courts, numerous activities and clubs, an expansive clubhouse with two dining venues and more. For more information, please visit http://www.wycliffecc.com or contact Wycliffe's exclusive on-site realtor, Jim Wagner at 561-868-4557.
Request More Information from: