Wilmington to Myrtle Beach Communities and Venture Out!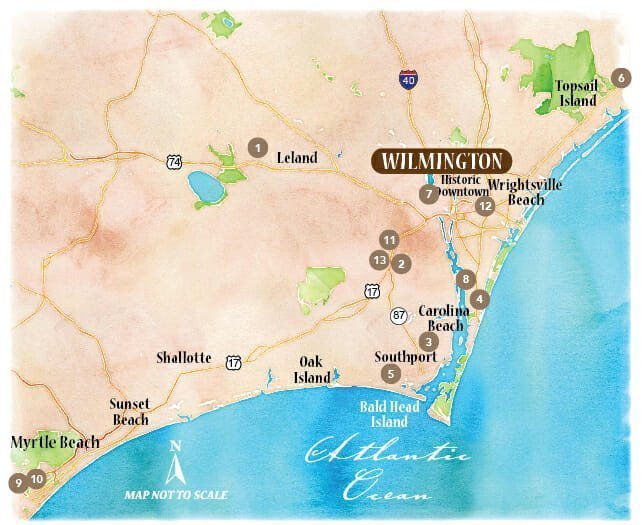 Wilmington, North Carolina, recently named North Carolina's most popular city, is the queen of spring. In late March and early April, after thawing from the few winter days that dip below 40, which inevitably sends locals hunting for wool sweaters and puffer jackets, the city comes alive in both official and unofficial celebration. Starting late March, spring-blooming Camellia Japonicas hang heavy and full, flopping shades of pink, coral, and red from their extended branches next to beach cottages and historic downtown homes. And, azaleas are spring's fireworks, speckling nearly every landscape just in time for the world-renowned Azalea Festival in April. If you've never been one of 60,000+ Azalea Fest attendees, you'll definitely want to venture to Wilmington to discover it, and if you've been, then you'll likely be back.
Greenfield Lake, Wilmington's bite-sized 'central park,' is home of the annual Azalea Festival ribbon cutting, and is an electrified Monet painting in early spring, filled with nearly every color in nature's palette. From March on, Wilmington-area beaches – Wrightsville, Carolina, and Kure – are covered with little ones braving the water, brightly-colored beach chairs, and a summer-like attendance on good days. Downtown streets are full of energy with people buzzing in and out of shops on sunny days, strolling along the riverfront, or enjoying lunch on patios.
SUP (stand up paddleboard) enthusiasts and surfers of all ages dot the coast and waterways year-round, and bikers, runners, and outdoor lovers are always on the scene. On the coast, though, there's always time for putting your feet up in the hammock, swing, or Adirondack chair of your choice in between workouts or for no reason at all.
No matter the time of year, you'll find plenty of gorgeous days in North Carolina's most popular city. Whether you want to soak up the sun in retirement or jump into an active lifestyle community, there's a place for everyone in and around Wilmington.
Choose communities that you are interested in visiting:
Request Information or Schedule a Discovery Tour for
your selected properties