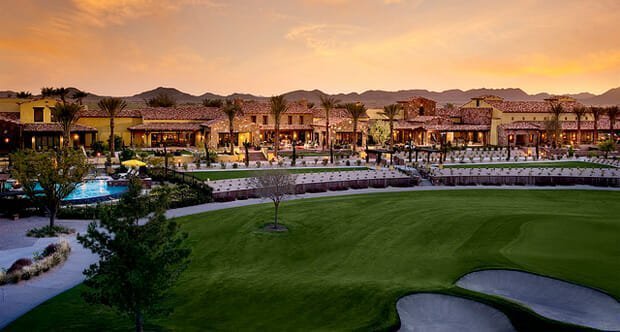 A DAY IN YOUR LIFE AT ENCANTERRA®
"Live The Good Life at Encanterra." You'll hear that phrase as you meet with our Community Representatives, and you'll see it in our email communications and brochures. But what does "The Good Life" really mean?
At Encanterra, it means having an incredible array of options available to you each and every day, to be as social and active – or as relaxed and peaceful – as you want to be. You'll make each day your own – so let's explore some of the options for your "busier" days…
…starting with The Good Life Festival at Encanterra , since it features "The Good Life" in its name. Through this twice-a-year concert series, we've had the honor of hosting world class artists including Huey Lewis & The News, The Beach Boys, For
eigner, Three Dog Night, Kenny G, Chicago, Rick Springfield, Pat Benatar, and many, many more – right here within the gates of the community, converting our golf course practice facility to a beautiful outdoor venue. The scene is incredible, as our Members walk over from their homes, bringing friends and family to enjoy a full day of browsing the Vendor Village, tasting great wines and craft beers, and dancing the night away to the music of some of the most legendary bands and artists of the last 30 years.
And as for your day to day life at Encanterra…
Imagine waking up to breathtaking views of the Superstition Mountains, and then walking to the Mossa Fitness Center for your morning yoga class or weight training session, or perhaps a game of tennis or pickleball. After the workout, make your way outside to the Solaz pool to cool off and enjoy a beverage at the swim up bar, or walk through the exquisite 60,000 square foot La Casa resort club to meet friends for coffee and a pastry at Explorations Cafe . If you time it right, you might catch the morning "Coffee Talk" session with the Club A
ctivity Director, Sara, where you'll hear the latest community news and updates on upcoming events.
Of course, the morning may also be the perfect time for you to put a tee in the ground and enjoy your spectacular 18-hole private golf course. With stunning scenery and great playability, Encanterra Country Club offers a fantastic experience for golfers of all skill levels. If the golf round carries you through to lunch, head in to Apps and Apres for a delicious lunch on the patio and watch the groups behind you make their approach shots to #18 with the Superstition Mountains as a backdrop.
The afternoon might call for a Couples Massage or a Mani/Pedi sessi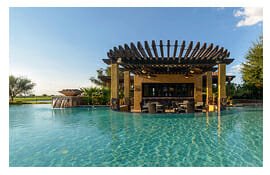 on at our luxurious Alvea Spa at Encanterra, a 5-star experience in a relaxing and soothing setting. Choose from indoor or outdoor (private) massage rooms, and let our spa staff spoil you with skin and body treatments that rejuvenate and restore your spirit.
Relax at home for the evening, or get out and meet up with your fellow Encanterra Members for a delicious dinner prepared by the exceptional chefs at Bistro 1528, in La Casa resort club. Our Executive Chef, Brandon, meticulously crafts meals and wine pairings each evening, and there's a wonderful ambiance in the restaurant as Members and guests enjoy the fabulous cuisine and great company.
Ready to head into town for a baseball game, theater performance, or arts festival? It's as simple as visiting your Concierge in La Casa, who will be happy to assist with your arrangements, or present suggestions for things to do and see this week.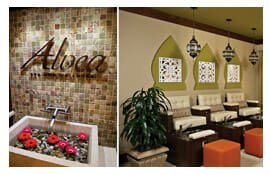 "The Good Life at Encanterra" means living a truly 5-star resort lifestyle – one that you might expect from a vacation destination – and having options for great health, great food and drink, great entertainment, and the great company of your neighbors, each and every day. View our Photo Gallery to see our gorgeous resort community and its amenities.
Call your Community Representative today to find out how you can start living The Good Life at Encanterra!
Live The Good Life at Encanterra Country Club™
The ultimate in affordable luxury in a completely private setting. This spectacular resort golf community is located in the desirable Southeast Valley, less than an hour from downtown Phoenix and Scottsdale. All Members enjoy the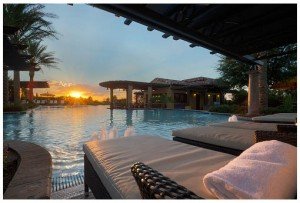 luxurious club and unique amenities as well as championship golf on a private course. Affordably luxurious new home designs from the high $100s. Learn more!
Discover The Trilogy® Difference.
Over 1,500 people have made the move to Trilogy® in the last year alone. Why do people love Trilogy Active Lifestyle Communities so much? There are thousands of reasons, from the stunning Clubs and enriching amenities to innovations like Shea3D™, to the vibrant people who live in each one of our locations. We invite you to explore all there is to life in a Trilogy by Shea Homes community and see why we're different inside and out.
Trilogy. Built to bring people together. Designed to stand apart.
Request More Information from: