Take the next step finding your new life
There comes a time in your search when you've collected all the information you can and have narrowed your choices to a select few destinations for relocation and retirement. You may already feel familiar with the communities you have chosen, but with a Venture Out Discovery Tour – you can take it one step farther. Communities offer Discovery Tours to introduce you to the lifestyles offered.
Looking for that perfect sunset at the beach or lake? Looking for that quiet mountain trail or the perfect golf course? Seeing a community first-hand gives you the chance to experience what is most appealing to you. Whether you imagine walking along nature trails, kayaking, biking, sailing, golfing, shopping and dining, a Venture Out Tour will assist you in capturing the feeling of the community.
We encourage you to choose an area, take advantage of several discounted discovery getaway packages, and begin to take the next steps in finding your ideal life.
Begin Your Search by Location:
Utah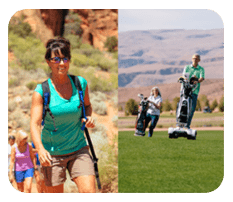 SunRiver St. George
After years of routine, schedule and structure, it's finally time to punch out. With an 18-hole championship golf course and over 50 clubs and groups, SunRiver is the perfect place to call home. Come rediscover retirement at SunRiver St. George with a $99 two-night Discovery Villa Stay.

Book Your Venture Out Package Here!
Go back to the Venture Out Home Page
*All Venture Out Discovery Travel is subject to availability and may be changed at any time.