Virginia Ultimate Excursions
WILLIAMSBURG
A Revolutionary Living 
History Museum
ColonialWilliamsburg.com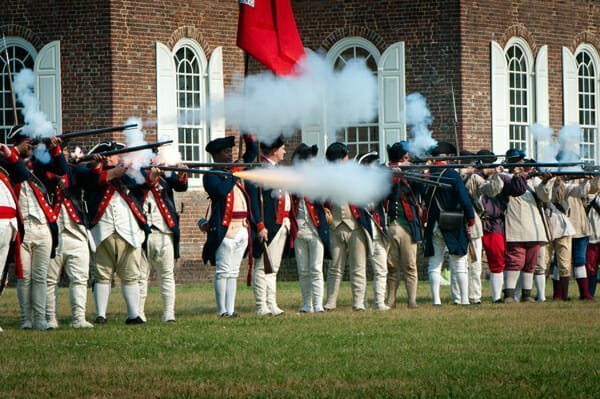 Step back in time and visit the revolutionary city of colonial Williamsburg. Featuring hundreds of restored, reconstructed, and historically furnished buildings, Williamsburg was once the 18th century capital of Britain's largest outpost in the New World.
You'll be captivated by costumed 
interpreters who tell the stories of Williamsburg's diverse people and how they made the life-altering choice between remaining loyal to the British king or fighting for an independent nation. History comes alive when you explore the challenges of daily life set against the backdrop of revolution.
Discover the beauty of Williamsburg by touring 18th century gardens, the George Wythe house, and the Governor's Palace. Enjoy the unique experience of seeing the historic district by taking a horse-drawn carriage ride.
You'll view stunning colonial art at the DeWitt Wallace Decorative Arts Museum and the Abby Aldrich Rockefeller Folk Art Museum. You'll see distinctive collections of American and British antiques and decorative art from the 17th, 18th, and 19th centuries, as well as colonial and contemporary folk art.
If you're craving crab cakes, shrimp, fish, or scallops, head for Christiana Campbell's Tavern, known for being George Washington's favorite place for seafood. Opened in 1772, the King's Arms Tavern became one of the town's most genteel establishments and remains so today with its fine furnishings, gracious service, and musical entertainment.
One-of-a-kind shops make it easy to bring a bit of Williamsburg home with you. At The Museum Gift Shop you'll find jewelry, handmade pottery, glassware, and framed prints. The Golden Ball silversmiths offer reproductions of precious gemstone rings, earrings, and pendants.
Williamsburg is a remarkable city that will leave you feeling inspired by the courage and patriotism of ordinary people who dreamed of freedom and shaped our country's future.
Join in the celebration of the James River at the 4th annual James Riverfest held at the Eco Discovery Park in Williamsburg. There are engaging hands-on activities for the whole family designed to increase environmental awareness and stewardship of the community. Enjoy free kayaking paddles, boat tours, SUP demos, kids' activities, handmade crafts, art vendors, a scavenger hunt, bike rides, and live music.
Swirling, Sipping, and 
Rocking Out
April 16
 | W
illiamsburg Music and Wine
 | WilliamsburgMusicAndWine
Festival.com
Wine will be flowing and music filling the air when the wine and music festival takes place in 
Colonial Williamsburg. With more than 250 wineries dotting the 
Virginia landscape, this festival 
offers wine lovers a chance to savor the flavors of an exquisite variety of vintages from eight Virginia wineries. But that's just the beginning. Live music from the Pat 
Russell Band, Julius Pittman and the Revival, and Typecast will complement your day of wine tasting, along with delicious food.
Come Out for a Day of River Fun
April 30
 | James Riverfest
 | James Riverfest
Join in the celebration of the James River at the 4th annual James Riverfest held at the Eco Discovery Park in Williamsburg. There are engaging hands-on activities for the whole family designed to increase environmental awareness and stewardship of the community. Enjoy free kayaking paddles, boat tours, SUP demos, kids' activities, handmade crafts, art vendors, a scavenger hunt, bike rides, and live music.
Great Beer, Great Time
May 1
 | Mariners' Craft Beer Festival
, Newport News, VA | 
MarinersMuseum.org
In Newport News, a short drive from Williamsburg, beer lovers can enjoy more than 50 craft beers at the wildly successful Mariners' Craft Beer Festival. The Mariners' Museum Park provides a beautiful and unique setting for this epic beer tasting event. Tickets include 20 four-ounce craft beer tastings, a souvenir tasting glass, and live music by Hey! Hey! Hooligan, and the Esoteric Ramblers. Food trucks provide great food and you can vote for your favorite unfiltered ale in the Brewery Cask-Off. Your inner beer geek will want to listen to the beer talks given by brewery representatives throughout the day.
Delight All of Your Senses
May 7 
| Yorktown's Annual 
Blues, Brews & BBQ Festival
 | VillageEvents.org
Come to historic Yorktown for a fabulous festival on the river featuring down-home blues, incredible microbrews, and amazing BBQ. While you enjoy unlimited two-ounce samplings of 15 microbrews, take in the soulful blues and fusion rock of three outstanding bands: Anthony and the Conqueroos, Brian C Band, and The Planet Full of Blues. Check out artisan booths and mouthwatering barbeque from food vendors like Smokin' Joes BBQ and Jerry's Backyard BBQ. This festival is sure to light up your taste buds!
Charming, Historic Garden
April 23
 | Mary Washington House Garden Open House | WashingtonHeritageMuseums.org
In 1772, George Washington purchased a house in Fredericksburg for his mother, Mary Ball Washington. You can tour the house and see Mary Washington's "best dressing glass," and the original 18th century kitchen. To celebrate the beginning of Garden Week in Virginia, visitors can enjoy a free garden tour with a Washington Heritage Museums' gardener on hand to discuss Mrs. Washington's beautiful garden. After the tour, you'll want to visit the gift shop, which features a lovely collection of gifts to celebrate tea drinking, gardening, and 18th century decorative arts.
Gamers Relive History
July 14-17
 | Historicon
 | hmgs.site-ym.com
Sponsored by the Historical Miniatures Gaming Society, Historicon is the largest gaming convention in North America devoted to historical miniature wargaming.
Thousands of people come to recreate military battles from across history, or to create games from the worlds of Sci-Fi and Fantasy. If you're a gamer or military history buff, you'll love the tournaments, seminars, and Hobby University with painting classes and special events. This year's theme is Calvary: mounted warfare through the ages. Put your game face on!
BAY CREEK
Bay Creek | Cape Charles, Virginia
May 20-22 | Bay Creek in Bloom | BayCreek.net
Experience the community's annual weekend-long celebration of spring blossoms for residents and guests. Events include a Friday evening welcome reception, a morning "Toast to the Roses," and a Saturday night Garden Party. Participate in Bay Creek lifestyle activities like kayaking, paddle boarding, and golf or enjoy a special preview tour of the ideal-Living Homes at Bay Creek.
VIRGINIA HERITAGE
Virginia Heritage at Lee's Parke | Fredericksburg, VA
June 4 | Hawaiian Luau | LennarVirginiaHeritage.com
This is the event of the year for this 55 and better community's residents and guests! Annually held on the first Saturday in June to kick off the outdoor pool season, the event is organized by the Virginia Heritage Lifestyle Committee. Featuring live music, delicious food and authentic Hawaiian Hula and Fire Dancers, you're invited to wear your favorite flowery shirt and hula skirt if you dare.
---
Request Information from These Virginia Communities
Your Information Request for your selected properties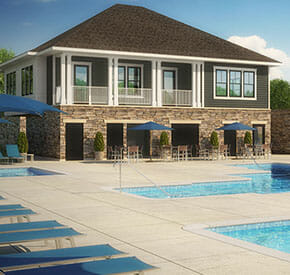 The Retreat at Poland Hill
Chantilly, Virginia
The Retreat at Poland Hill is centrally located in Loudoun County just off Route 50 in Chantilly, VA. This new neighborhood offers single family homes and villas for active adults 55 and older. At The Retreat at Poland Hill you will have quick access to dining, shopping and entertainment, as well as the convenience of living close to family, where you can spend more time with those that matter most!
Read More...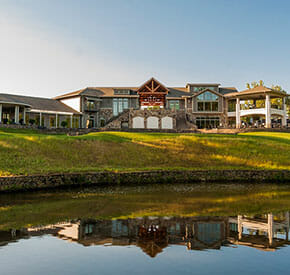 Spring Creek Golf Community
Zion Crossroads, Virginia
Nestled among the rolling hills of northern Virginia, Spring Creek is a gated golf community with easy access to both Charlottesville and Richmond. Whether your priorities are privacy and security, amenities and activities, or great homes at a great price, Spring Creek has everything you are looking for and more!
Read More...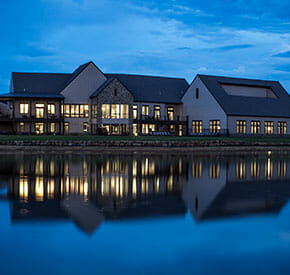 Birchwood at Brambleton in Northern Virginia
Brambleton, Virginia
Life Refreshes at 55! Birchwood at Brambleton is the freshest, youngest feeling 55+ community in Northern Virginia. In fact, it is outright fun - tailor-made for people who never learned how to act their age and perfectly located for keeping connected.
Read More...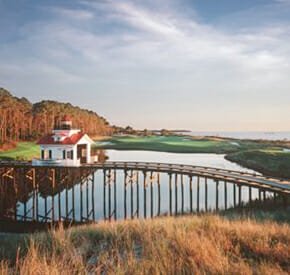 Bay Creek - Virginia Gated Communities
Cape Charles, Virginia
On the eastern shore of Virginia, life still moves to the rhythms of nature. At Bay Creek, the pristine beauty of nature is visible from the shores of the Chesapeake Bay to the winding waters of Plantation Creek.
Read More...
The Governors Land at Two Rivers
Williamsburg, Virginia
Celebrating 25 years of distinctive living, you'll find that The Governors Land at Two Rivers offers an active lifestyle for all ages since our diverse community is one-third families with children, one-third working couples and one-third retirees.
Read More...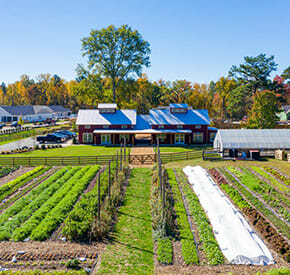 Chickahominy Falls
Glen Allen, Virginia
Situated on 180 acres hugging the Chickahominy River, Chickahominy Falls is redefining 55+ communities through a commitment to healthy living and special amenities that balance play with purpose. At the heart of the community is Woodside Farms, a 10-acre, four-season farm that will produce a curated mix of fruits, vegetables, herbs, and flowers selected for their health and wellness benefits for active adults.
Read More...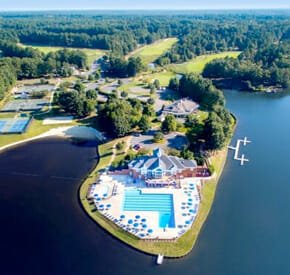 Fawn Lake
Spotsylvania, Virginia
Spanning over 2,350 acres of gently rolling countryside just nine miles west of the historic city of Fredericksburg VA,
Fawn Lake
offers the unique opportunity to live in the relaxed resort atmosphere of a gated community and carefully preserved trees with a 288-acre deepwater lake with over seven miles of shoreline plus and an Arnold Palmer...
Read More...