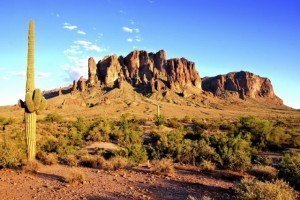 In Phoenix's Northwest Valley, you can find Trilogy at Vistancia, named "America's Best Master Planned Community" in 2005. Among the foothills of Peoria, Arizona, is a place where most people can only dream of living. Surround by the serene Sonoran desert against the backdrop of dramatic mountains, the life at Trilogy at Vistancia is as varied as the geography encompassing it.
At Trilogy at Vistancia, you can indulge and relax, or you can get up and enjoy. There's plenty to discover within the community and without, from the 35,000+ square-foot Kiva Club, an athletic and wellness center with lavish accommodations, to the exciting activities of Phoenix proper and its surrounding area.
Amenities at Trilogy at Vistancia include the luxurious Kiva Club, but don't stop there. There is also the championship golf course, which was awarded Golf Digest's five-star rating. The athletic club at Kiva has everything from cardio and weight training equipment to personal training and an aerobics studio. There is also a full service spa, tennis center, outdoor resort pool and indoor lap pool, along with two eating venues, a Center for Higher Learning computer lounge, and a creative room for arts and crafts activities.
In addition to the glamour of the Kiva Club, there are also many member clubs that residents can join to improve upon or highlight skills as different as photography and poker. There is a book club, art club, and bicycle club, as well as chess and cigar clubs. There are even sportier clubs, such as softball, tennis, and pickleball clubs.
Outside of Vistancia and its large, new homes, you can take a quick venture to Phoenix, where there is plenty to do and see. From the Phoenix Zoo, a great place to go with your kids or grandkids, to the sports teams like the Phoenix Suns or Arizona Diamondbacks, there is plenty to experience in and around Phoenix. There's the world-renowned Native American Heard Museum, the most expansive showcase of Native American Art and Culture in the United States, or the Desert Botanical Garden, located in Papago Park with its winding trails.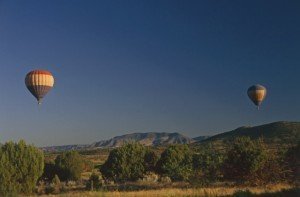 If you're not a city person, you can always explore the surrounding mountain landscape by going hiking, mountain biking, horseback riding, or even driving a scenic route. There are also lots of private places to rent hot air balloons and view the scenery from the air.
So have you decided to make that big change yet? Have you decided that Trilogy at Vistancia and being tucked among the Peoria foothills is right for you?
Think of it this way: After traveling the greater-Phoenix area, you'll be just as excited to return to Trilogy at Vistancia. There are plenty more adventures to be had here and plenty more ways to indulge in the small and large luxuries this place offers. So, sit back and relax or jump up and go. There's no wrong way to indulge yourself.
Request More Information from: