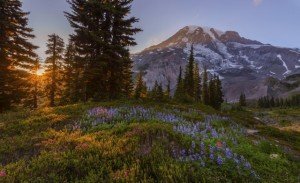 In the vividly colored world of Washington State lies the active lifestyle community of Trilogy at Tehaleh. The new Pacific Northwest retirement community calls for guests to retire from working, but not to retire from exploring. The master-planned community designed by the Shea Homes and Trilogy collection provides their homeowners with an outstanding lifestyle which invites all over fifty-five years of age to center their days on freedom, wellness, and connection—inviting all that have a zest for life.
The ideal location of Trilogy at Tehaleh makes sure to provide adventure within a stone's throw in any direction: situated just northwest of Mount Rainier National Park and just 39 miles southeast of downtown Seattle, Washington, which hosts a range of cosmopolitan and cultural amenities. This placement means that shops, restaurants, and thousands of acres of Cascade Range parklands are all an easy distance away. For the fishermen and women, Tehaleh is about 20 minutes south of Lake Tapps, a reservoir offering boat access and fishing for smallmouth bass, perch, carp and tiger musky. The backdrop of protected forest reserves, under the ever-looming presence of Mount Rainer, makes Trilogy at Tehaleh picturesque and exciting.
Trilogy boasts that while sitting back and relaxing is comfortable in their community, the location makes the call of Washington too strong to want to remain still for long. There is too much to discover in this hidden gem of Washington State: saturated blue skies; green, rolling hills; glorious, snow-peaked mountains are all waiting.
With more than 1,000 acres of open space, the Tehaleh master plan allows for room to enjoy the extensive network of recreational trails throughout the community and easy access to hiking, biking, bird watching and backpacking. Tehaleh's initial 7.5-mile trail system even connects to more than 300 miles of public trails in nearby Mount Rainier National Park.
Homes here range from 1, 450 ft. to 2,250 ft. and are priced anywhere from the high 200s to the 600s—offering two and three-bedroom single-family homes. These houses span the 4,200 acres of elevated forest land on which Trilogy is situated, allowing homeowners to take advantage of all the village center, parks, trails and forest conservation areas throughout the community.
The goal of Trilogy at Tehaleh is to create a unique environment that honors and inspires its patrons—kicking out stagnation and monotony. It seeks to change the homeowner's life through vibrant living and focus on health. For a retirement lifestyle that is anything but dull, Trilogy at Tehaleh is the perfect place to explore.
Request More Information from: