The Temazcal Experience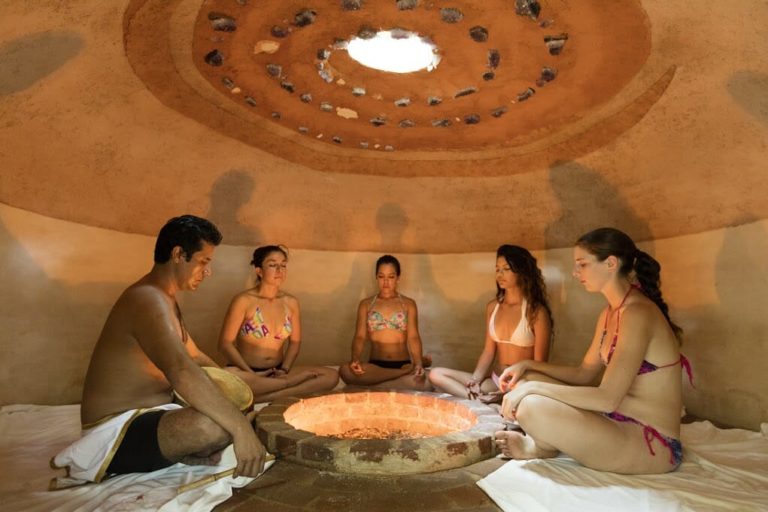 Part of the ancient Mayan experience is alive and well at the TAO Wellness Community near Akumal on the coast. The Wellness Center is a sanctuary for health, relaxation, and a soothing of the body, mind, and spirit in a community that stresses fitness and living well. The facility includes a fully equipped gym, a yoga classroom, a salt-water lap pool, an infinity pool, massage and spa rooms, an elixir bar, meditation areas, a steam room, and a store filled with health-supporting gifts. All of this, plus the Temazcal Mayan ritual experience, gives the seeker of a healthy lifestyle a full plate of options. But the Temazcal ritual is one you will rarely find anywhere else and is an event not to be missed.
Efran, an authentic Mayan shaman, holds court over the traditional Temazcal ceremony, which is akin to that of a more conventional hot room, or similar to a North American Indian sweat lodge. The ceremony is meant to purify and re-energize the body and usually has a lasting influence. Offered at dusk, the treatment weaves together ancient traditions, chants, and meditation. The recipient is given a piece of Copal (a tree resin that is lit and burned like incense) and then asked to pray in his or her own version of religion. On entering the sweat lodge, a participant finds a mound of red-hot stones until the door closes and the room becomes pitch-black. The shaman chants and adds water to the rocks, which makes the room extremely hot and humid. The session often lasts up to two hours as the shaman chants and adds water to the rocks creating intense heat. The experience gives an almost ethereal sensation of floating in a timeless ocean of darkness, sound, and aromatic mist. Many who have gone through this ancient Mayan tradition have remarked that they left the Temazcal feeling relaxed, lighter in spirit, and emotionally cleansed. Remarkably, the physical challenge of intense heat seems to overcome many obstacles a person faces and stimulates a healthy state of mind in those who participate.
Previously published in the 2016 Spring Issue.


Your Information Request for your selected properties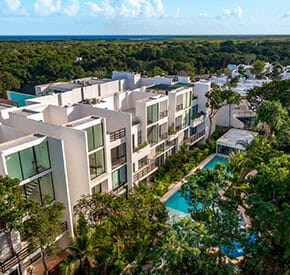 Anah Tulum Bahia Principe Resort Community
Akumal, Quintana Roo, Mexico
Anah Tulum Bahia Principe is a beautiful resort-style gated community sitting on 4.94 acres of Mayan jungle. It is an oasis where you can enjoy the Resort Living at its best since it is located within the Bahia Principe Hotel & Residential Complex. It offers exclusivity and security in a luxurious and elegant atmosphere.
Read More...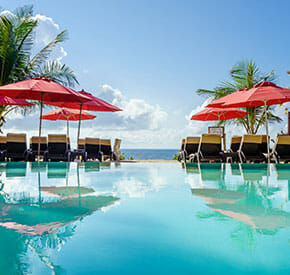 TAO Mexico
Akumal, Q.R., Mexico
TAO Mexico is one of the premier developers of real estate in the Riviera Maya, with more than 15 residential communities located in Tulum, Playa del Carmen, Akumal, and more. TAO embodies a philosophy of love and care in every community.
Read More...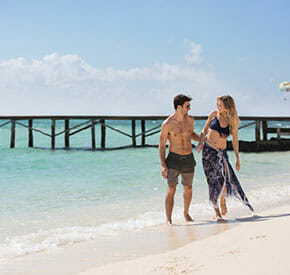 The Fives Hotel & Private Residences
Playa del Carmen, Quintana Roo, Mexico
The Fives Hotel & Private Residences is comprised of residences, suites and penthouses surrounded by numerous pools, a protected natural area with a cenote, a tennis court, restaurants, a spa, a beach club, a kids club, and other installations. Experience Playa del Carmen's exclusivity enjoy the amazing beaches of the Riviera Maya!
Read More...
Montejo Plaza
Merida, Yucatan, Mexico
Montejo Plaza is located in Merida, the safest city in Mexico, Its surrounded by lush vegetation, cenotes, and first-world facilities and attractions nearby.
Read More...