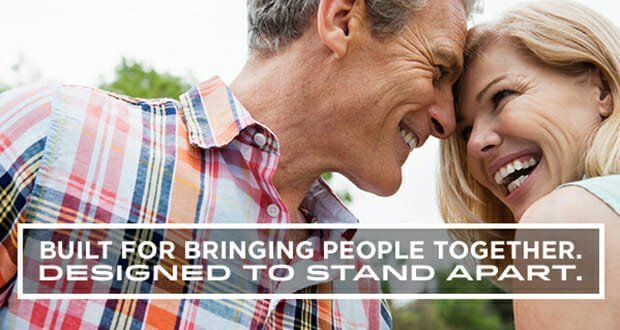 PRIORITY PURCHASE LIST WILDLY SUCCESSFUL!
Wow! With the opening of our Priority Purchase List, we're seeing incredible demand for new homes at Trilogy® Lake Norman! With an amazing number of future Members signed up for our first release, we are thrilled to have them one step closer to making the move to Trilogy!
If you haven't yet joined the Priority Purchase List, don't miss out! It's not too late to become one of our founding Members and still have an opportunity at pre-grand opening pricing. There are still ways you can participate in the Priority Purchase List:
1. For those who are new to the Charlotte area, we have our Tour de Charlotte option. Join us for a two night stay, tour the "Queen City" of Charlotte, and learn all about Trilogy Lake Norman! Call us at 704.812.9000 to book your tour today! Dates available from August through October.
2. You can also book a private site tour of the Trilogy Lake Norman property. Four wheel in our Trilogy Jeep onto the property itself. Learn about the history of the site selection and get a glimpse of the beauty to come as the land is developed with careful thought in mind. Bring your mud boots and we'll provide the hard hats!
Schedule your appointment today to check out Trilogy Lake Norman and see what living The Good Life is all about!
FREEDOM BOAT CLUB MEMBERSHIP NOW INCLUDED!
We are excited to announce that your home at Trilogy® Lake Norman now includes lake access, through our partnership with Freedom Boat Club!
That's right – now in addition to the incredible amenities available in the community at your future resort club, you'll also have the opportunity to take full advantage of Lake Norman through your resort membership.
Call your Community Representative today for information!
HOME FLOORPLANS, RENDERINGS, AND INCLUDED FEATURES ARE NOW LIVE ON OUR WEBSITE!
The excitement is building as we gear up for the Grand Opening of Trilogy® Lake Norman later this year, and we're happy to announce that our preliminary home floorplans, renderings, and included features are now live on our website for your viewing!
This is where the fun really begins! You can start picturing your dream home at Trilogy, and call your Community Representative with any questions you may have about the homes and designs.
SHEA3D™ HOMES AT TRILOGY® LAKE NORMAN!
Shea3D™ is Shea Homes'® revolutionary new approach to home design. Choose from four different YourPlans™ to create the layout that best fits your lifestyle for the main living area, and then decide which home design to put it in.
You've been accustomed to selecting a home design and being locked into its single floorplan. With Shea3D, you select the floorplan you love, and the home design that you love. Never before have you been able to customize your home's living spaces to perfectly match your personal lifestyle like this.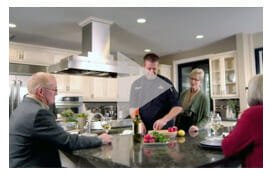 Trilogy® Lake Norman is offering 4 floorplans from the Shea3D Collection! Explore all four online now: Refresh, Captivate, Connect, and Celebrate.
Watch our video to get a behind the scenes look at the gorgeous Shea3D Chef's gourmet kitchen and see Trilogy's own Executive Chef Brandon explain the benefits of this revolutionary new home design.
UPCOMING EVENTS AT TRILOGY® LAKE NORMAN
The following are great opportunities for you to get a sampling of The Good Life at Trilogy® Lake Norman and to meet your future neighbors. We hope you'll join us for many of them!
Tour de Charlotte | September 11th-13th
For those of you who do not yet call this beautiful state "home," we invite you to come visit and enjoy a unique Discovery Tour of the "Queen City," hosted by your friends here at Trilogy! Enjoy 2 nights' accommodations at the Doubletree by Hilton in Charlotte, a tour of the Trilogy Lake Norman community site, a tour through the city of Charlotte, great dining out with your future Trilogy neighbors, and a Living Vision Session, where we'll share the latest updates on the community! All of this – a $1,000 value – for just $385*! Due to high demand for these events, we ask that you don't wait to RSVP – sign up today. Contact your Community Representative directly at 704.812.9000 . We have a select few spots available for the Tour in September, so call now! We look forward to hosting you for this fun and informative tour of our beautiful area!
*Trilogy Lake Norman Tour de Charlotte does not include airfare or travel costs.
Summer Cookout | August 15th
There's no better way to celebrate summer than with a cookout, and we're inviting you to join us for a wonderful gathering with your future neighbors on Saturday, August 15th at the Trilogy Information Center. We'll have burgers, hot dogs, and more, all complimentary. Call 704.812.9000 to RSVP and we'll look forward to seeing you!
Casino Night | July 25th, 6:00pm
Put on your best poker face and get ready to shake, rattle, and roll the dice for a night of fun and excitement at Trilogy Lake Norman! There are only winners, so come try your luck at our first Casino Night and get ready to win many great prizes! We hope we are lucky enough to have you join the fun!
Request More Information from: