Destination: Beach Life
The 2017 Summer Ideal Home at Summerhouse on Everett Bay
(click on an image to expand)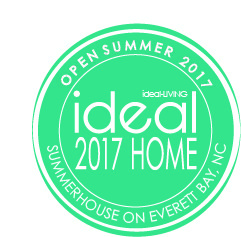 Breathe in the comforting salt air breezes while enjoying the irresistible coastal lifestyle of Summerhouse on Everett Bay, the 24-hour gated master-planned residential and recreational community on the Intracoastal Waterway near historic Wilmington, NC, and the pristine beaches of Topsail Island.
It's all about the water with this Ideal Home.
With over 1,200 square feet of covered porches, you will have plenty of space to enjoy life. There are Intracoastal Waterway views from all levels and you can even see the ocean at Topsail Island from the third floor Crow's Nest porch.