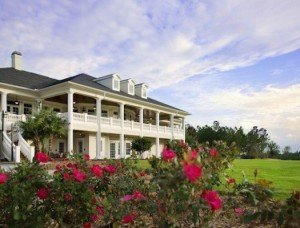 Southern Hills Plantation—named for its beautiful, rolling topography—provides absolute luxury as way of living for its Florida residents. The gated community is in the lovely, historic town of Brooksville, located a mere thirty minutes from Tampa, and forty-five minutes from Orlando. This means day-trip options are limitless to the residents of Southern Hills: hidden, cobblestoned streets; gorgeous Gulf Coast beaches; the fast-paced environment of the big city, complete with restaurants and nightlife.
But you don't need to leave Southern Hills to get an eyeful. With elevations over 200 feet, panoramic views of the lush Florida landscape are visible for up to twenty miles. This inclusive community calls for the stresses of everyday to be left behind, allowing its residents to be comforted in the arms of world-class living in one of the Sunshine State's best examples of the epitome of Florida living.
Homes within Southern Hills are crafted by GreenPointe Homes and Arthur Rutenberg Homes—both of which are known for their reigning excellence as Florida's finest builders. GreenPointe has crafted three award-winning home collections for Southern Hills: The Manors, The Cottages, and The Estates. These homes then take a step further by offering specific architectural design choices such as Georgian, Low Country, Colonial Revival, Craftsman and Folk Victorian. A focus of GreenPointe is to create each home to be energy and environmentally friendly—as well as being budget friendly. For residents with a larger budget, Arthur Rutenberg Homes provide every amenity that could be desired in a home, all featuring a distinctive southern charm. These homes are known for their beauty and craftsmanship, consistently winning prizes along the southeast.
For getting out of the home to meet fellow neighbors, Southern Hills offers a vast array of options within its 1,000 acres of land. The acclaimed Pete Dye Golf Course is a community favorite. The 18-hole, par-72, private course offers elevations from 60 ft. to 250 ft. provided by the natural rolling hills. Pete Dye meticulously planned each hole within the course to challenge players of all levels—making sure to never allow for a boring game of golf. For this reason, GolfWeek named Southern Hills Plantation Club among the Top 50 New Courses in the United States.
But this is not the only way to get active in Southern Hills. Featuring world-class tennis courts which consistently hold private lessons, semi-private lessons, and clinics—the community calls all tennis players out of the house. The fitness center is also a popular choice among residents looking to stay in-shape, offering Pilates, Baile, Yoga, Personal Training, and so much more. For a cool down, take a trip to the Southern Hills spa that is committed to your well-being. Afterwards, take a trip to meet your neighbors at the Southern Hills wine club for a relaxing, memorable experience (and a discount on wine!).
For Florida living that presents itself in a gorgeous, country-club style, Southern Hills offers the perfect place to buy a home.
Request More Information from: