Find Your Ideal Lifestyle in Tennessee
Ideal-LIVING offers a free comprehensive service that begins with helping you find your Ideal Lifestyle. Until you know how you want to live, you can't know where you want to live. We offer a wide array of tools to help you get answers to the questions that are keeping you from moving to your ideal destination.
Find the best retirement communities in Tennessee. Find the best 55+ communities in Tennessee. Find the best active adult communities in Tennessee. We can help you gain all this information as well as talk with representatives from the top retirement and resort communities in Tennessee, this includes communities such as...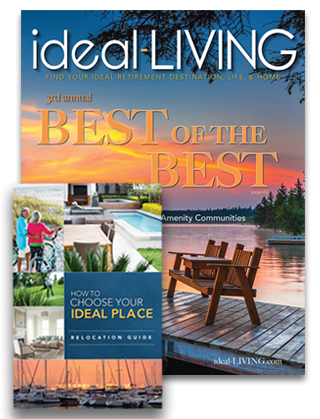 These and other communities are just outside hotspots such as Nashville and Knoxville,. but also secluded enough to offer all the privacy you will want. Besides its natural beauty and great retirement communities, Tennessee is one of the most tax friendly states for retirees and seniors. The tax benefits of living in Tennessee include:
No state income tax
No tax on social security benefits
Property tax relief program for qualifying seniors
Prescription drugs are exempt from state sales tax
Our free Retirement Guide, Ideal-Living Digital Magazine and e-Newsletter offer an abundance of information on which states, towns and cities are the best for retirees, vacationers and second-home buyers.
Tennessee is home to a diverse music scene, with Nashville known as the country music capital. For fans of the King of Rock and Roll, there's even Graceland. But music isn't the only thing to explore here. Whatever you wish to experience—Civil War sites, the Mississippi River, distilleries, outdoor adventure, amusements parks—Tennessee has a little bit of everything for you to explore and enjoy.
If you are looking to retire or relocate to any of the picturesque spots within the state, you'll find the information you need from Ideal-Living. Our Ideal-Living Digital Magazine includes numerous articles such as the top travel destinations, tips on selling your home, and how to make the most of your retirement. Our Guide allows you to compare cities and communities on variables such as:
Climate
Population
Taxes
Home Values
Cost of Living
Continuing Educational Opportunities
Proximity of Schools, Hospitals and Airports.
Ideal-Living provides you the resources to not only compare Tennessee against other states, but also compare communities within Tennessee. And not just a few communities, including Tennessee and other states, there are over 100 communities available for comparison. All that Tennessee has to offer is at your fingertips.
There are plenty of options for you, which is great, but it can also seem overwhelming. Buying a second home or a retirement home is a major decision, and we are here to help you with that decision. All of our resources are free, so sign up for any or all of our publications using the simple form above and we'll send what you need directly to your doorstep.
TN Communities on ideal-LIVING.com: