Popular and New in 2016: Daniel Island and Carnes Crossroads
By Julie Dombrowski
Trails for fitness and leisure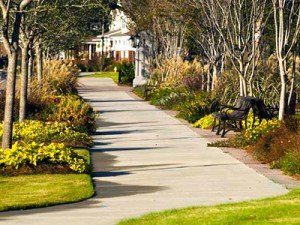 Walking and hiking trails is still one of the top amenities cited by buyers, and we think Daniel Island has a unique offering in this area in terms of diversity of scenery and overall scope of our trails. 18-plus miles that traverse scenic marsh views, a maritime forest, river and creek banks, through parks, past playing fields, schools, the island's beautiful downtown, and even past historic graveyards and through a small island nature preserve. The Daniel Island Trail system is in the process of being formalized and the mapped routes will soon be announced for fitness and leisure next year. Unfortunately there aren't specific details on this yet, but it will help further solidify trails as a major draw for island visitors and residents.
Other fitness & recreational upgrades
The Park Club which is the swim, tennis and fitness amenity center for the Daniel Island Club is undergoing renovations this winter. You can click here for details. In addition, a new pool and park is being constructed on the south end of the island in what will be the last south end neighborhood, Edgefield Park. Read more.
Farmers Markets
Every community (in Charleston, at least) seems to have one now. Carnes Crossroads as its own farmers market- the Green Barn – is unique and has attracted visitors throughout the north area of Charleston (Summerville and Goose Creek). It's now a summer destination for buying fresh produce and locally made foods and crafts. Check out pictures from this and other events at the Green Barn here.
Outdoor Living Spaces

Porches, outdoor kitchens and other outdoor living areas continue to be in high demand, and there are lots of great products and design ideas showing up in both high-end custom homes and standard production homes. One of our fellow agents at Charleston Preferred Properties recently blogged about unique products available for the outdoor living areas of high end homes. Read their blog.
Daniel Island has plenty of examples of high-end outdoor living spaces but The Ashton Woods model home at Carnes Crossroads has a very nice outdoor living space. View the video tour to see it for yourself! There is a shot of the outdoor living space at the end. Another great example of a Carnes Crossroads outdoor space is pictured right and above.
Best Tennis Offerings

Charleston has already been named a past "Tennis Town USA" by the U.S. Tennis Association, and we think Daniel Island is a big part of that designation. The 18-court Family Circle Tennis Center and Stadium famously hosts the internationally televised Women's Tennis Association event each spring, but it also offers outstanding programming year-round events. Simultaneously, the Daniel Island Club has an extremely active tennis program and 11 (and counting) courts, including Charleston's only grass court.
Best Parks
There are dozens of parks of all sizes on Daniel Island, covering a wide range of styles, scenery and activities. In total, there are more than 400 acres of parks and open space to enjoy in the Daniel Island community.
Signature Events:
Two club events come to mind: the annual North vs. South Member Golf Tournament and an annual Wimbledon Party at the Club's tennis pavilion and grass court.
The Concert in the Park at Smythe Park is always a popular and scenic event. Residents stake out their spots along the banks of Smythe Lake days in advance and compete for the most elaborate picnic themes and spreads (with a cash prize going to the charity of the winners' choice). You can see pictures and a video about the event here.
Community Life

There are some good video testimonials from our new residents at Carnes Crossroads. One of particular interest is from Frank and Barbara Puglisesi, who are retirees (originally from Brooklyn). You can view the video and read more here.
Daniel Island residents are very active volunteers – there's an incredible amount of fundraising and community activism that goes on the island. The Daniel Island Rotary Club is particularly active and has been internationally recognized of their fundraising activities. There are many others, it is a great way to be involved in your new community.
The Daniel Island Community Fund is another community-oriented story that might be of interest. While many planned communities have a resource funded by transfer fees on property transactions to help upkeep amenities and add to HOA reserves, The Daniel Island Community Fund disperses a significant percentage of its endowment in the form of grants and assistance for non-profit organizations that serve the needs of Daniel Island and its surrounding communities. You can read more about the Daniel Island Community Fund and its giving activities here.
Wrapping it up
Finally, Daniel Island has many residents who attended the ideal-LIVING expo. The expo is a great way to gather information and find your ideal home or second home! Next year marks the 20th anniversary of the completion of the first homes on Daniel Island; we are excited for the future that 2016 will bring!
Request More Information from: