Traditions of America gives retirees set on the Northeast even more reason to escape to the Keystone State.
Those accustomed to life in the northeastern U.S. tend to want to stay there. While the Northeast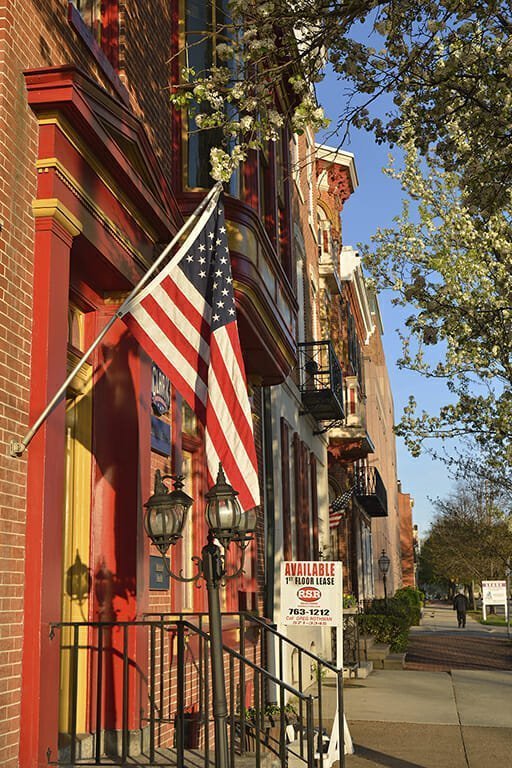 is best known for some of the most bustling cities in the country, much of it is fairly rural, spotted with quaint small towns nestled between mountain ranges, surrounded by high rolling hills and a short drive to the coast. Long-time residents turned retirees are finding respite in just such places not too far from the hustle-and-bustle cities of Pittsburgh, Harrisburg, Philadelphia and NYC, in the Keystone State.
Pennsylvania is moving up on the list of places to retire in the Northeast, but it's not always for the reasons one might think. While superb geriatric medical care in Pittsburgh and state retiree tax breaks are a huge plus and a definite draw, the folks we found are interested in the lifestyle. They're avid sports fans, history buffs and life-time learners, volunteers looking to use this stage in their life to give back, social butterflies and urban aficionados ready to re-energize and lovers of the outdoors who want it all at their fingertips.
And they've all found what they're looking for in the same place, just in different cities. Each couple we interviewed has settled into a Traditions of America community, 55 and up neighborhoods located on the outskirts of Pennsylvania's most popular cities. Here are their stories.
Laurie and David Hartman • Pittsburgh, PA
Although Laurie and David Hartman had a one-track mind, well, maybe two or three, when settling near Pittsburgh, now that they're there, they say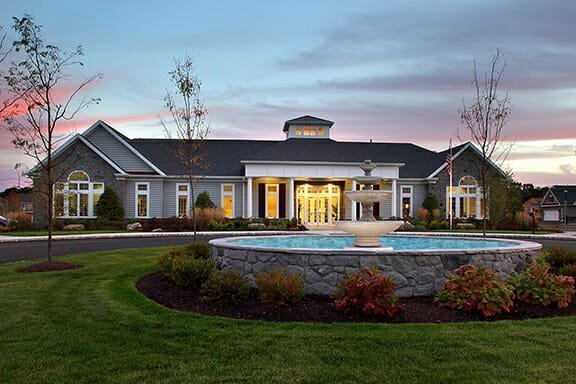 the reasons to retire in Pittsburgh are endless.
They left the Pittsburgh area nearly 25 years ago to raise their family in Cincinnati. When they found themselves on the cusp of retirement with both of their children off on their own, they decided to return to the "Steel City." They found an area that they felt was intended for them and just recently settled into their new Traditions home a few months ago. Laurie says she feels like she's in a city she barely recognizes. "Pittsburgh has been completely transformed," she says.
Once upon a time, Pittsburgh struggled to keep young people from leaving. Now, it attracts young professionals and families from across the country. The old steel mills that gave Pittsburgh its nickname were converted in recent years into shopping centers, museums and public spaces. The arts are thriving, and cultural and outdoor activities abound. There's the symphony, the zoo, the ballet, museums and Laurie's personal favorite, the "new" North Side. Bike paths and walking trails wind through and around the city connecting numerous green spaces and parks.
"And, the people we've met here have just really been great," Laurie says.
The Hartmans live in a community called Sewickley Ridge, a Traditions of America development not too many miles from everything that matters to them, two of which are a help center for inner city kids—Urban Impact, where David runs a baseba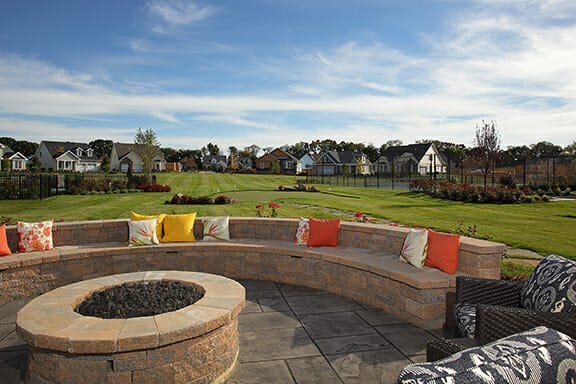 ll league and Pine Valley Camp, which is just 20 minutes away in Ellwood City.
"It's what brought us here," says Laurie. "They're two of the best inner-city programs in the U.S., and Dave is just really committed to those kids."
Laurie says she looks forward to traversing the state. She rattles off a few Pennsylvania destinations from her list, "…the vineyards up 79 toward New York; hiking in the Poconos; Presque Isle State Park; Allegheny National Park. Next month, we're taking our first official trip to Bedford Springs.
"When you're our age and your kids are grown, you have time to tour around and really enjoy where you are," says Laurie. "Right now, we're just loving where we've landed."
Jan and Terry Deveney • Boalsburg, PA
Jan and Terry knew exactly what they wanted when they retired. They wanted community, lots of activity and lots of sports. They have undoubtedly found that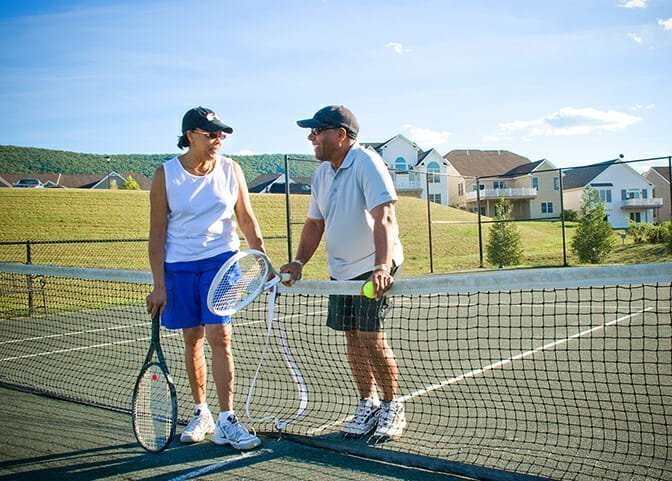 in Boalsburg. "We came here largely because of the university. Everything we love to do is here – athletics, art events, theatre and recitals. We can take classes, and there's a sporting event almost every night of the week," Jan says.
The Deveneys have a daughter who's currently in graduate school at Penn State and a son living near Harrisburg, PA, both of whom were always into sports.
The Deveneys aren't your average sports enthusiasts, though. They're into all of it. They typically catch four to five events each week, from football, men's and women's basketball and ice hockey to men's and women's lacrosse, gymnastics and men's and women's wrestling.
When they're not at a game, they're in the community center with other Liberty Hill residents engaging in their own activities.
"We use the clubhouse every single day," Jan says. They've joined a walking group, an aerobics group, a knitting group, a ping pong group and multiple card groups. Oh, and they play golf and go to the gym daily. It's safe to say that the Deveneys aren't lacking in energy.
Having been born and raised in Pennsylvania, neither can imagine being anywhere else. "We always knew we'd stay. We know Pennsylvania, and we love it," Jan says.
They're surrounded by the people that they want to be around doing the things they love to do together. "It's kind of what we've always wanted," she says. "We couldn't be happier."
Irene and Allen Leslie • Bethlehem, PA
Irene and Allen Leslie raised their family in New York City. Allen was an economist on Wall Street most of his career, and Irene worked raising their four sons who are now starting families of their own.
Now that they're in Bethlehem, they're about an hour and a half from two of their sons and their two grandchildren. Bethlehem is part of the bustling Lehigh Valley, nestled between Blue Mountain and South Mountain and with Lehigh River running through it.
"Bethlehem is just such a quaint town," Irene says. "There are all kinds of restaurants and specialty shops. It has a brewery, some great wine shops and a really great little bookstore."
"There are so many reasons to love it here, but a big draw for us is all of the cultural and educational opportunities that are here because of all the universities and colleges in the area. There's always something going on that's somehow connected to the universities," Irene says. "There are so many non-credit courses right here in Bethlehem at Northampton Community College."
Irene and Allen arrived at Bridle Path less than two months ago, and they're already a part of the community. They weren't shy about getting involved. The couple joined a book club and a Friday happy hour club, and they even started a wine club and an all-men's club, formed by Allen, called the ROMEOs—Retired Old Men Eating Out.
Leslie says that they've found their home in Pennsylvania, and she can't wait to explore it.
By Jamie Penn   Previously published in the 2015 Spring Issue.
---
Your Information Request for your selected properties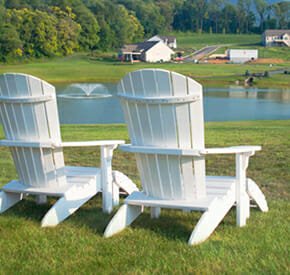 Stonecroft Village
Womelsdorf, Pennsylvania
The 55+ community of Stonecroft Village, set in the beautiful Tulpehocken Creek Valley of Berks County, PA, was designed with relaxation, natural beauty, and recreation in mind, to be enjoyed alongside neighbors 55 and over at a similar stage in life.
Read More...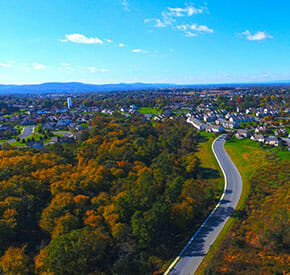 Cortland Park
Mechanicsburg, Pennsylvania
Cortland Park, a 55+ community in Mechanicsburg's prestigious Winding Hills, is Landmark Homes' newest upcoming addition to the neighborhood. Set among 380 acres of scenic Cumberland Valley countryside, Winding Hills offers an experience unlike any other: a resort-like community comprised of distinct homes, surrounded by nature, but minutes from the area's best in dining, shopping and recreation.
Read More...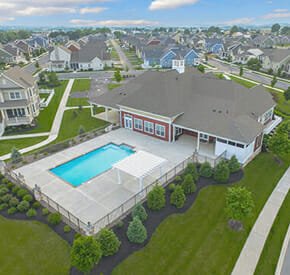 Home Towne Square
Ephrata, Pennsylvania
The 55+ community of Home Towne Square, by Landmark Homes, is situated near Ephrata, PA, about an hour from Philadelphia, in the charming Pennsylvania Dutch Country. Landmark Homes designed Home Towne Square to reflect the culture and tradition of the Dutch Country, including an Arts & Crafts homestyle.
Read More...
Willow Valley Communities
Lancaster, Pennsylvania
Willow Valley Communities is recognized as a nationwide leader in innovative senior living. At the forefront are award-winning, stunning homes and apartments in over 90 different floor plans. The meticulously landscaped 210 acre campus is three miles outside of downtown Lancaster, PA. Willow Valley Communities offers inspiring programming and an impressive array of amenities, clubs, restaurants, and events.
Read More...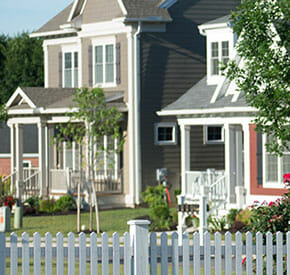 Winding Creek
Palmyra, Pennsylvania
Coming soon to south central Pennsylvania is Winding Creek, a 55+ lifestyle community by Landmark Homes. Nestled among peaceful farmlands of Palmyra PA, Winding Creek boasts picturesque views and a serene location, all within close proximity to dining, shopping, and recreation.
Read More...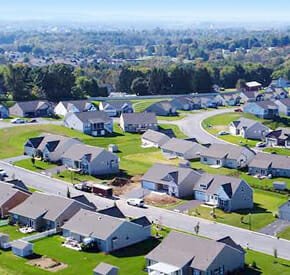 Crossings at Sweetbriar
Lebanon, Pennsylvania
Located in tranquil Lebanon, PA, with a vast expanse of scenic farmland to the north, and recreation, shopping, dining, and medical centers just to the south, Sweetbriar offers a relaxing lifestyle for adults 55 and over in a low cost of living area, yet with all the simple conveniences of life nearby.
Read More...
Amblebrook Gettysburg
Gettysburg,
Amblebrook is so much more than a community. It is where small town America meets modern culture. It is a way of life that incorporates the full spectrum of your well-being, including health and fitness, lifelong learning, social engagement, arts & culture, family connections, and the goodness of nature.
Read More...
Lake Naomi Club
Pocono Pines, Pennsylvania
Lake Naomi Club is located in the pristine Pocono Mountains of Northeastern Pennsylvania. Our Members have continued to bring their families to Lake Naomi-Timber Trails since 1963. The charm of the individual homes and properties in Lake Naomi and Timber Trails, the country club quality of the sporting and social facilities, the planned activities for all interests and ages and the great variety of ways to live the seasons' pleasures with friends and family are some of the reasons that Lake Naomi-Timber Trails is a Five Star Platinum Club Community.
Read More...