Venture Out to Central Florida and see Ocala and Orlando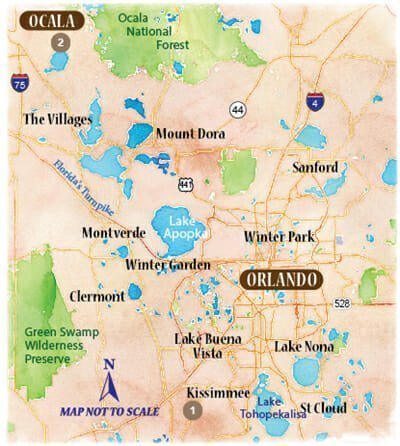 Put Ocala and Orlando in the same sentence and two things probably come to mind about these Central Florida locations: horses and theme parks. To be sure, these two growing metropolitan areas certainly have their fair share of equestrian and entertainment elements.
Ocala is known for being one of the world's leading destinations for equestrian enthusiasts and home to renowned thoroughbred breeders and trainers. Meanwhile, tens of millions annually take a trip to Orlando, drawn by the plethora of family-oriented entertainment led by the likes of Mickey Mouse, Harry Potter, Shamu, and so much more.
Though separated by no less than 80 miles via I-75 and the Florida Turnpike, these two locations are actually worlds apart in character and feel. Ocala, of course, gallops along at a nice leisurely pace, with numerous active-adult communities enjoying the peaceful rolling hills of horse country. Orlando, on the other hand, is becoming one of the country's most dynamic and fastest-growing cities with a North American record of 66 million visitors in 2015, and a place drawing newcomers of all ages throughout its neighboring towns.
Basically, fun and the good life have no age limit in Central Florida. Indeed, if Central Florida is truly the heart of Florida, the stretch from Ocala to Orlando is the lifeblood of this ageless good life.
Choose communities that you are interested in visiting: