Choose the North Carolina communities you are interested in visiting.
Beaufort, North Carolina – Located in historic Beaufort, NC, Beau Coast offers a variety of homes in three different neighborhoods to suit every kind of lifestyle. From one and two-story single-family homes to townhomes, there's a style for you. And great amenities like pools, hiking and walking trails, clubhouses and boating complement the homes and add zest to your lifestyle. Venture into Beaufort for shopping, dining and year-round events. Come visit this charming destination on a discovery tour, contact Beau Coast for details.Beaufort, North Carolina – Beaufort Club is located in Beaufort, North Carolina, near the beautiful beaches of North Carolina's Crystal Coast. This community is full of resort-style amenities that are designed to enhance you lifestyle, like an 18-hole championship golf course, winding trails throughout the community and a pool at The Pavilion. In town, you'll find savory cuisine and shops and galleries to explore along the waterfront. No matter what you decided to do—inside or outside the community—this is living at its finest. Contact Beaufort Club for discovery package details.
Leland, North Carolina – At The Bluffs on the Cape Fear, you're not far from one of the East Coast's favorite cities: Wilmington, North Carolina. There's all the modern conveniences you need, mixed in with close proximity to beaches and luxurious amenities. Take a dip in the resort-style pool, play a game of tennis or cast a line at the lake's fishing pier. The Private Beach Club on Oak Island provides full access to the ocean, and offers the perfect place for gatherings and private parties. Contact The Bluffs on the Cape Fear for discovery tour details.
Leland, North Carolina – Located just minutes from historic Wilmington and not far from beautiful beaches, Brunswick Forest is a 4,500-acre wooded retreat—on the coast. Here, days are filled with rounds of golf, tennis or pickleball, strolls along paths and trails, swimming and more. Not to mention a wide range of home designs to suit your dreams. Experience this community on a 3-day/2-night stay with accommodations, a customized tour of Wilmington, VIP tour of the community, round of golf, access to the Fitness and Wellness center and amenities and lunch for $99.
New Bern, North Carolina – Carolina Colours is located in New Bern, North Carolina, a town that is charming, quaint and relaxing. Here the Atlantic is just 30 minutes away, and the converging Trent and Neuse Rivers surround the town for boating and other water activities. Inside the community residents can spend their time by the pool, playing tennis or pickleball or enjoying the company of friends at the Pavilion. The golf course offers a beautiful setting and features 6 tees, so you can play to your skill. Contact Carolina Colours for discovery package details.
Leland, North Carolina – At Compass Pointe, you're not far from the beach or the excitement of downtown Wilmington, North Carolina. And the excitement and relaxing lifestyle you'll find behind its gates…well, you can expect nothing but the best. Take in the scenery playing a round of golf on the championship course or kayaking through the marshes. Stay fit in the exercise facility, and enjoy a meal in the full service restaurant. Whatever is on your agenda, you'll find it here. Enjoy a 3-day/2-night stay with dinner for two, activities, tour of the community and builder showcase homes, all for $149.
Cullowhee, North Carolina – Cullowhee River Club is located within the spectacular scenery of the Blue Ridge Mountains, along the banks of the Tuckasegee River. It's not far from Cashiers, Waynesville and Asheville, and is home to an abundance of things to do, from active afternoons to relaxing evenings. Go for a swim, kayak or hike a community trail. Enjoy dinner with a river view, or relax by the fire pit. The choice is yours. Come and see the beauty of this mountain retreat on a 3-day/2-night stay with a complete tour of the community, for just $99.
Bill Clark's newest division, Legacy Homes ensures that the home designs match the home buyer's lifestyle. Whether you decide to purchase a completed home, find your ideal floor plan or design a custom home, Legacy Homes is waiting to help. And the best part is, you can have your dream home in your dream neighborhood, whether that's Brunswick Forest, Compass Pointe or St. James Plantation. Contact Legacy Homes by Bill Clark for details about a discovery package, and come see one of their homes for yourself. It could end up being home sweet home.
When it comes to finding your dream home, Logan Developers is ready to help. They offer a variety of floorplans, ensuring that they can match your home with your lifestyle. And what's even better is your dream home can be in your dream location, whether that's in a community in South Carolina or North Carolina. Wherever your homesite, Logan Developers is committed to building the home you've always wanted. Contact them for discovery package details, and see all they have to offer.
Bolivia, North Carolina – Boasting a desirable location between Wilmington and Myrtle Beach and near charming Southport, Palmetto Creek is a relaxing beach retreat. The community plays to an active lifestyle, offering walking trails, kayaking, tennis, a fitness center and so much more. Nature lovers will enjoy the boardwalk that winds through the Palmetto Grove Preserve, and in just 10 minutes you can have your toes in the ocean. What's not to love? Enjoy a 3-day/2-night stay with deluxe accommodations, lunch and a tour of Southport and the community for just $149.
Ocean Isle Beach, North Carolina – The Retreat at Ocean Isle Beach is a special community just 1 mile away from the beautiful sand and waves of Ocean Isle Beach. Residents at The Retreat are positioned uniquely within walking distance to the local grocery store, incredible restaurants and quaint shops that make Ocean Isle Beach so desirable. The colorful homes and lush landscape pay homage to the bold and bright colors you'll find lining the oceanfront streets just across the causeway.
Southport, North Carolina – St. James Plantation, a gated community along the Intracoastal Waterway in Southport, offers a relaxing beach lifestyle and first-class amenities. You can spend your days hiking, biking, boating, playing golf or tennis or soaking up the sun at the private, oceanfront beach club. Your options are endless, so you can design your days your way. Experience the charm of this seaside community on a 3-day/2-night stay with accommodations, round of golf for 2 or $50 certificate for dinner, and access to the private beach club and amenities for $249.
Holly Ridge, North Carolina – Summerhouse on Everett Bay is your coastal dream come true. It's perfectly situated between beautiful Topsail Island and historic Wilmington, North Carolina, and filled with luxurious amenities that only enhance your lifestyle. Kayak down the Intracoastal Waterway, relax by the pool at the Clubhouse and enjoy a picnic lunch while breathing in the salty air. Choose from 3-day/2-night accommodations for $99 or 4-day/3-night accommodations for $149 with boat and guided property tours and 'locals' favorite dining, and experience Summerhouse for yourself.
Ocean Isle Beach, North Carolina – Minutes from the Atlantic Ocean, this community attracts an those seeking an active lifestyle at affordable prices. Built by Bill Clark Homes, this community offers homes with Sunset Ridge also offers a variety of single-family home options, ranging in square footage from 1,406 to 2,050.
Wilmington, North Carolina – TidalWalk, a Wilmington premier master-planned community, brings to life the coastal lifestyle vision. Here life is close to the Atlantic Ocean, with sand and salty air not far from your doorstep. The gated community features a top-notch amenity center, with zero-entry pool, fitness center and clubhouse for all your big gatherings. You can also enjoy a private beach, island and dock, as well as Intracoastal Waterway access for all your water activity needs. Contact TidalWalk for information and about discovery packages.
Whether you're picturing resort-style living or a peaceful retreat, Tribute Homes can build your ideal home. They build with the active adult in mind within some of the most prestigious communities on Carolina's coast and the Charlotte, NC area. And the best part, every detail of your home is tailored to your vision. On a 2-night stay in one of their homes for $110 in Charlotte and $250 Coast, you can explore communities like Edgewater, Golf View at Stonebridge, Lighthouse Cove, Meadowlands, St. James Plantation and Brunswick Forest.
Clayton, North Carolina – The Walk at East Village is a 55+ active living community. Its unique "pocket neighborhood" design means home are grouped together so that you can step outside and greet your neighbors and walk to their homes without crossing any streets. Community is key here. Enticing amenities like a fitness center, walking and biking trails, arts and crafts spaces and pickleball courts keep your days busy with what you love to do. Come visit The Walk at East Village. Contact the community for discovery package details.
Request Information from These North Carolina Communities
Request Information or Schedule a Discovery Tour for
your selected properties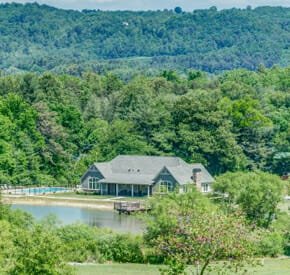 Vista at Blacksmith Run
Hendersonville, North Carolina
Nestled between Historic Hendersonville and Lake Lure's picturesque coves is Vista at Blacksmith Run-an exclusive Western North Carolina mountain property designed for residential development. Blacksmith Run's secluded mountain lifestyle and four season climate turns an ordinary day into an unforgettable experience. With convenient access to all of Western North Carolina's treasures, this quiet mountain gated community was developed for those who appreciate the best that life has to offer.
Read More...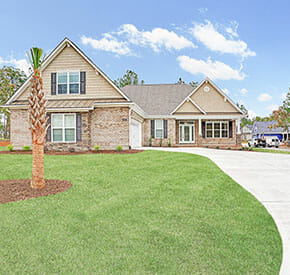 Horizon Homes of Wilmington LLC
Wilmington, North Carolina
As a family-owned and operated business, Horizon Homes of Wilmington has one main mission in mind: to design homes that suit homeowners' individual needs and lifestyles with quality materials at an affordable price.
Read More...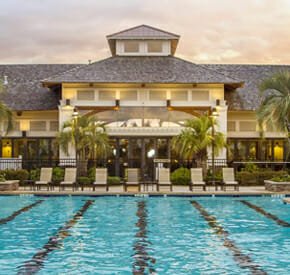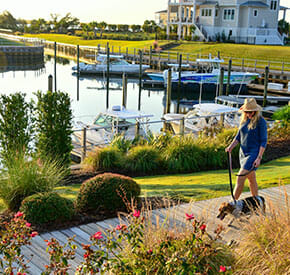 Salters Haven
Hampstead, North Carolina
Nestled along the sparkling Intracoastal, in the growing coastal town of Hampstead, NC, Salters Haven will be the place for those who seek an active lifestyle on the water. Enjoy a celebration of family, community, recreation on the water and elegant coastal homes here at Salters Haven.
Read More...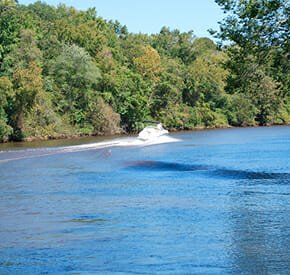 The Bluffs on the Cape Fear
Leland, North Carolina
The Bluffs on the Cape Fear is a vibrant, master-planned community perched on a pristine stretch of the Cape Fear River. Just 15 minutes from the classic waterfront hometown of historic Wilmington, NC, The Bluffs is a private, coastal haven for the families who call it home.
Read More...
Albemarle Plantation - North Carolina Gated Communities
Hertford , North Carolina
On the North Carolina's Inner Banks is a golf and marina community with a lifestyle like no other! Perched between historic Edenton and Elizabeth City, NC, it's an easy drive to any major city along the coast going north or south. With easy access to Tidewater Virginia and the Outer Banks of North Carolina, you will experience small town charm and big city culture at its finest.
Read More...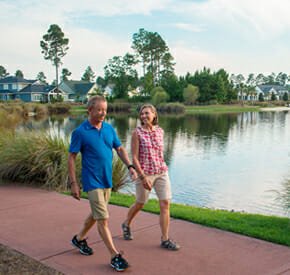 Brunswick Forest - A North Carolina Coastal Retirement Community
Leland, North Carolina
Brunswick Forest,
the Coastal South's fastest growing community
, is located on North Carolina's Cape Fear coast, just minutes from historic Wilmington. This 4,500-acre retreat features a wide array of neighborhoods and lifestyles, 18 holes of golf at Cape Fear National, a Clubhouse, River Club, Fitness & Wellness Center, parks and more than 100 miles of walking, biking and nature trails linking residences and amenities.
Read More...
Encore at Briar Chapel
Chapel Hill, North Carolina
Encore by David Weekley Homes is an exclusive 55+ section within the master planned community of Briar Chapel. With a great location in Chapel Hill, you'll enjoy thoughtfully-designed one-story homes and bright, open floor plans. These exceptional homes are situated on 45-foot and 55-foot homesites and feature expanded Outdoor Living Areas for entertaining.
Read More...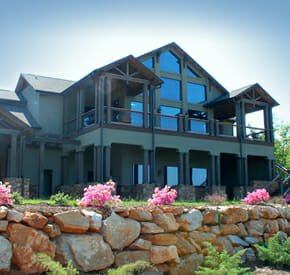 Vista at Bill's Mountain - North Carolina Gated Community
Lake Lure, North Carolina
Perfectly shaped since the beginning of time, Bill's Mountain is your chance to experience the picturesque town of Lake Lure. Every contour...every pristine ridge of this Lake Lure property offers incomparable views Western North Carolina. Set just five minutes from Lake Lure's crystal blue waters in Rutherford County, Bill's Mountain's 800 spectacular acres invites you to reconnect with family and friends, nature and the spirit within you.
Read More...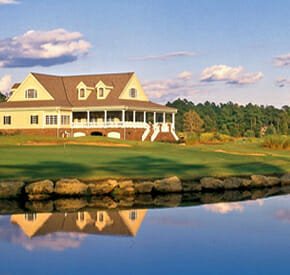 Ocean Ridge Plantation
Sunset Beach, North Carolina
Ocean Ridge Plantation is one of the most exclusive and luxurious beach and golf communities in coastal North Carolina. Ideally situated in Sunset Beach between the historic port city of Wilmington, NC, and the Grand Strand of Myrtle Beach, SC, Ocean Ridge offers luxurious appointments, world-class amenities, and 72 holes of award-winning golf.
Read More...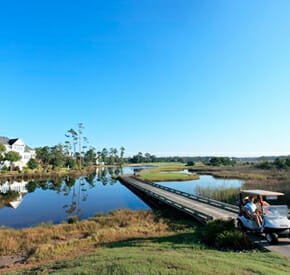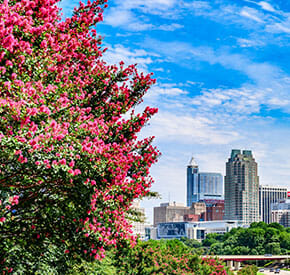 Retire NC
Cary, North Carolina
From four distinct seasons to its geographic diversity and welcoming communities, North Carolina draws those seeking retirement options that feed the senses and the soul. Retiring to North Carolina is like coming home...
Read More...