Mountain Retirement Communities

Many people work their whole lives dreaming of a cozy cabin nestled in scenic mountains somewhere. By choosing Mountain Communities to live in for your retirement, you can make that dream a reality now for a fraction of the price of other retirement community options. This retirement setting is growing more and more popular as the cost of small or large, mountainside or mountain top homes are now much less expensive.
Your Active Adult Alternative to the Beach
Oceanfront real estate has been the most popular and most expensive retirement option for quite some time. Some may find these resorts crowded or out of their budget. Mountain Communities are a great alternative due to their remote yet accessible locations, and the scenic views are hard to beat.
Amenities are essentially built-in when you live in a mountain community. Activities like hiking, fishing, and skiing are as easily accessible as walking out your front door. Many Mountain Communities boast locations alongside national parks and forests, guaranteeing you gorgeous views and unpredictable wildlife, making them prime real estate for bird watchers and animal lovers.
Retirement Benefits of Mountain Communities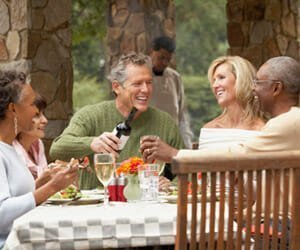 Towns located in the mountains are usually known for having an abundance of discounts for their senior population. Between reduced rates for mountain sports and lift tickets and the drop in prices for entertainment options, the possible savings in a Mountain Community are endless for the older, active adult.
A lot of mountainside towns play host to a variety of retirement communities, while some offer senior housing in multigenerational neighborhoods. However, many seniors flock to the mountains for the cooler climate. Mild summers and white winters attract residents even in some of the warmer southern states. The altitude in the mountains provides fresher air and with much less humidity than the lowlands.