Take Me to the Mountains

Some of us were made to live in the mountains. Expansive starry skies, crisp mountain air, and ever-changing views are just a few of the perks of mountain living.
Finding your ideal mountain community means you'll spend your days doing what you love most - observing wildlife, hiking, and exploring and discovering nature.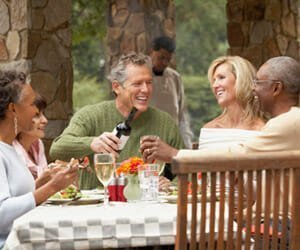 A Peaceful and Active Lifestyle
Mountain living is for the active, and the laid back. Mountain communities are infused with the resort-style amenities you want, and surrounded by the natural environment you crave.
In the mountains, getting outdoors is the focus. Canoeing, kayaking, skiing, hiking and biking are sports that many mountain-lovers are dedicated to. And, golf is popular everywhere. World-class golf courses sprawl across landscapes in many mountain communities, bringing golf into the outdoor equation. Nearby country clubs accompany them, with the standard list of amenities and a fire pit or two.
Your Active Adult Alternative to the Beach
Far from the crowds of the city, mountain towns offer fine dining and vibrant entertainment without the hustle, noise and expense. With mountain communities from North to South and too many to count out west, where does one begin the search?
Here are a few regions to start with:
The Blue Ridge mountains of North Carolina and Georgia
The foothills of the Smoky Mountains
The mountain ranges of the Sonoran Desert in Arizona
Which region suits your needs best? Once you've narrowed your search to a state or area, you can start considering individual communities.
Discover Your Happy Place
It's discovery tour time! Most mountain communities offer discovery packages that allow you and your spouse the opportunity to 'live like residents'. This is by far the best way to ensure that a community is right for you. Scroll through the list below to find communities that you may be interested in exploring. Then, request a discovery tour. You can't know where you want to be until you go.
Take a look at some of the country's best Mountain Communities