Where
to Live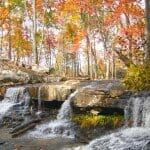 Hidden
Gems
from the locals
—Recommended by Matt and Kelly Rozanski, soon-to-be-residents of Jasper Highlands
Chattanooga Lookouts – Take yourself out to the ballgame with the Chattanooga Lookouts, double-A affiliate of the Minnesota Twins. Parking's a cinch (hop on the free trolley) and the best seats are only $9.
Walnut Street Pedestrian Bridge – People-watch or enjoy the city lights by night on the world's longest pedestrian bridge, spanning the Tennessee River from downtown to the north shore.
Nightfall Concert Series – Revel in the sounds of summer with this free Friday night concert series in downtown Chattanooga, celebrating its 29th season this year.
Lookout Mountain – See the world's tallest underground waterfall, take in the scenery from Lovers Leap, or travel up Lookout Mountain in style on the world's steepest passenger railway.
Onward Reserve Chattanooga – Browse historic Warehouse Row and visit Onward Reserve Chattanooga, a luxury men's clothing store where the excellent customer service includes free, ice-cold beer.
Tennessee Aquarium – Watch the playful river otters romp, take in an IMAX film on the six-story screen, and cruise down the scenic Tennessee River Gorge aboard the River Gorge Explorer.
CARTA Shuttle – Travel like a local and get around downtown for free on the CARTA Electric Shuttle, a great way to meet fellow Scenic City residents.
Bluff View Art District – Explore Chattanooga's bluff-top art district and be sure to check out the River Gallery Sculpture Garden, an outdoor art museum with stunning river views.
Eat
Like a Local
Aretha Frankenstein's – Open 7 a.m.-midnight, this small-but-mighty gem is famous for their funky décor, delicious pancakes, and the Waffle of Insane Greatness. arethas.com
Urban Stack – This funky downtown burger lounge's motto is "Killer Burgers, Manly Drinks," and they've got the awesome bourbon selection to prove it. urbanstack.com
212 Market – Savor farm-to-table delicacies and sip a glass of wine on the solar deck of this cozy downtown eatery, Tennessee's first Certified Green Restaurant. 212market.com
Bluewater Grille – From shrimp and grits to hazelnut goat cheese mahi, get your fill of fresh seafood at this downtown staple. bluewaterchattanooga.com
At Home in the Scenic City…
When Kelly and Matt Rozanski made the decision to move from Chicago to Jasper Highlands near Chattanooga, they knew they were in for a major change—and they couldn't be happier. "The beautiful weather, low taxes, and friendly people of Tennessee were so appealing, but especially the energy and perfect size of Chattanooga," Kelly says.
The Rozanskis aren't alone. In 2015, Outside magazine recognized Chattanooga with their Best Town Ever award—the only city to win the award twice. The New York Times named it "one of the top 45 places to go" in the world, and Bicycling magazine lauded it as one of the top 50 cities in the country.
What is it that makes Chattanooga so special? For one thing, it's beautiful. The location—alongside the Tennessee River, in the foothills of the Appalachians—gives rise to amazing views and incredible outdoor adventures. But make no mistake—Chattanooga doesn't skimp on culture, either. This is a city with state-of-the-art museums, an award-winning freshwater aquarium, multiple sports teams, and vibrant festivals of all kinds. It's also in tune with modern-day expectations: In 2010, it became the first city in the entire Western Hemisphere to offer 10-gigabit-per-second Internet service to 100% of its residents and businesses.
Chattanooga has so much going on that it's earned three nicknames: Gig City, Scenic City, and Adventure City. To top it off, it's a shopping mecca and a foodie's delight, with a rapidly diversifying restaurant scene that offers treats for every palate. "We have never had a bad meal in Chattanooga. All the restaurants are great, and we have so many more to try!" Kelly says. "It really is a great city . . . it offers so much to do and see but is small enough to feel comfortable and at home. We love it!"
"Chattanooga offers so much to do and see but is small enough to feel comfortable and at home."
–Kelly Rozanksi
FACTS AT A GLANCE
Average Temperatures

Winter: 52/33 Spring: 72/49
Summer: 89/68 Fall: 73/51
Population: 173,366
Airport: Chattanooga metropolitan Airport
Average Property Tax: 0.87%
Sales Tax: 9.25%