The show features exhibits that allow you to view and compare over 50 top Resort & Retirement communities from many different states conveniently at one location.
• Talk with the experts: Provides a hands-on experience giving you a chance to talk with community representatives, and have all your personal questions answered.
• Seminars and other presentations: You'll be able to attend presentations covering a range of useful topics, such as - Choose Your Ideal Place, Consider Your Ideal Lifestyle and Envision Your Ideal Home.
• ideal-LIVING Relocation Guide: Attendees can also pick up a free relocation guide - Choose Your Ideal Place, which is beneficial in the search for your ideal destination providing information on things like taxes, costs of living and climate.
What is the ideal-LIVING Resort & Retirement Show?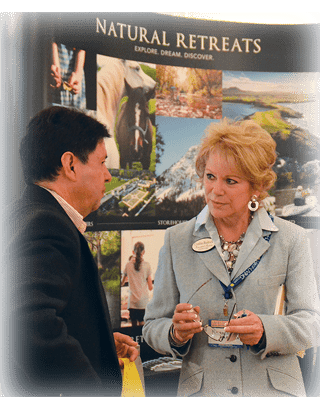 The ideal-LIVING Resort & Retirement Show is a convenient and fun way to explore the best places to vacation, retire, or relocate! We have helped retirees and second-home seekers find their ideal community and home for over 25 years.
Whether you are just starting your search or have already chosen an area and are ready to narrow your choices, the ideal-LIVING Resort & Retirement Show is the perfect event for you.
Come to the ideal-LIVING Resort & Retirement Show and Discover the Life You Want.
The ideal-LIVING Parsippany, NJ Resort and Retirement Show Near Me
Feeling like it's time to move on? Join us at The ideal-LIVING Resort & Retirement Show at the Hilton Parsippany to find the life you're looking for faster. Discover tax-friendly and low-traffic destinations and meet representatives from communities along the coast, on the lake, and nestled in the mountains to help you determine the life and lifestyle you seek. Most communities offer show only discovery travel packages to allow you the opportunity to experience the lifestyle firsthand. And, seminars are held daily to help guide you along the path to next steps.
Read More...
The ideal-LIVING Greater DC Resort and Retirement Show
Ready for a permanent change of scenery? Join us at the ideal-LIVING Resort & Retirement Show at the Ritz Carlton at Tysons Corner to meet reps from over 50 communities across the country and in the Caribbean. Daily seminars and access to information on tax-friendly, low-traffic destinations from the mountains to the coast will be available to all attendees. If you're looking for the perfect destination, then the show is the perfect place to start. Each region and community represented at the show offers resort-style living and access to the lifestyle you want.
Read More...