Lennar – Homes With a Little Bit of TLC
If you're considering relocating to achieve the simple lifestyle you've dreamt of for years, it's important to find a community that you can call home. Lennar Corporation is a home building company that is dedicated to building quality homes for multiple generations. Lennar will work with first time home buyers and those looking to downsize, but one of the high desirable aspects of the company includes their dedication to Active Adult communities. These communities can be found in various locations within California, Colorado, Florida, Maryland, New Jersey, Texas, and Virginia.
An adult community is nothing like a retirement home. Lennar communities come with a variety of home designs to suit your needs. If you're looking for maintenance free living and amazing amenities, a condominium might be your ideal choice. On the other hand, if you still want to maintain the feel of a traditional home, single family designs are also available and still come with all the perks of living within a community made just for you.
We know moving can be stressful, even when you're excited about this new chapter in your life. Lennar is a company dedicated to the customer even after you've moved into your home. The company believes in a little something called "TLC," although it's not the acronym you're so familiar with. TLC stands for Total Lennar Care and is "a willingness to do the extraordinary every day for our Customers, and make the home buying process a true celebration." Company standards include Quality, Value, and Integrity, and those standards are applied across the board, whether working with customers, associates, shareholders, or communities.
So what does a Lennar home look like? That's just it. It can look like a quaint cottage you remember from a vacation years ago, or it can be a sleek modern townhome to match your minimalist taste. When you purchase an older home, it's inevitable that you'll have to make a few tweaks and fixes to ensure the house matches your aesthetic. A Lennar home comes completely customized to make your everyday life easier. You won't have to worry about fixing lead pipes or installing a new foundation. Lennar homes come with warranties on things like appliances and roofs; things that can be costly to fix in other homes.
Another bonus with buying a new Lennar home is energy efficiency. We consume more energy today than at any other point in history, and it's likely you're pocket has felt the pinch more than a few times. While older homes might have a charm, single pane windows quickly lose their appeal if you're living in a winter climate. These homes are available at competitive prices and built efficiently so that, in the long run, you'll actually save money buying new for your retirement.
If you want to know more about Lennar's commitment to Active Adult Communities and the home buying and building process, be sure to check out their website to see if a Lennar community is right for you.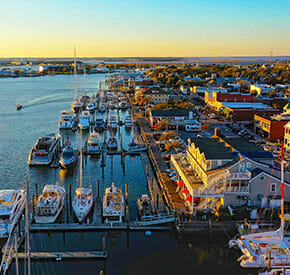 Beau Coast
Beaufort, North Carolina
For many, the dream of owning a home at the North Carolina coast has been just that-a dream. Until now. Located in historic Beaufort, NC, Beau Coast offers a relaxed atmosphere with a wide selection of homes to fit every pocketbook and lifestyle. Best of all, each home is located in an amenity-filled neighborhood that makes living in Beau Coast that much more desirable.
Read More...
Your Information Request for your selected properties