By Jamie Penn. Previously published in the 2015 Summer Issue.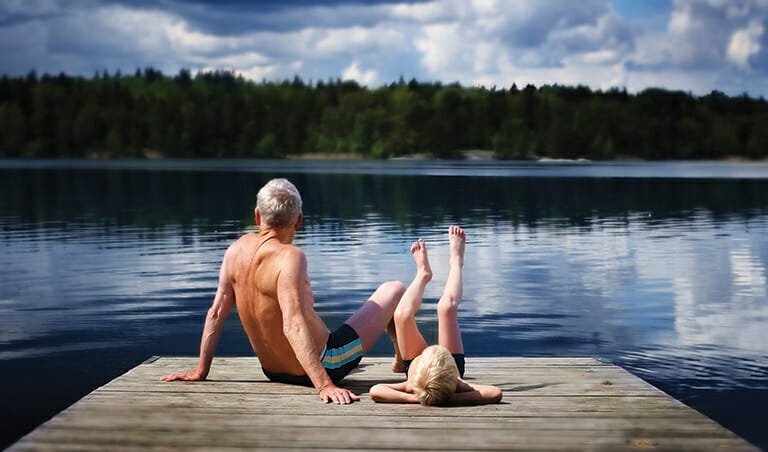 Surrounded by natural beauty and an active community, retirees settling into life on the lake find exactly what they're looking for.
A childhood that has a lake in it is charmed with moments of floating in secret corners of coves; learning to paddle a boat for the first time; catching fish in a fog-covered dawn; jumping waves behind boats; hearing a whippoorwill trill for the first time; or watching a kingfisher dive, like a bullet, for her dinner. Then, one day, those moments become memories. Many are lucky enough later in life to follow those memories straight back to the lake. Others, simply enchanted by the idea of lake life, award themselves the joy of watching their own children and grandchildren make such memories while settling into a lifestyle akin to an endless holiday.
Lake Keowee – South Carolina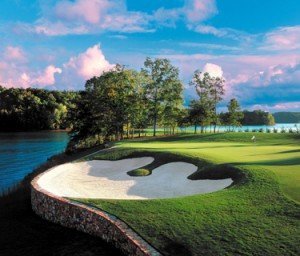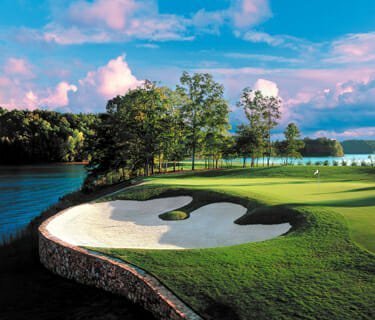 Cindy Burbach and her husband Erv are two of the lucky ones. They settled into retirement at The Reserve on Lake Keowee in upstate South Carolina.
"Erv grew up in Wisconsin and his fondest childhood memories are from time spent on Lake Michigan," Burbach said. "I grew up on the bayou in Louisiana, and I was happiest holding a fishing pole and watching a bobber, fishing with my grandfather. We wanted to be able to give that to our grandchildren."
Lake Keowee is no ordinary lake though, Burbach said. It's so clear in places you can see the bottom. Spanning 1,800 acres, it boasts 350 miles of shoreline and fills the valley below the Blue Ridge Mountains. The springs and rivers that feed it create waterfalls in boating distance from the Burbachs' cove.
The Burbachs have two daughters, one in Houston and the other in Northern Virginia. And, buying a place their girls would flock to with friends and eventually family was no mistake.
"When it was time to retire, we looked at each other and said: 'Let's buy bait'," Burbach said with a laugh. "Someplace they'd really want to come to. And, it worked."
Their youngest daughter, who in fact lured them there for the first time from Clemson, where she attended college less than 45 miles from the lake, doesn't miss a year wakeboarding on Thanksgiving weekend, and again, at spring break and as often as possible in between.
"I remember the first time we brought my daughter here while we were building our house. She said, 'You're actually going to live here?' It was just so breathtakingly beautiful."
The Burbach's home is situated on two acres above a hidden cove where they "float in the cove" with a group of friends and neighbors weekly when the weather's right. They have jet skis, kayaks and a motor boat and live a life on the water they dreamed of.
Nestled in the hills below the Blue Ridge, nature is at their doorstep. They've seen bald eagles flying over their cove, blue herons stalking the banks on shore, and kingfishers dining from their docks. The vibrant shades of fall that cover the hills around them and decorate the banks in October and November are a Blue Ridge special that's sure to please. They were looking for tranquil, Burbach said, and they got it.
"We no longer have blood pressure issues now that we live here," she said, with a satisfied chuckle.
But, retirement at The Reserve isn't about sitting in a porch rocker reading a book unless you work really hard at it.
"You could participate in something every single night and possibly every hour of the day around here," Burbach said, adding that it's almost impossible not to get involved here.
From the dining club, to fitness classes, golf, tennis, yoga, bible studies, book clubs, garden clubs, bridge clubs and knitting groups, there's no shortage of ways to get involved.
Erv Burbach is an avid golfer and Cindy plays tennis frequently, but they've committed much of their retirement to giving back. The Reserve Foundation offers a framework for that.
"The Foundation is focused on ways we can impact our immediate area. This is nice for us. It's what we want to be doing."
Aside from volunteering through The Foundation, they also both serve as mentors for children at the local elementary school. One of Mr. Burbach's favorite pastimes is taking the young boy he tutors fishing on the lake.
Burbach says there's really not much the lake and surrounding community doesn't offer.
Request More Information from: