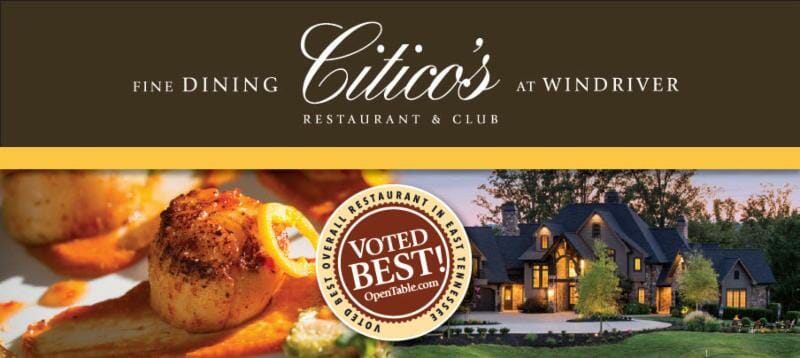 Inside a waterfront mansion in the WindRiver community on Tellico Lake, Citico's Restaurant & Club features elegant, reservation-only dining and the gourmet artistry of Chef Robert Allen and his staff. In addition to our regular Thursday-Saturday dinner service, Citico's has several special events we'd like to invite you to attend.
If you have any questions about these specials events or would like to know more about our seasonal menus, wine list, gift cards, or how to book a private party, please don't hesitate to contact us.
TRUST FALL KNOX &
Chef Robert Allen
[one_third]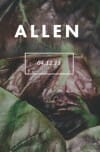 We would like to thank our great friends at Trust Fall Knox for putting together the wonderful video and pictures from the dinner that Citico's Restaurant & Club's Chef Robert Allen prepared for the group this past April at the aquaponic greenhouse at Eco-Rich Farms. Check it out [here].
]SPECIAL EVENTS
WINDRIVER GOLF CLUB
June 20-21
US OPEN
VIEWING PARTY
Come enjoy watching the golf tournament with delicious food and drink specials from the Top of the Hill Grill including hand-pressed burgers, sandwiches, fresh salads, and more.
June 26
COUPLES
NINE & WINE
A couples' scramble event at WindRiver Golf Cub followed by a wine tasting and hors d'oeuvres from Citico's. $45 per person. Property Owners: $32.50. Members & Pass Holders: $22.50. (plus tax & gratuity)
CALL
865-988-0370
for more information.[/[/one_third]
[two_third_last]
June 9
TELLICO TUESDAY | LOIRE VALLEY of FRANCE
2 SEATINGS: 5:30 AND 7:30 PM



The restaurant opens its doors early in the week for this new event featuring a prix fixe menu highlighting the cuisine of the French Loire Valley including Crouque Monsieur, Salad Nicoise, Coq au vin, Salmon Béarnaise and more.
$35 per person plus tax & gratuity.
MENU
June 23
SHAPS WINE DINNER
ARRIVALS: 6:30 PM

Citico's welcomes Michael Shaps Wineworks of Charlottesville, Virginia, in a celebration of Burgundy wines, a toast to summer, and an exclusive opportunity to mingle with one of the country's top independent wine makers.
$79 per person plus tax & gratuity.
MENU
June 28
FAJITAS AND 'RITAS – HOA SPECIAL EVENT
ARRIVALS: 6:00 PM

Home and property owners are invited to sample four different flavors of fajitas, superbly prepared margaritas and a decadent, sweet sopapillia to round out the evening.
$30 per person plus tax & gratuity.
MENU[/two_third_last]
Request More Information from: