July Special Events at Citico's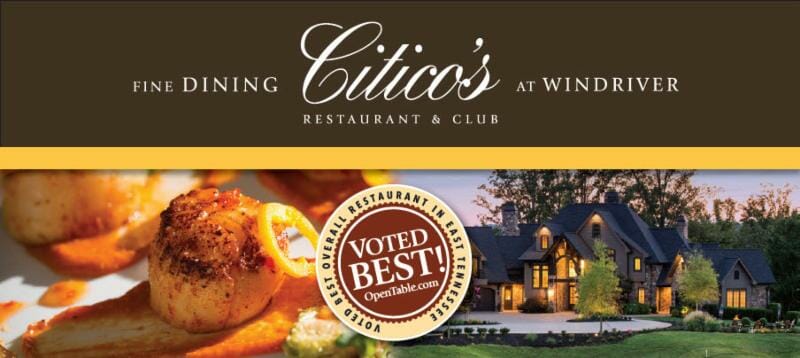 Inside a waterfront mansion in the WindRiver community on Tellico Lake, Citico's Restaurant & Club features elegant, reservation-only dining and the gourmet artistry of Chef Robert Allen and his staff. In addition to our regular Thursday-Saturday dinner service, Citico's has several special events we'd like to invite you to attend.
July 5, 12, 19, & 26
SUNDAY BRUNCH
11:00 AM – 2:00 PM
(Every Sunday this Summer!)
Our delicious "First Sunday" monthly brunch is now every Sunday for the summer! Featuring a la carte options and pastries, fresh fruit, made-to-order omelettes, prime rib, and other chef-selected sides.
$24.95 per person plus tax & gratuity.
MENU
July 8
DINE LIKE A DIPLOMAT
Etiquette & Protocol Course
6:00 PM Arrivals
Designed for the business professional or anyone who wishes to strengthen leadership skills and learn the finer points of international etiquette. The course combines lecture and training exercises with an exquisite five-course meal from Chef Robert.
Investment: 4 hours and $159 per person plustax & gratuity.
MENU
July 16-18
Citico's 1ST ANNIVERSARY CELEBRATION
"WindRiver Days"
Our way of saying "thank you" to our wonderful guests with a weekend-long celebration of the restaurant's first year with live music, complimentary champagne and hors d'oeuvres, plus a special prix fixe menu from Chef Robert with custom wine pairings available.
$49 per person plus tax & gratuity.
MENU
(A la carte menu also available at seasonal menu prices.)
July 29
SUMMERTIME 9 & WINE
5:30 PM Tee Time
A fun scramble event at WindRiver Golf Cub followed by a wine tasting and hors d'oeuvres hosted by Citico's at Top of the Hill Grill.
$45 per person plus tax & gratuity.
Property Owners: $32.50. Members & Passholders: $22.50.
(Grill a la carte menu also available at menu prices.)
From putting together a staff and organizing operations to sourcing fresh ingredients and creating original menus, the first year of Citico's has been a wonderful and challenging adventure.
We've taken particular pleasure introducing – or sometimes re-introducing – our guests to new foods and cuisine. For example, almost every week someone would claim that he hated brussels sprouts and I would smile and say, "Wait until you've tried ours!"
Along with a zest for good food, WindRiver homeowners and our other guests have shown incredible support and encouragement. I remember the evening local restaurant legend Bill Regas dined with us. His success and influence on the industry in the Knoxville area cannot be overstated. We prepared a special menu just for him and his compliments and words of wisdom helped make it a night I'll never forget.
As WindRiver continues to grow in the coming months, everyone at Citico's is thrilled to be a vital part of this community's unique charm and character. We look forward to seeing you at the table!
– Chef Robert Allen
QUESTIONS | If you have any questions about these specials events or would like to know more about our seasonal menus, wine list, gift cards, or how to book a private party, please don't hesitate to contact us.
Request More Information from: