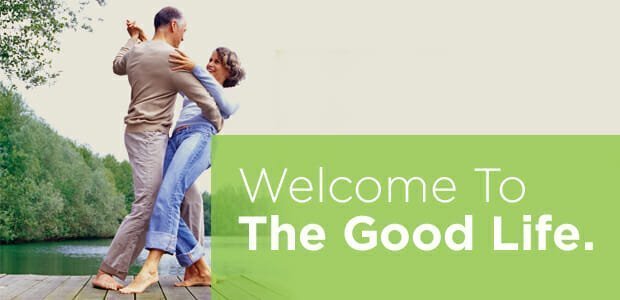 THE GOOD LIFE AWAITS YOU AT TRILOGY® LAKE FREDERICK! IT'S TIME TO MAKE THE MOVE!
Summer has officially arrived, and for our Members at Trilogy® Lake Frederick, that means that a full season of fun at the lake, walks on the scenic trails surrounding it, and a whole host of outdoor activities with fellow Members. If you've been thinking about making the move to Trilogy, here are some great reasons to start living The Good Life now:
Your All-New Shenandoah Club
Purchasing now means that your home will develop alongside the beautiful new 36,000 square foot Shenandoah Club complex, and as you're moving into your new home, the Club will be nearing completion just in time for you to enjoy! Trilogy at Lake Frederick features two distinct buildings that will be home to our incredible resort amenities. Whether enjoying a great dinner and local Virginia wines in the restaurant, attending an event at the outdoor amphitheater, taking a fitness class or working out in the gym, or getting together with one of the special interest clubs, the Shenandoah Club will have you living the Good Life at Trilogy!
Lake Frederick: 117 Acres of Scenic Fun
Perhaps the most unique and amazing amenity of all for our Members to enjoy is spectacular Lake Frederick. Along with providing beautiful vistas from the homesites adjacent to the lake, we have fishing, miles of walking trails, and endless fun for the outdoor enthusiast.
Call your Community Representative today to talk about making your move to Trilogy! We've just released three beautiful new homesites that back to the lake – schedule a tour of the community and available homesites, and we'll look forward to welcoming you as our newest Trilogy Member!
Live The Good Life at Trilogy® at Lake Frederick
Shea Homes® and Trilogy® are excited to announce our first community in the D.C. area! Trilogy at Lake Frederick sits on over 900 acres of woodland beauty nestled in the foothills of the Blue Ridge Mountains, in the heart of Northern Virginia's famed and majestic Shenandoah Valley. Rich in American history, verdant hills and pastures, and overflowing with the bounty of the land, this unique area offers a more temperate climate than the northeast, yet captures the dramatic changes that come with each of the four seasons. Our exclusive community will offer an active resort lifestyle unequaled in the area, and as fans of Trilogy would expect, it will combine thoughtfully designed floor plans with quality construction and innovative features to offer superior homes. The Shenandoah Club complex encompasses 36,000 square feet of indoor space overall and takes advantage of breathtaking lake views. Upon completion, it will rival the best resorts in the region. Learn more!
Discover The Trilogy®
Difference.
Over 1,500 people have made the move to Trilogy® in the last year alone. Why do people love Trilogy Active Lifestyle Communities so much? There are thousands of reasons, from the stunning Clubs and enriching amenities to the vibrant people who live in each one of our locations. We invite you to explore all there is to life in a Trilogy by Shea Homes community and see why we're different inside and out. Watch stories from real Trilogy homeowners in our new video.
Trilogy. Built to bring people together. Designed to stand apart.
Request More Information from: