We All Want to Get Back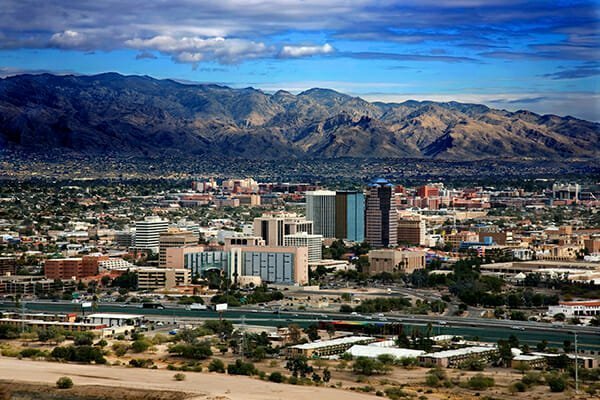 A Google search of the phrase "The Beatles Get Back song meaning" yields a laundry list of results, ranging from social commentary on racism toward immigrants, to deep debates on Jo-jo's true identity. There's little mention of Tucson—mentioned in the first stanza—which is home to the McCartney family ranch today. If the results were up to me, however, or anyone who's experienced the rich culture and history of the southern Arizona city, the top result would be all about "getting back" to Tucson. Here's why.
It's 1960, and you're cruising through the Sonoran Desert down Arizona Route 77. The windows are rolled down on your red '57 Chevy, the breeze flows through your hair, and cacti jut up from the dusty Earth on either side of you. Neon signs of motels and diners flash orange, red, and green against a blue sky backdrop, and the jagged silhouette of the Santa Catalina Mountains rises in the distance from the horizon. Welcome to Tucson.
Back then, you could pull over off the highway and grab a steak for less than two bucks—with friendly conversation and gorgeous landscape, of course, for no charge.
Now, fast forward 60 years. While it's doubtful you'll still be able to snag a full fancy meal with the change from your pocket, the city's endearing quirk comes from remnants of its past that never left: that iconic desert landscape, a rich (and delicious) Latin influence, and mid-20th century retro charm.
Agriculture
The Santa Cruz River floodplain where Tucson resides has been home to extensive farming for more than 4,000 years—the longest known history of cultivation in the United States. Dedicated to preserving the unique terrain, the Friends of Tucson's Birthplace began the Mission Garden Project, a phased part of the Tucson Origins Heritage Park. The only park of its kind in the country, it's a living timeline of distinct periods in the region's history. Upon completion, it will include agriculture from the Early Ancestral, the Tohono O'odham, Spanish, Mexican, Chinese, and Territorial Anglo-American periods.
Perhaps best of all, the garden serves as an edible museum, bursting ripe with anything from sour oranges, pomegranates, apricots, Mexican limes, and pears to plums, native corn, squash, and figs. And yes, you can taste while you walk.
Latin Influence
Freshly grown crops won't be the only thing you'll want to eat in Tucson, though. The city's location just above the border means you'll find more Mexican cuisine here than anywhere else in the country. Nicknamed appropriately, the 'Best 23 Miles of Mexican Food' lies to the south of the city, and it's a massive concentration of amazing Mexican restaurants.
Don't come just expecting tacos and burritos all day, however. Think truly authentic dishes: Raspados, snow cones with fresh fruit and ice cream; toritos, shrimp-stuffed chiles wrapped in bacon; and caramelos, meat-filled cheese crisps. Last but certainly not least is the Sonoran hot dog—in huge abundance—wrapped in bacon and topped in beans, pico de gallo, and mayonnaise on a soft bolillo roll. These creations have been converting hot-dog-haters to admirers for decades.
The Latin influence continues throughout the city in art and architecture, not just food. Spend some time viewing Tucson's thriving mural scene, which offers passionate, insightful glimpses of the region's socio-economic issues and civic values. A good starting point is El Rio Neighborhood Center, where the current Mexican-American mural culture of Tucson began. Six intricate murals conveying social values cover the walls of El Rio, and the art extends throughout the western and southern parts of the city.
Architecture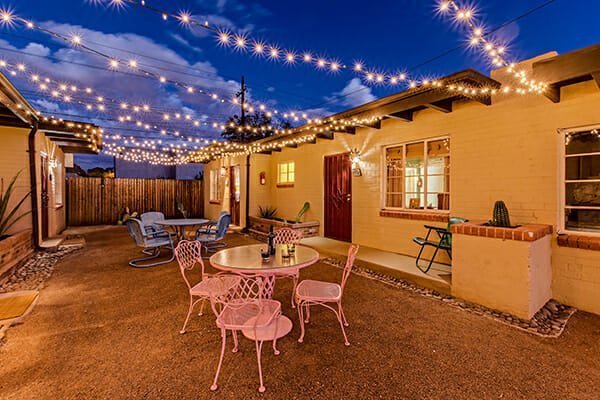 Just north of the city lies Oracle Road, better known as the Miracle Mile Strip. The pinnacle of 1950s automobile culture, the route sat at a crossroads with the American West—and the architecture there often defined the Tucson experience for those passing through the dusty boomtown.
Now, Tucson serves as one of the Southwest's finest remaining examples of mid-20th century architecture, with the Miracle Mile, the Sunshine Mile restaurant and shopping strip, and retro-funky buildings found scattered all throughout town. The stark white buildings and geometric shapes colliding with traditional Pueblo designs of the Barrio and Presidio neighborhoods form a contrast of architecture completely unique to the region.
These retro buildings and neon signs aren't the only reason Tucsonans admire the "Lights of Tucson." Stargazing is a popular activity here, as the wide open skies let the cloak of stars over Tucson sparkle a little brighter there than anywhere else. Country music singer Jim Campbell wrote an entire song about it in 1970:
"…gotta see the lights of Tucson
ain't coming back
wheels get a move on..
I'll never be a loner
way out in Arizona
>painted deserts reaching the sky…"
Whether you're just passing through or making a full-on move, you'll find that just like the highway that stretches far into the desert and the stars in the sky, the quirky character in every corner of Tucson seems endless.
And, of course, although the Internet might dictate deeper lyrical interpretations for the Beatles' 1969 hit "Get Back," I'm pretty convinced it's all about "getting back" to the friendly Southwest history that still thrives today in Tucson.
Things to Do in Tucson
El Guero Canelo:T

hat

ridiculous, overloaded delicacy mentioned earlier known as the Sonoran hot dog? You'll inevitably try them from carts in the park or trucks on the street, as there are more than 200 such vendors in Tucson. If you're going to pick a Mexican restaurant to have a sit-down meal in, El Guero Canelo boasts a boatload of awards for their bean-pico-bacon-wrapped delights.
Saguaro National Park: The towering neon cactus emblazoned with the city's name that greets you upon entering isn't the only green prickly you'll find in Tucson. Surrounding the city on the east and west is Saguaro National Park, dedicated to protecting the nation's largest cacti.
Pizzeria Bianco: Finding an amazing pizza outside Italy or Brooklyn isn't easy, but famous chef Chris Bianco has changed that—and pizza itself, according to Zagat. His wildly popular Arizona-based restaurants are responsible for an artisanal pizza revolution, earning awards and admiration from the likes of Rachael Ray, the New York Times, and James Beard Best Chef.
PIMA Air and Space Museum: Explore more than 300 aircraft—including JFK's Air Force One—collected in six hangars and on 80 acres of dusty Arizona ground. Fighters, civilian craft, helicopters, WWII planes, and cargo planes … you'll be shocked at how little this looks like a peek out the airport window. Book a Boneyard Tour to see the Davis-Monthan Air Force Base next door, where more than 4,000 aircraft sit in a graveyard of sorts.
National Optical Astronomy Observatory: Kitt Peak National Observatory lies about 50 miles outside Tucson, but it's worth the extra mileage. Reserve a spot in an astronomer-led stargazing session that includes dinner, lessons on constellations, and a chance to use dome-mounted telescopes to see galaxies, planets, and stars way up above Tucson.
By Emily Hackeling
Previously published in the 2016 Summer Issue.

Your Information Request for your selected properties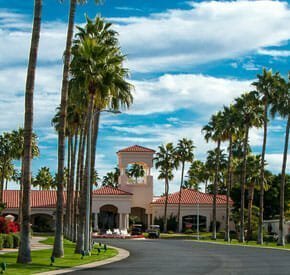 Las Palmas - Active 55+ Resort
Mesa, Arizona
Affordable Active 55+ Resort Living. It's easy to see why so many of our residents feel like they're on vacation all year long. Las Palmas is a world-class resort with year-round activities, luxury amenities and a friendly group of active 55+ adults who enjoy life to the fullest, just like you. Visit our impressive selection of custom-built homes beginning in the $50's. Whether you're looking for the best value in retirement or simply the best place to take life easier, you'll enjoy the lifestyle at Arizona's premiere 55+ resort. Las Palmas is among the award-winning family of Thesman Communities proudly offering affordable resort living since 1980. Gated with 24 hour security. Visit us today, open daily for tours 8-5
Read More...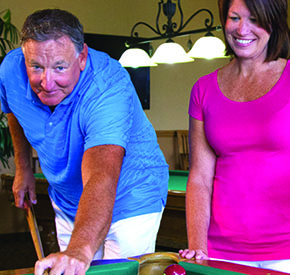 Las Palmas Grand - Active 55+ Resort
Mesa, Arizona
It's easy to see why so many of our residents feel like they're on vacation all year long. Las Palmas Grand is a world-class resort with year-round activities, luxury amenities and a friendly group of active 55+ adults who enjoy life to the fullest, just like you.
Read More...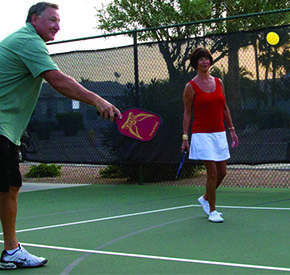 Palmas Del Sol East - Active 55+ Resort
Apache Junction, Arizona
Luxury and affordability come together at Palmas Del Sol East. From the best in social and recreational activities to an impressive selection of quality manufactured homes from the $30s.
Read More...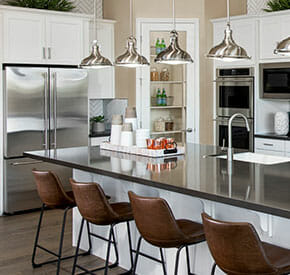 Galloway Ridge
Cave Creek, Arizona
Galloway Ridge is a community with new low maintenance villa-style homes in Cave Creek, Arizona. Located near shopping centers, picturesque golf courses and equal distance between the I-17 & Loop 101, it features a community pool and barbecue pavilion. The location is ideal for someone who enjoys easy access to dining, boutique shopping and nightlife.
Read More...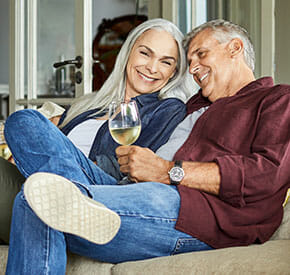 K. Hovnanian's&reg Four Seasons at Sun City West
Sun City West, Arizona
A new active adult 55+ community in Arizona, Sun City West will offer three designs of single-story homes close to shopping and recreation. Enjoy an amenity-filled, resort-style experience within an easy commute to Phoenix.
Read More...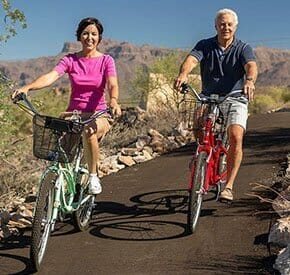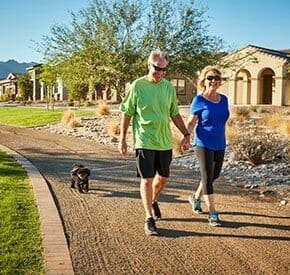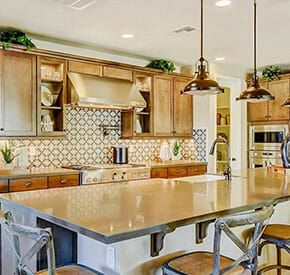 Scottsdale Heights
Scottsdale, Arizona
This new Active Lifestyle neighborhood is for those 55 and better and will offer four designs of single-family homes. Designed for low maintenance these villa-style homes will provide just the right amount of private outdoor space and many amenities throughout the neighborhood.
Read More...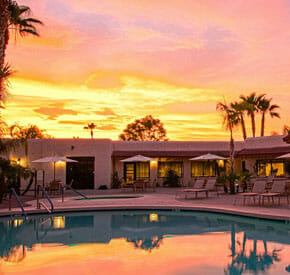 Palmas Del Sol - Active 55+ Resort
Mesa, Arizona
Surprise yourself with the affordable luxury at Palmas Del Sol, one of the finest Active 55+ communities in Arizona. Relax in our heated pool, join friends in our multi-million dollar clubhouse, or rejuvenate with a year-round calendar of events planned by our full-time Activities Director.
Read More...
The Ridges at White Hills II
White Hills, Arizona
Tired of all the craziness and chaos going on in the world today? This is your opportunity to own 36 acres just one hour from the World Famous Las Vegas Strip starting at $54,900. THE RIDGES AT WHITE HILLS is the perfect place for that weekend get-away, 5th wheel fun, family ranch, or perhaps just a safe haven from the perils of the city.
Read More...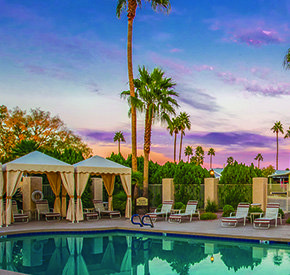 Sunrise Village - Active 55+ Resort
Mesa, Arizona
Step into this active 55 plus community in East Mesa and be amazed at how affordable a resort lifestyle can be! You will discover friendly people, luxury amenities and newly remodeled homes from the $30s. Our gated community offers a year-round calendar of social events planned by our Activity Director.
Read More...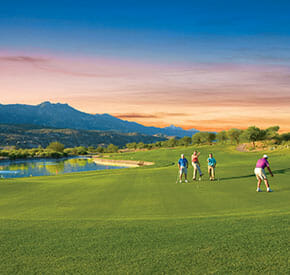 SaddleBrooke TWO
Tucson, Arizona
Within this stunning Sonoran desert setting just 25 miles north of downtown Tucson, Arizona, you'll find an appealing combination of natural tranquility and vibrant excitement. Your new home will boast spectacular views of the 9,000-foot Santa Catalina mountain range, nearly perfect weather, and an abundance of community amenities, events, groups, and traditions to fill your life with joy and inspiration.
Read More...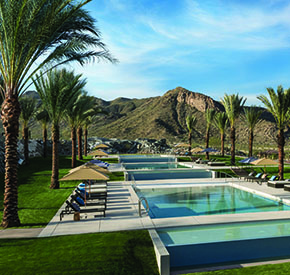 David Weekley Homes - Victory at Verrado
Buckeye, Arizona
David Weekley Homes has delivered the best in Design, Choice and Service for the past 40 years. As one of the largest privately-held builder, David Weekley Homes continues to build high-quality homes and offer open floor plans that suit the needs of any lifestyle.
Read More...