Greenbriar Oceanaire: Popular New Jersey Active Adult Living
Greenbriar Oceanaire is one of New Jersey's most popular locations for older adult active living.
Located in Waretown, New Jersey, the area is accessible to those who have fallen in love with New York City or Atlantic City—and only minutes away from the infamous Garden State Parkway, which runs from the very top of New Jersey to the very bottom—making it the longest highway in the state. Anywhere in the Garden State, renowned for its lovely views and ample amount of sunshine, is available with ease for Greenbriar Oceanaire residents. One of the most popular destinations being the Barnegat Lighthouse, which is the second tallest lighthouse in the state. That is only for those who wish to travel away from Greenbriar Oceanaire for the day, however—with a focus on both fine and healthy living for older adults, it is easy to see why so many residents are inviting their friends to this fast-growing New Jersey retirement community.
A world-class destination resort, Greenbriar Oceanaire prides itself as an exclusive community for members who are fifty-five and up, who want to live a happy and healthy lifestyle. Catering to this crowd, the community has its own Arthur-Hills designed 18-hole championship golf course—made specifically with the residents of Greenbriar Oceanaire in mind.
Other sports are not neglected, however. Greenbriar Oceanaire owns its own fabulous tennis courts, aerobatic studios, fitness centers, walking trails, and indoor and outdoor swimming pools to make sure there is always some way to get the blood moving throughout the day. A host of classes are offered in the various studios to this effect. The 38,000 ft. clubhouse showcases the luxury that is present in all of Greenbriar Oceanaire, standing as the extravagant community center, where many of these things can be found. Two restaurants also call Greenbriar home: Caravella's at Oceanaire, which specializes in fine Italian dining, and Gina's Café, which is known for its classic American snacks.
Homes at Greenbriar Oceanaire are equally as outstanding as their amenities. Home designs offer spacious family-rooms, luxurious master-suites, command kitchen centers, and bright sunrooms. Wooded and basement homesites are also available to suit the needs of any adult moving in to the resort.
For active adult living, Greenbriar Oceanaire has detailed itself to match the every need of its clientele—making it a wonderful place to live in the busy, beautiful state of New Jersey.
---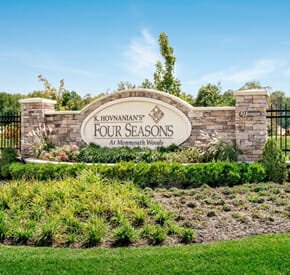 K. Hovnanian's® Four Seasons at Monmouth Woods
Howell, New Jersey
Fall in love with our unparalleled amenities and resort-at-home lifestyle that everyone is buzzing about. Enjoy our 6,830 square foot versatile clubhouse that truly is the heart of our community. Whether you are attending a wine and cheese event or relaxing with a good book, there is always something to keep you engaged. Soak up the sun and spend sun-drenched days in our gorgeous pool or enjoy a water aerobics class. With the variety activities and amenities at K. Hovnanian's ® Four Seasons at Monmouth Woods, there is always time for making new friends and living the social life.
Read More...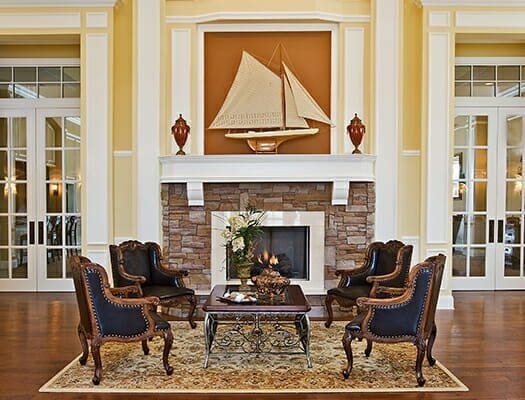 Paramount Escapes Ocean Breeze
Manahawkin, New Jersey
Resort Inspired 55+ Living in New Jersey, Paramount Escapes Ocean Breeze offers an ideal location just 10 miles from the alluring sands of Long Beach Island. This dynamically different neighborhood brings together expansive home designs, a beach-accessible location and an energetic lifestyle...
Read More...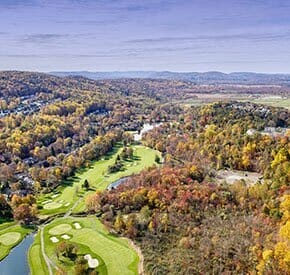 High Pointe at Panther Valley
Hackettstown, New Jersey
Welcome to the most talked about townhome neighborhood by Baker Residential! Located in the gated community of Panther Valley, High Pointe offers spectacular mountaintop views, blended with desirable luxuries and an affordable starting price.
Read More...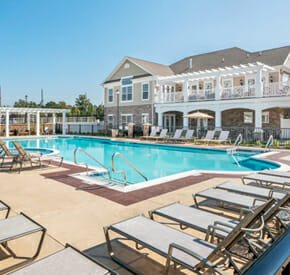 K. Hovnanian's® Four Seasons at Monroe
Monroe, New Jersey
Four Seasons at Monroe is a 55+ active lifestyle community offering resort-style living with a variety of captivating home designs. Enjoy traveling with ease, living in close proximity to the New Jersey Turnpike and other major routes. Live the best of both worlds miles away from New York City and a short 45 minute drive to the Jersey Shore. Break a sweat in our fitness center, engage in a competitive tennis match or refresh yourself in our outdoor pool. Homes are available.
Read More...
Your Information Request for your selected properties