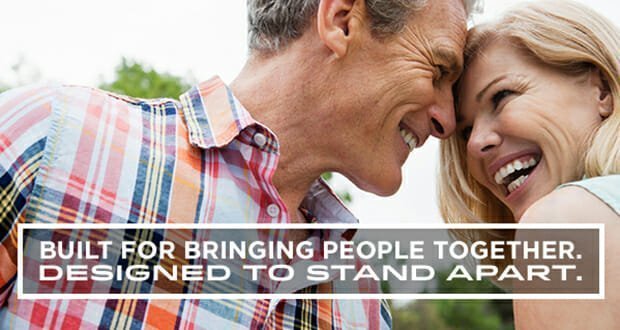 VIP MODEL GALLERY PREVIEW AT TRILOGY® ORLANDO!
Mark your calendar now and make plans to join us on Saturday and Sunday, August 29th-30th as we Grand Open two gorgeous new model homes in our gallery! As VIP members of our interest list, you're invited to join us one hour early to tour the new models before the general public!
Meet at the Magnolia House resort club (100 Falling Acorn Drive, Groveland, FL 34736) and make sure to arrive in time for the 11:00am VIP preview each day to be the first to check out these innovative new model homes. The general public will be welcomed from noon to 4:00pm.
We'll have live music, light appetizers, and refreshments for your enjoyment – don't miss this fun event!
SALES SUCCESS IN JULY!
We had a fantastic July, welcoming nearly a dozen new families to Trilogy® Orlando!
With this strong demand, a price increase is on the horizon – make the move to Trilogy now to take advantage of our current prices!
JUST 7 ARBOR COLLECTION HOMESITES REMAIN!
The Arbor Collection at Trilogy® Orlando has been a huge hit with buyers, to the point that we have just 7 homesites remaining for these homes!
If you've had your eye on our beautiful Hickory or Aspen homes, it's time to act! Once these homesites are gone, they're gone!
Contact your Community Representative now to review the remaining available homesites, and make the move to your dream Arbor Collection home at Trilogy Orlando!
SHEA3D™ COMING SOON!
Shea3D™ is coming soon to Trilogy® Orlando! Check out our first Shea3D plan at the Model Grand Opening on Saturday, August 29th!
Shea3D is Shea Homes'® revolutionary new approach to home design. Never before have you been able to customize the main living space of the home to perfectly match your lifestyle. Select from three different YourPlans™ to find the one that best fits your lifestyle, and then decide which home design to put it in.
UPCOMING EVENTS AT TRILOGY® ORLANDO
Come meet your future neighbors and get a sampling of The Good Life at Trilogy® Orlando – attend one of these great events in August!
Chef Wine Dinner | August 18th, 6:00pm
Join Chef Jason as he prepares a gourmet dinner and pairs each course with wine.
Chef Cooking Demonstration | August 20th, 3:00pm
Chef Jason will be preparing barbecue spiced shrimp with tomato salad. Come hungry and you'll leave happy!
New Member Meet & Greet | August 20th, 5:00pm
Calling all new Trilogy Members! You're invited to our monthly Meet and Greet at the Magnolia House. New Members will be introduced to "veteran" Members and get the latest news on the community.
Cooking Demonstration | August 23rd, 11:00am
Join us to learn how to make strawberry basil coulis!
DJ Phil Dance Party | August 27th, 7:00pm
Another Member favorite! Come out for a night of fun and dancing. DJ Phil will be here playing all of your favorite tunes.
Club Connect: Ben Fong-Torres | August 27th, 5:00pm
Join us for a Club Connect event live from Trilogy at The Vineyards, featuring Benjamin Fong-Torres, the famous and award winning American rock journalist, author, and broadcaster, best known for his association with Rolling Stone magazine (through 1981) and the San Francisco Chronicle (from around 1982). He is most notably remembered for his interviews with Bob Dylan, the Rolling Stones, and for hosting Jim Morrison's last recorded interview.
RSVP is required for these events – please call 352.394.9839 to let us know you which events you wish to attend!
TASTE THE GOOD LIFE AT TRILOGY® ORLANDO
"Taste The Good Life," our Try-Before-You-Buy program, was created for those considering purchasing a home at our resort community, so you can experience the lifestyle at Trilogy Orlando to see for yourself how exceptional home ownership here can be. For just $240, here's what you'll enjoy during your Taste The Good Life getaway:
Three nights and four days' accommodations in a beautiful Trilogy home
Choice of hosted breakfast or lunch with a Member
Lakeridge Winery Tour
Schedule your Taste The Good Life getaway by calling 800.685.6494. Stays are booked on a first come, first served basis, so call now!
Request More Information from: