Get Ready for the Outdoors with Great Party Ideas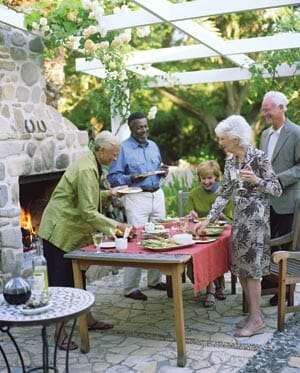 Spring is here. Time for those bulbs you planted last fall to begin peeking through the soil, for gardens to shed the dispirited look they've had all winter and bloom in Technicolor splendor and for you to give your house the vigorous scrubbing commonly known as spring cleaning. Once your garden is at its finest and your house is sparkling, it's time to show off what you've got. Assemble your guest list and get ready to throw a party worthy of the season. Here are some tips to help you stage festivities so original-and so much fun-that people will still be talking about them the next time the Easter bunny comes around.
Theme Parties… It's Easier than it Sounds
Backyard "Campout"
Since it's spring and the weather is balmy, consider hosting your party outdoors. Are you the adventurous type? Before it warms up too much, host a camp-out in your own backyard. All you'll need for this is a chiminea (or permission from the powers that be to build a bonfire), folding chairs to set up around the flames, the makings of S'mores, and some hot dogs and burgers to toss on the grill. Spice it up with ghost stories to tell around the fire-you might even want to hire a professional storyteller. If you know anyone who has a telescope, tell them to bring it along and give the guests a guided tour of the stars.
Color Party
Does your garden have a preponderance of blue, pink or yellow flowers? Blend right into the foliage with a Color Party. This is one of the easiest theme parties to organize. It can be as simple as purchasing plates, cutlery and decorations in a single color. If you're ambitious, tell your guests to wear outfits to match, and select the food accordingly.
Old South
Live in the South-or wish you did? Step back in time with an Old South get-together. Drape your trees with Spanish moss, prepare sweet tea and mint juleps, and have your guests dress up in the spirit of days gone by-seersucker suits for the gentlemen and hat, gloves and gowns for the ladies. Get creative with the food-is your party set in old-time New Orleans? Chicken and sausage gumbo, Bananas Foster, po' boys, red beans and rice, jambalaya, seafood Creole, beignets and even King's cake can be the order of the day. Top the meal off with fresh Chicory coffee. If you've gone back in time to North Carolina, prepare a repast of hush puppies, barbeque, Scuppernong wine, honey-roasted peanuts, grilled crab cakes, freshly caught shrimp, oysters on the half-shell and muscadine jelly spread on freshly baked, flaky biscuits. For dessert, consider strawberry shortcake, banana pudding or red velvet cake. Are you hosting a gathering set on South Carolina's coast? Make sure to have a Low Country boil simmering away, along with plenty of corn on the cob, shrimp and grits, crab dip, fried green tomatoes, cornbread and peach cobbler.
Travel Theme
Got the travel itch? Transform your back yard into the destination of your dreams, and throw a shindig to match. Hire a live band to create the perfect ambiance, serve foods native to the country of your choosing and coordinate the decorations so that they transport guests to Tahiti, Bora Bora or Finland-whatever strikes your fancy. If you feel really inspired, hire character actors to circulate among the guests, dressed in costume… or invite your guests to dress up themselves. Display maps of the location in question and educate your guests by posting interesting facts about the culture, music, food and geography of your chosen locale.
Eco-friendly Party
Celebrate your environmental consciousness with an eco-friendly party. If you've got enough plates, glasses and cutlery in your cabinet to accommodate all of your guests-and the willingness to wash them all-this is your most eco-friendly option. The runner-up is purchasing biodegradable plates and cups (bamboo is a great resource for this) and using napkins made from recycled material. For tablecloths, use bed sheets rather than linens, says Teresa Gausman, co-owner of Premiere Events. "They're super-cheap and are easy to wash-and they have a dual purpose." Rather than incorporating cut flowers into your decorating scheme, use potted herbs that you can either send home with guests as party favors or utilize throughout your house and garden. See if you can re-purpose items you already own as party decorations to eliminate additional consumption. Where food is concerned, serve only dishes made from food grown or raised locally.
Hold your party during the day to reduce energy consumption, or use solar lights and candles if your get-together starts after the sun goes down. Finally, use online services such as evite.com to send your invitations and manage your guest list, so you don't sacrifice any trees in the process. Evite.com also offers a party checklist, drink calculator and budget estimator to make your life easier, as well as plenty of ideas to make your event a success.
Drive-in Movie
Finally, blast back to the past with a drive-in movie hosted in your own backyard. This can be as simple as setting up a large screen outdoors, assembling some seating, and then renting popcorn and snow-cone machines-and it sure beats making it a Blockbuster night.
Three Ways to Ensure that Your Outdoor Event is a Stellar Success
Hydration, Hydration, Hydration.
During the spring and summer, it's easy for folks to get dehydrated. Drinks containing alcohol or caffeine, which people tend to consume in large quantities at parties, don't help. What can you do? Have a variety of delicious beverages available for your friends-and, says Gausman, "serve fruit, like strawberries, watermelon and grapes. It's a natural hydrator."
Stop Bugging Me!
In the South, as the weather warms, the insects come out in force. Few things can put the kibosh on a good time like being dive-bombed by hungry mosquitoes. Gausman suggests setting out insect repellent, giving out fans as party favors and decorating with citronella Tiki torches.
Comfort Comes First.
Keep in mind that you may have guests of varying ages and physical abilities. Never use picnic tables, Gausman says, since "they're hard to get in and out of." Rent what you don't keep on hand, like extra tables and chairs. Many rental companies also rent tables and chairs for small children, so that they can have a space of their own. If your party involves families, consider making it BYOB-Bring Your Own Blanket, suggests Gausman. Using blankets and towels for seating promotes a fun, casual atmosphere and allows kids more freedom.
Tips from the Pros
Courtesy of Premiere Events
o Presentation is everything-so make sure your setup looks good!
o Send invitations one month in advance to allow guests enough time to respond.
o It's not necessary for guests to respond with RSVPs, only regrets.
o Don't use evite.com for upscale clients or events.
o To reduce costs, hold group parties with two or four couples hosting.
o If cooking isn't your forté, cater your party. This will reduce your stress level and give you more time to spend with your guests.
o Consider hiring a party planner for an hour-long consultation, so you can benefit from their expert advice.
Best tip: "If you're going to spend money on one thing, invest in the linens," Gausman says. "You can put a $20 centerpiece on good linens and it will look better than a $1,000 centerpiece on poor table dressings."
---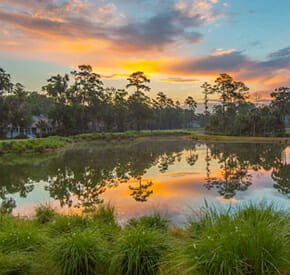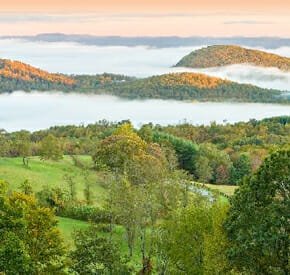 Grand Highlands at Bearwallow Mountain - NC Mountain Communities
Hendersonville, North Carolina
Unparalleled panoramic views of the Blue Ridge Mountains and pristine forests. This award winning mountain top community is removed without being remote. It is minutes from the conveniences of Hendersonville, NC and the Asheville Airport. Ideal altitude from 3,200 to 3,800 feet to enjoy cool summers without the harsh winters.
Read More...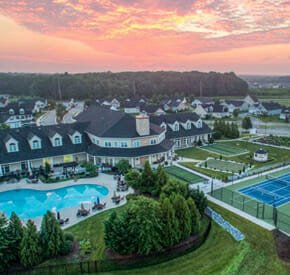 Noble's Pond
Dover, Delaware
Delaware 55+ Community Situated on 293 acres with wooded areas and natural habitats Low Tax Living - Delaware taxes for retirees are ranked #1 in the NE
Read More...
Fairfield Bay - Arkansas Lake Resort Community
Fairfield Bay, Arkansas
Lake Resort Community Fairfield Bay Arkansas. Enjoy the Lake Resort and Ozark Mountains in AR. This stunning natural playground loaded with Amenities is an outdoor lovers paradise. Take in the amazing mountain views.
Read More...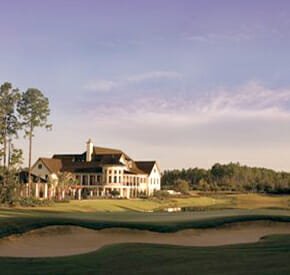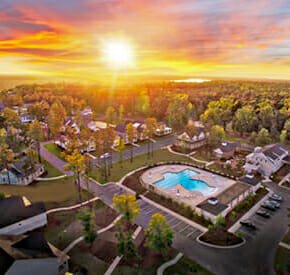 River Bluffs
Castle Hayne, North Carolina
Located just 10 minutes north of Downtown Wilmington, NC (by boat or car) sits River Bluffs, overlooking the North East Cape Fear River. Residents enjoy a serene community where they live and play. Together, residents and the neighborhood's developers have established over 30 clubs. The clubs include boating, kayaking, dancing & more!
Read More...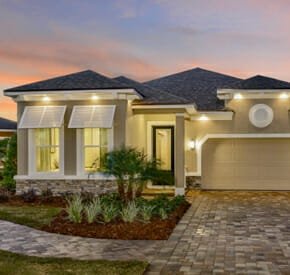 Renaissance at West Villages
Venice, Florida
Renaissance at West Villages is a vibrant new gated community in West Villages, Florida that offers new homes and resort-style amenities. Located in the fast-growing, master-planned community of West Villages, Renaissance offers new homes that will complement this beautiful Sarasota County area. Get ready to enjoy the Southwest Florida lifestyle and great weather all year long. Choose from an array of thoughtfully-designed Paired Villas and Single Family Homes with unique curb appeal. Amenities will include a clubhouse, pool, tennis, pickleball, bocce, full-time Activities Director and events, parks and more. You'll love living just minutes to Downtown Venice, award-winning beaches and I-75. Quick move-in homes are available.
Read More...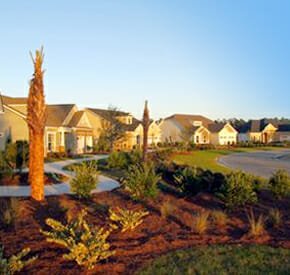 The Governors Land at Two Rivers
Williamsburg, Virginia
Celebrating 25 years of distinctive living, you'll find that The Governors Land at Two Rivers offers an active lifestyle for all ages since our diverse community is one-third families with children, one-third working couples and one-third retirees.
Read More...
Del Webb Stone Creek - Ocala Florida Active Adult 55+
Riverview, Florida
Del Webb Stone Creek, a gated 55+ Active-Adult community located in the horse capital of the world, Ocala, Florida. Love life to the fullest with newly renovated world class amenities, 18-hole championship golf course, and community events planned by our lifestyle director, providing an unparalleled lifestyle.
Read More...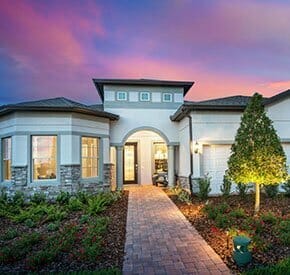 Del Webb Bexley
Land O Lakes, Florida
Del Webb Bexley is a 55 Plus Active Adult community near Tampa in Land O Lakes FL. Love life to the fullest in this gated, master-planned community. Enjoy the coastal life of Florida.
Read More...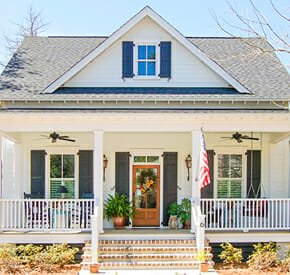 Celadon
Beaufort, South Carolina
Located in SC's Lowcountry, a mere three miles from downtown Beaufort, this beautiful master-planned community allows you to focus on a simpler, happier, healthier life.
Read More...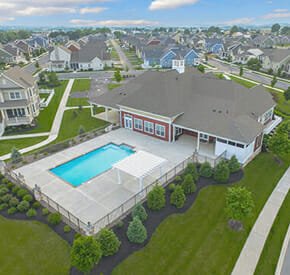 Home Towne Square
Ephrata, Pennsylvania
The 55+ community of Home Towne Square, by Landmark Homes, is situated near Ephrata, PA, about an hour from Philadelphia, in the charming Pennsylvania Dutch Country. Landmark Homes designed Home Towne Square to reflect the culture and tradition of the Dutch Country, including an Arts & Crafts homestyle.
Read More...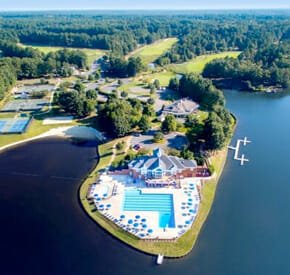 Fawn Lake - Virginia Gated Communities
Spotsylvania, Virginia
Spanning over 2,350 acres of gently rolling countryside just nine miles west of the historic city of Fredericksburg VA,
Fawn Lake
offers the unique opportunity to live in the relaxed resort atmosphere of a gated community and carefully preserved trees with a 288-acre deepwater lake with over seven miles of shoreline plus and an Arnold Palmer...
Read More...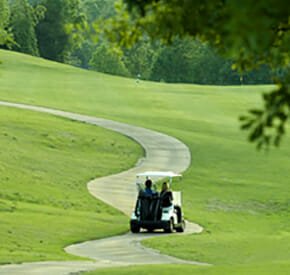 Colleton River Club
Bluffton, South Carolina
Lowcountry luxury lies at the base of Hilton Head's bridge at Colleton River. This peninsula community delivers on its promise of world-class golf, pristine natural surroundings, and an unparalleled water experience. With nature as the centerpiece, Colleton River's 1,500 acres epitomize Lowcountry serenity, with Spanish moss draped Live oaks and palmetto trees lining roadways. Trails wind through a blend of beautiful homes, natural terrain and 7 miles of expansive water and marsh views. The peninsula is also anchored by adjoining Victoria Bluff, an 1,100-acre nature preserve
Read More...
Your Information Request for your selected properties
Search for Land Preservation By State: