Venture Out & Explore Florida along the I-95 Corridor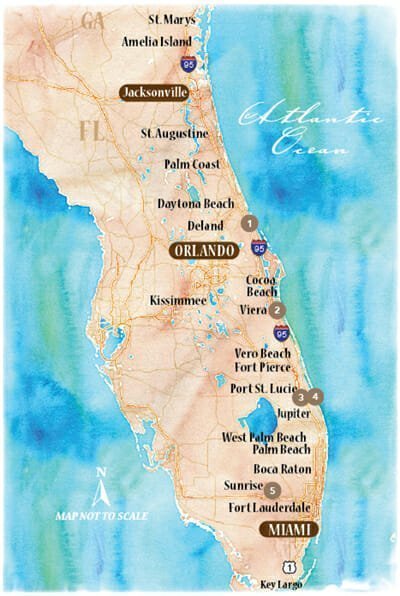 Blessed by its peninsular nature between the Gulf of Mexico and Atlantic Ocean, Florida is lined with 825 miles of beaches. This super salt-life setting is just one reason 112.8 million tourists visited the state in 2016, the sixth-consecutive record year for Florida tourism.
To be sure, Florida's bevy of beautiful beaches have made the Sunshine State a popular destination. Packaged with year-round sunshine and a heavenly climate in the fall and winter months in particular, Florida is hard to beat as the next great place to live, retire, and play.
Throw in a dynamic job market and overall economy, no state income tax, and tremendous real estate values relative to much of the Mid-Atlantic and Northeast, and that explains why Florida's population added 367,525 people in 2016, the second-largest gain in sheer numbers after Texas, according to recent U.S. Census numbers.
Now, with an overall population of just over 20.6 million, Florida continues to outdistance New York as the third largest state in the country. And this growth shows no signs of slowing down, especially along the fast-growing I-95 corridor from Jacksonville south to Palm Beach and Broward counties.
So, in the spirit of railroad and tourism magnate Henry Flagler, who first visited Jacksonville in 1878 and paved the way for millions to enjoy Florida's awesome Atlantic Coast, enjoy this famous Florida stretch of I-95 – starting just over the border in St. Marys, GA, and ending some 280 miles later at the posh Palm Beaches.
---
Choose communities that you are interested in visiting:
Your Information Request for your selected properties