Venture Out to the Best Places in Eastern Tennessee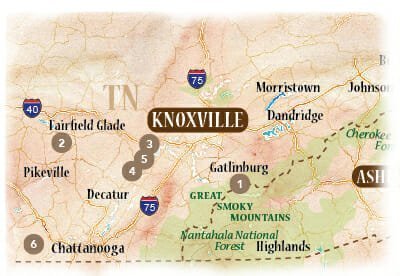 Spring is the perfect time to discover Eastern Tennessee, one of the best-kept travel secrets in the country. And a little jaunt through the mountains is always a great place to start anything. In late March and early April, crisp mountain air and infant, chartreuse leaves explode over-wintered senses, and invigorate the adventurous side in everyone. And, the Great Smoky Mountains of Tennessee are on double-time.
So, kick start your Eastern Tennessee journey with a tour of Bristol, Tennessee, where the hills meet the mountains on the Virginia line. Then, dive in by heading south on I-81 toward the Great Smoky Mountains National Park. Take a side trip, on the way, to Johnson City, Tennessee, for the Blue Plum Festival if you happen to be passing through in early June.
If you plan to do more than sight-seeing while touring the Smokies, head east to downtown Gatlinburg, "The Gateway to the Smokies," to fuel up and see the sights. Be careful though, this unconventional and very popular city has a way of keeping you for a while.
The park is hard to leave, but once you do, head south toward Knoxville. Jump on I-75 to stay on a southern track. Be sure to check out Morristown as you head south. It's a charming city just off the interstate. Dandridge, just 30 minutes south, is another great stop for a picnic by the lake or an afternoon stroll through town.
If Chattanooga is your final destination, then you've chosen the perfect end to your journey. Whether you're a civil war buff, an outdoor enthusiast, an art and music lover, or anything in between, Chattanooga is a place for everyone, anytime.
Choose communities that you are interested in visiting: