Welcome Aboard for a Tall Ship Adventure!
I must go down to the seas again, to the lonely sea and the sky,
And all I ask is a tall ship and a star to steer her by;
And the wheel's kick and the wind's song and the white sail's shaking,
And a grey mist on the sea's face, and a grey dawn breaking.
—John Masefield, "Sea Fever" (1902)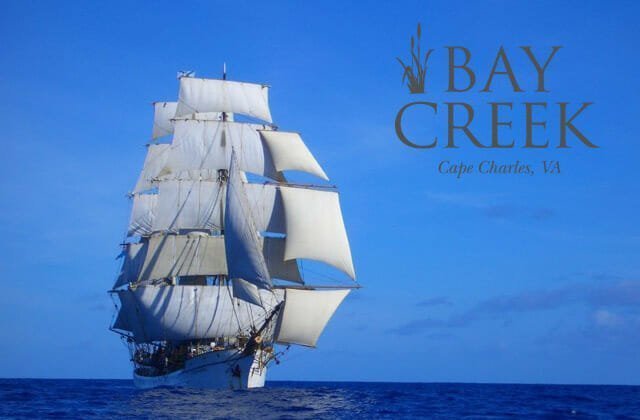 You're invited to join us at Bay Creek on Sunday, June 14 for a very special sailing adventure. The Canadian barquentine Pincton Castle –a three-masted tall ship out of Lunnenburg, Nova Scotia – is docking at Cape Charles on its way to the Tall Ships Festival in Philadelphia.
As a sponsor of the Tall Ships event, Bay Creek is providing our invited guests with a delightful nautical experience; complete with deck tour and reception.
This is a great opportunity to relive the adventure of a bygone era, when tall ships ruled the waves and inspired poets like John Masefield and writers like Joseph Conrad.
Even if you can't tell a barquentine from a top-sail schooner, you won't want to miss this very special event.
Please call 757-331-8742 to schedule your Bay Creek Discovery Tour* and secure your spot on the Pincton Castle on Sunday June 14!
But please call today as space is very limited.
We look forward to welcoming you aboard the Pincton Castle!
*Featuring three-days/two-nights accommodations at Bay Creek, plus golf for two on one of our Signature Palmer and Nicklaus golf courses, $50 certificate at our acclaimed Coach House Tavern, access to all member amenities (including our spacious new Beach Club and Fitness Center), an exclusive tour of Bay Creek, and just for June 13-15, the sunset reception on the Pincton Castle, all for just $229, subject to availability.
Request More Information from: