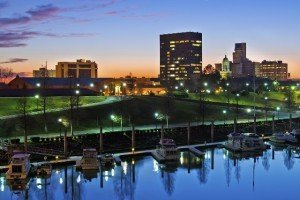 Savannah Lakes Village is situated at the threshold between Western South Carolina's Little River Blueway Adventure Region and the 71,100-acre Lake Thurmond, which is one of the nation's biggest inland bodies of water. Right at the South Carolina/Georgia line, it's also not far from cities like Augusta, GA, and Greenville, SC. Making the most of this location, Savannah Lakes is an extremely active sporting community, following their motto—"A Unique Place to Play…An Inspiring Place to Live!"
So what is there to do?
Lake Thurmond, also known as Clark's Hill Lake, stretches almost forty miles up the Savannah River and twenty-six miles down the Little River. The public land surrounding the lake has numerous parks, campgrounds, hiking/biking trails, paddling trails, historical sites, and forest/wildlife management areas—for all your water front and water recreation activities. Savannah Lakes Village is nestled against the lake, making all of this easily available.
For fun on land, Savannah Lakes Village is bordered by 63,368 acres of protected land, allowing for a myriad of outdoor recreation along the well-kept and beautiful trails. Biking, camping, hiking, hunting, archery, pickle ball, and geo caching are among some of the locals' favorite activities. All forms of healthy, active, outdoor living are available at Savannah Lakes Village.
It's the golfing scene that really makes a scene at Savannah Lakes, however. With two of its own, private, 18-hole award-winning championship golf courses, all members of the Savannah Lakes community have the opportunity to enjoy golfing. Carved from the rolling landscape wrapping Lake Thurmond, each course offers unique challenges and breathtaking vistas of the lake and piedmont forest. But beginners need not fret! Practice facilities are also made ready that include spacious driving ranges, putting greens, practice bunkers, and pitching greens.
Those who love tennis are also catered to at Savannah Lakes Village, whether they are a novice, intermediate, or tennis veteran. With lighted clay and hard courts, weekly men's and women's tennis groups, league play, ball machine, tennis clinics and great social events, there's always a lot going in the tennis programs throughout the year. For those seeking a team to play with, The Savannah Lakes Village Tennis Club is an organization for the purpose of promoting organized recreational, social, and competitive tennis activities always looking for new members.
The recreation center serves as a place for the community to congregate for the day. Residents and their guests enjoy the benefits of a healthy lifestyle at the community's 23,000 sq. ft. Recreation Center, getting in a great workout in the fitness room, or taking in an aerobics or yoga class, or swimming laps in the indoor or outdoor pools, or just relaxing in the whirlpool and sauna. For friendly, neighborhood competition—there is tennis, pickle ball, bocce ball, horseshoes, table tennis, and bowling.
For whatever activity, be it on the lake or in the grass, Savannah Lakes Village is the perfect place to follow your passions.
Request More Information from: