Phoenix AZ: Things Are Different in the Desert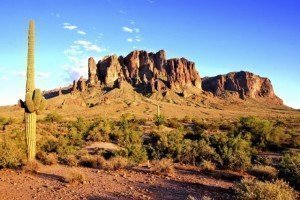 When you imagine the perfect place to winter, you picture warm days, sunshine, the beach, perhaps—but what about the desert? Not endless miles of blistering sand dunes, with a sporadic cactus here and there, but the Sonoran Desert. More specifically, Phoenix, Arizona.
Greater Phoenix is located in the Sonoran Desert, known as one of the lushest and most colorful deserts in the world. That is all due to the amount of rainfall the area gets a year. Hohokam people inhabited the area until 1450 AD, creating the first major urban civilization in the Salt River Valley, and also developed a canal system which is still in use today. To delve into the history of Phoenix, there are plenty of places to explore the city's past, including Pueblo Grande Museum and Archaeological Park, and Heard Museum.
Home to more than 200 golf courses, you can keep up with your golf game while wintering in this delightfully warm city. But while you're here, there are tons of other things to explore, see, and taste. Things are a little different in the desert—there are cacti, and other desert plant life that you might not have seen before. Plan a visit to the Desert Botanical Garden where you'll be surrounded by all kinds of desert plants.
The most popular way to explore the area is by hiking and biking. Hop on the Cholla trail on Camelback Mountain, which features the most iconic outline of the Phoenix horizon. Or, enjoy a bird's eye view and float through the sky on a hot air balloon tour. The views you'll see on any means of exploring will leave you breathless.
There are other quirky sites you'll stumble upon as you venture around the city, like the Mystery Castle in South Mountain Park. The 8,000 sq. ft. structure is built from rocks, brick, old car parts and other assorted junk, and houses a tavern, wedding chapel and wine cellar. It's a spectacular sight to see, perched on a steep hillside in the park.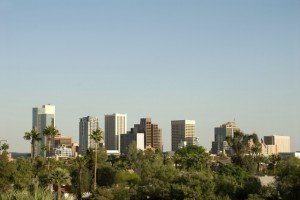 Downtown Phoenix is an exciting adventure, too. Catering widely to lovers of the arts, treat yourself to a show at Herberger Theatre, where you can see anything from off-Broadway to ballet. Take the metro light rail to the Phoenix Art Museum and spend hours admiring the work of artists. You can even participate in Artlink's First Fridays, where you can tour galleries, venues and related spaces for a few hours in the evening on the first Friday of every month.
The food in Phoenix is something to check out, too—you'll have to eat, right?—with some of the city's restaurants being featured on Food Network. Try Pizzeria Bianco, where you'll find incredibly tasty pizza from the recipes of Chef Chris Bianco. Matt's Big Breakfast is another joint to check out, especially if you're looking for a delicious breakfast spot. For a more authentic cuisine, Kai (the only 5 diamond Native American restaurant) serves both Mexican and Southwestern dishes that you're sure to enjoy.
So, when you imagine the perfect place to winter, why not Phoenix, Arizona?
Your Information Request for your selected properties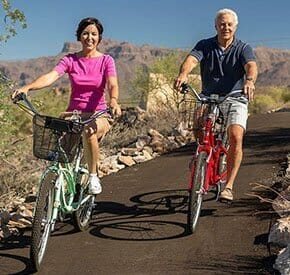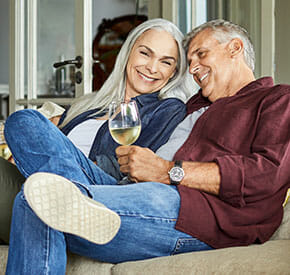 K. Hovnanian's&reg Four Seasons at Sun City West
Sun City West, Arizona
A new active adult 55+ community in Arizona, Sun City West will offer three designs of single-story homes close to shopping and recreation. Enjoy an amenity-filled, resort-style experience within an easy commute to Phoenix.
Read More...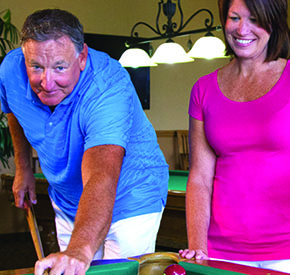 Las Palmas Grand - Active 55+ Resort
Mesa, Arizona
It's easy to see why so many of our residents feel like they're on vacation all year long. Las Palmas Grand is a world-class resort with year-round activities, luxury amenities and a friendly group of active 55+ adults who enjoy life to the fullest, just like you.
Read More...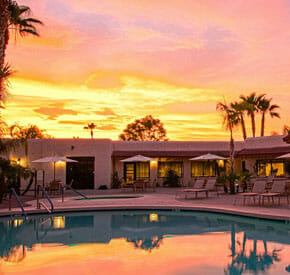 Palmas Del Sol - Active 55+ Resort
Mesa, Arizona
Surprise yourself with the affordable luxury at Palmas Del Sol, one of the finest Active 55+ communities in Arizona. Relax in our heated pool, join friends in our multi-million dollar clubhouse, or rejuvenate with a year-round calendar of events planned by our full-time Activities Director.
Read More...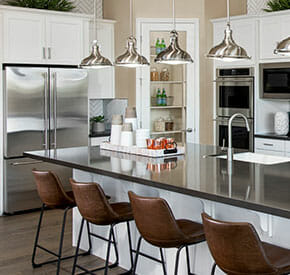 Galloway Ridge
Cave Creek, Arizona
Galloway Ridge is a community with new low maintenance villa-style homes in Cave Creek, Arizona. Located near shopping centers, picturesque golf courses and equal distance between the I-17 & Loop 101, it features a community pool and barbecue pavilion. The location is ideal for someone who enjoys easy access to dining, boutique shopping and nightlife.
Read More...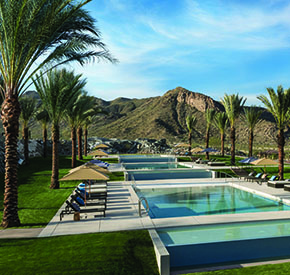 David Weekley Homes - Victory at Verrado
Buckeye, Arizona
David Weekley Homes has delivered the best in Design, Choice and Service for the past 40 years. As one of the largest privately-held builder, David Weekley Homes continues to build high-quality homes and offer open floor plans that suit the needs of any lifestyle.
Read More...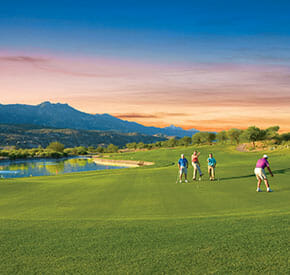 SaddleBrooke TWO
Tucson, Arizona
Within this stunning Sonoran desert setting just 25 miles north of downtown Tucson, Arizona, you'll find an appealing combination of natural tranquility and vibrant excitement. Your new home will boast spectacular views of the 9,000-foot Santa Catalina mountain range, nearly perfect weather, and an abundance of community amenities, events, groups, and traditions to fill your life with joy and inspiration.
Read More...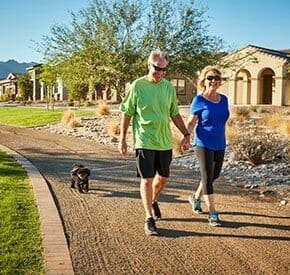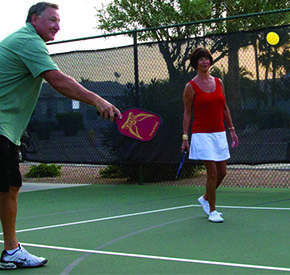 Palmas Del Sol East - Active 55+ Resort
Apache Junction, Arizona
Luxury and affordability come together at Palmas Del Sol East. From the best in social and recreational activities to an impressive selection of quality manufactured homes from the $30s.
Read More...
The Ridges at White Hills II
White Hills, Arizona
Tired of all the craziness and chaos going on in the world today? This is your opportunity to own 36 acres just one hour from the World Famous Las Vegas Strip starting at $54,900. THE RIDGES AT WHITE HILLS is the perfect place for that weekend get-away, 5th wheel fun, family ranch, or perhaps just a safe haven from the perils of the city.
Read More...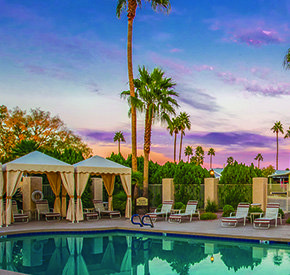 Sunrise Village - Active 55+ Resort
Mesa, Arizona
Step into this active 55 plus community in East Mesa and be amazed at how affordable a resort lifestyle can be! You will discover friendly people, luxury amenities and newly remodeled homes from the $30s. Our gated community offers a year-round calendar of social events planned by our Activity Director.
Read More...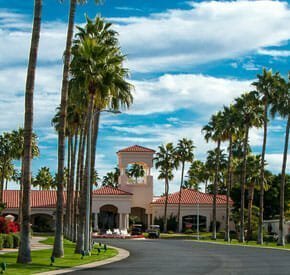 Las Palmas - Active 55+ Resort
Mesa, Arizona
Affordable Active 55+ Resort Living. It's easy to see why so many of our residents feel like they're on vacation all year long. Las Palmas is a world-class resort with year-round activities, luxury amenities and a friendly group of active 55+ adults who enjoy life to the fullest, just like you. Visit our impressive selection of custom-built homes beginning in the $50's. Whether you're looking for the best value in retirement or simply the best place to take life easier, you'll enjoy the lifestyle at Arizona's premiere 55+ resort. Las Palmas is among the award-winning family of Thesman Communities proudly offering affordable resort living since 1980. Gated with 24 hour security. Visit us today, open daily for tours 8-5
Read More...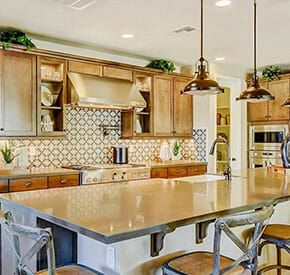 Scottsdale Heights
Scottsdale, Arizona
This new Active Lifestyle neighborhood is for those 55 and better and will offer four designs of single-family homes. Designed for low maintenance these villa-style homes will provide just the right amount of private outdoor space and many amenities throughout the neighborhood.
Read More...