Order for Two at "The Cottages"
Mark Ballard and Tom Finney are in heaven. Decidedly. They both say they got exactly what they asked for when they landed at The Cottages in Ocean Isle, NC about an hour from Wilmington, NC and Myrtle Beach, SC.
Ballard and Finney relocated to Ocean Isle from Columbus, OH last summer to pseudo-retire. They sold their business, and made a beeline for the south, planning to continue their work in consulting and enjoy life as much as possible.
They were attracted for obvious reasons.
"Weather and taxes," said Ballard. "Absolutely. You can't beat either one down here. But, it was more than that, of course. We did a lot of searching. And, when we drove over the causeway, that clenched it for us."
Ocean Isle is a town of around 600 year-round residents, but in the summer it's a bustling paradise for vacationers. And, it's somewhere in the middle of several little coastal towns from Wilmington down to Myrtle Beach.
"This might sound strange, but it [Ocean Isle] reminds me a little bit of Columbus, with all these factions of communities each with a distinct culture and history," said Ballard. "It's all so connected along the coastal corridor. We've loved exploring all the little seaside towns."
When they found the cottages, Ballard and Finney knew they'd found the site for their soon-to-be home.
And when they met designer and developer Michelle Cook of The Cottage Building Company in Leland, NC, they were even more devoted.
Request more information from The Cottages at Ocean Isle Beach."We were looking for more than a home, we wanted the lifestyle that comes with a cottage community, and we wanted the freedom to customize, I mean really customize. We had been searching for that intensively. When we met Michelle and saw The Cottages, we knew we'd found it," said Ballard.
Ballard and Finney chose a park-side site. "Being on the park gives us another level of diversity in our living environment. We're close to the pool; we have a gorgeous green space that feels like ours just beyond front porch; and the beach is just a stone's throw away."
Park-side will also be the perfect scenario for entertaining their three-year-old granddaughter when their daughter and her husband make the trek from Columbus in a few months. It's also conducive to the social lifestyle both Finney and Ballard desire.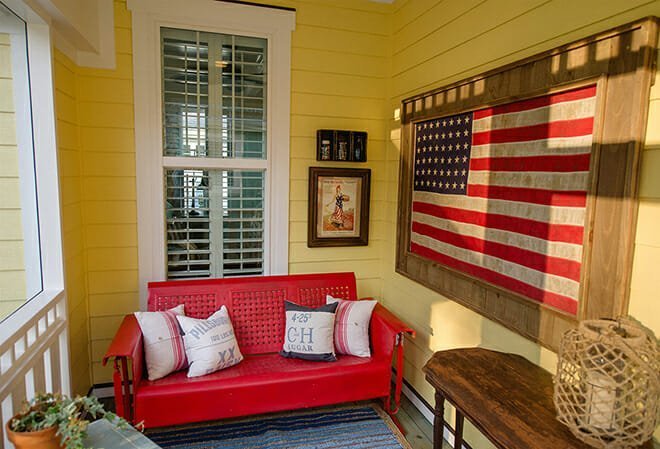 "I can't tell you how many meals we've hosted since we've been here," said Ballard. "There's always a lot of activity around here, and we really like being a part of that."
The next step – making the thousands of decisions that go into building a home – should have been the hardest, but Ballard and Finney say that it was quite the opposite.
"We wanted to downsize without sacrificing the quality that generally comes with larger homes," Ballard said. "And, with Michelle's help, we were able to do that. The process was actually enjoyable."
Finney played a large role in interior design. "It was all about collaboration," he said. "I love all of it, but our bedroom is fabulous. It has a coffered ceiling, complemented by a buttery color on the walls, and corral, teal and yellow furnishings. Michelle allowed us to choose a fireplace and the mantel, both of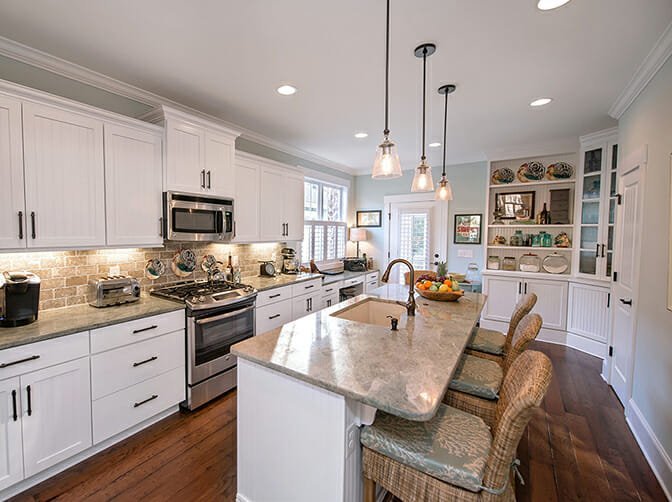 which we hired a local carpenter to build."
The kitchen was also pretty important to Finney.
"I'm the cook around here," he said. "So, it was great watching the kitchen come together just how we'd intended."
While the term "cottage" has stretched as much over the years as the culture surrounding it, Ballard loves the features that blend historical nuances into their otherwise contemporary cottage home.
"It's got a great aesthetic – super-cozy, quaint, very livable, very open spaces – and yet it harkens back to an earlier era. It's a real timeless design, with a 1920s bungalow appeal. I like that we've been able to blend our modern taste with an historical approach. It's created the perfect home."
Request More Information from: