By Jamie Penn. Previously published in the 2015 Spring Issue. Cottage Living – Cozy up on the Coast.

A less-is-more, downsizing trend among homebuyers has sent developers, builders, and architects to the cottage-style drawing board.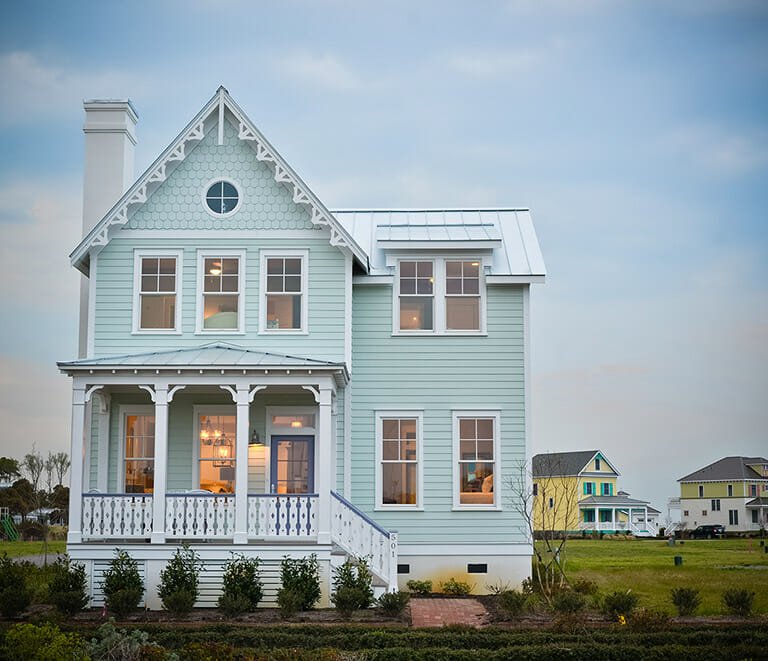 The term "cottage" fits neatly into the box of vernacular architecture, with roots in the late Anglo-Saxon, early Norman era when it was used to describe a modest, one-room house built for a cotter and his family who would, in turn, offer their labor. But, as is common with vernacular architecture, the modern use of the term runs the gamut and can't be held to the corners and straight lines of tradition.
While most contemporary cottages meet the standards of the cozy, economical, quaint design that historically defines them, some higher-end cottage-style homes tend to burst at the seams with modern nuances and floor plans that, when strategically implemented, manage to blend enough to at least compliment the quaint, comfortable, practical appeal of the cottage tradition.
On the East Coast, where million dollar beach houses and inland estate homes in high-end, South Carolina gated communities are rampant, coastal cottages are slowly beginning to pop up around them, often just yards away from the more grandiose homes in upper-end neighborhoods.
"There's a definite trend happening," said Bill Harris of Allison Ramsey Architects, Inc., in Beaufort, SC, the firm responsible for the cottage home designs in the Cassatt Village at Bay Creek, a resort community near Cape Charles, VA. "People are focusing on what they really need versus what they want. They're less concerned about showing people what they have, and more concerned about having a well-detailed home that's comfortable, with sufficient space and just enough flourish."
Request more information from Bay Creek.There's No Place Like (Your Dream) Home
While a few full-timers will soon filter into the Cassatt neighborhood, current homeowners are using their cottages as interim getaways between now and retirement. They've worked with Harris and Mary-Dolph Simpson, of Simpson Builders Inc., meticulously scouring catalogues, stores, and websites painstakingly searching for the perfect treatments, countertops, cabinetry, siding and ceiling style, all to create the home that they'll eventually never want to leave.
"The nexus of all of it," said Harris, "is to create place. It's often the thing left out of developments." The Cassatt development surrounds a common area coined the Cassatt Green.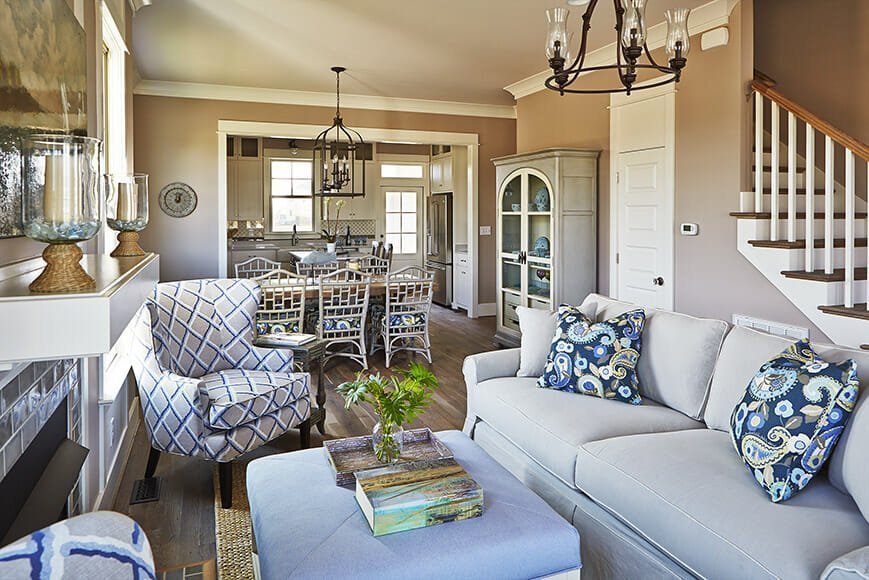 "It's what folks are looking for today. The interior can be very private, as are the backyards and screened in porches, but the front porch and the Green are like a public extension of the home," said Harris.
Mary-Dolph Simpson, born and raised in Norfolk, says building here on the Eastern Shore was a bit of a dream of hers.
"It's a hidden gem of an area. It's like a little Shangri-La – the marinas, the historical farms, the town of Cape Charles," said Simpson. "It's this amazing little town just waiting to be revived. When the Cassatt model opened in 2013, the town had open arms."
Cape Charles was founded in 1886 and has retained much of its Victorian architecture and colonial heritage. The Cassatt cottages were designed to reflect this sense of tradition and preservation. The layout of the Cassatt neighborhood completes an echoing of the small town community feel that attracts so many to the area.
"It's a great respite," says Cassatt Cottage owner, Mark Riddle. "We come to escape every chance we get. We've already made a lot of friends. The people in town at businesses and restaurants are really incredible. You go a couple of times and people know you. They give you big hugs and immediately want to know – 'How are you?What's going on? Haven't seen you in a few weeks.' People are incredibly welcoming. And, the town of Cape Charles is just really charming. The joke around here is that when you cross over the Bay Bridge, you go back 50 years in time."
Bay Creek Resort and Club is situated on the Chesapeake Bay at the southern tip of Virginia's Eastern Shore, just south of Cape Charles, the largest town in Northampton County, with a population of around 1,000.
Although Bay Creek is planted in the middle of this timeless gem of an area, it's a modern resort in the fullest sense of the word. It's infused with every amenity retirees and families could want, including nature paths that wrap through the flora and seaside landscapes that span generations and beckon vacationers and part-timers to Bay Creek.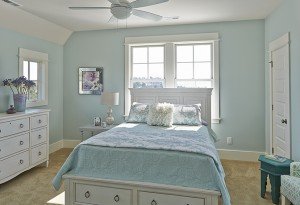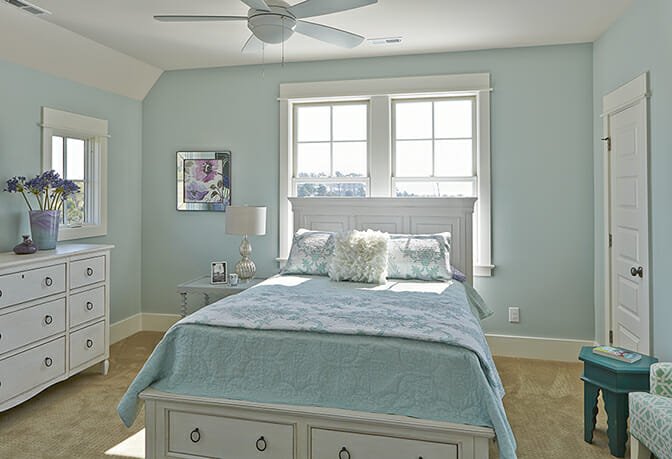 "People are focusing on what they really need versus what they want. They're less concerned about showing people what they have, and more concerned about having a well-detailed home that's comfortable, with sufficient space and just enough flourish." — Bill Harris of Allison Ramsey Architects, Inc.
The Beach Club and Fitness Center offers a 2,800-sq-ft members lounge, a 5,000-sq.-ft. fitness center, complete with cardio-theatre, certified trainers, and golf training clubs. There are two outdoor pools, one with a splash zone and a giant slide for little ones.
The big draw for many retirees or soon-to-be retirees, like Harris, are the two signature golf courses designed by Arnold Palmer and Jack Nicklaus, that wind through the 10 Bay Creek villages and along the expansive bay.
Request more information from Bay Creek."We've been official owners for about 16 months, and we've spent a total 40 nights, so we obviously haven't missed many weekends. The two golf courses are a big draw. But, it's everything – the beach for the grandkids, the fantastic restaurants, the staff, and the homeowners we've met. It's just everything we want. When I get over that bridge, I feel like my blood pressure must drop ten points," Riddle said with a laugh.
Riddle and his wife, Rosemary, have been long time Eastern seaboard explorers. While passing through the East Bay area, they literally happened upon the Cassatt model while wandering around the Bay Creek Resort.
It was love at first sight.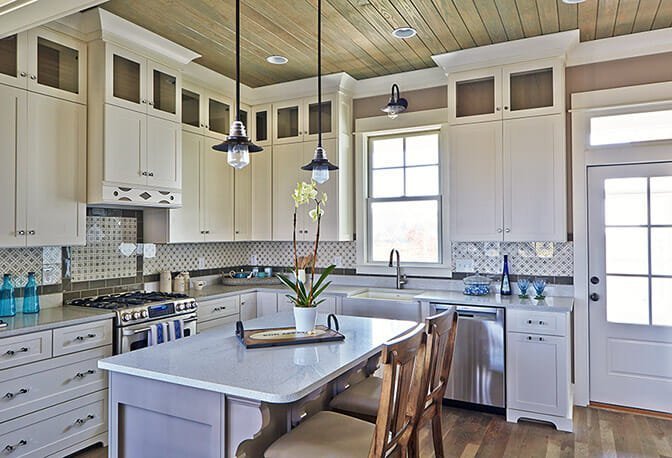 "We immediately got in touch with Mary-Dolph," said Riddle. "Rosemary handled most of the discussions. They spent months picking out everything from light fixtures and granite countertops to doorknobs. It was the first time we've ever done anything like that. It's so rare that you have a choice in these situations. They accommodated our needs and wants at every turn, making recommendations where appropriate."
Simpson is well-seasoned in the art of selection. Simpson Builders was responsible for the 2011 Coastal Living Ultimate Beach House in East Beach, Norfolk, and has built many homes in East Beach and in and around Norfolk.
"We want to give folks the ability to get what they didn't think they could afford. You can get so much more by thinking through it," Simpson said.
By finding inventive and subtle ways to add definition to rooms – through furniture arrangement, door height, bar space, etc. – Harris and Simpson managed to preserve the close, comfortable feel that cottage-style homes are intended to generate.
Glass transoms above doors, shiplap ceilings, frame heights, window sizes and ornamental trim are some of many features that synergistically deliver a distinctive cottage feel.
"These cottages are like little jewel boxes. The detail goes way beyond the detail in other homes," said Harris. "But, a lot goes unnoticed. People often can't quite put their finger on why it feels so good."