In between the historic city of Wilmington and the bustling beach town of Myrtle Beach lies the peaceful town of Sunset Beach, NC. The town itself was voted #1 barrier island by Duke University researchers, and has a history that dates back to the 1700s. Though it sees a lot of visitors, it's still a quiet place to live, and it strives to maintain the peacefulness of the area for both residents and the endangered species of the area. But Sunset Beach offers more than just its beautiful beaches and quiet life; here you'll find Southeastern NC's most exclusive and luxurious golf and beach community: Ocean Ridge Plantation.
This community offers its residents a relaxing, coastal lifestyle full of both small town charm and modern city luxuries. The neighborhoods in Ocean Ridge are traditional, with beautiful characteristics like lush landscapes, manicured fairways, lakes and protected woodlands, among other things. You'll also find plenty of hiking and walking trails that meander through the community.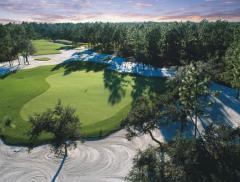 Golf is a big amenity in Ocean Ridge Plantation, as they are home to the award-winning Big Cats golf courses. The courses, Lion's Paw, Panther's Run, Tiger's Eye, Leopard's Chase, and Jaguar's Lair, offer a total of 90 holes of golf—the perfect destination for any avid golfer. Also included in Ocean Ridge's already built amenities is an oceanfront beach club, and grand clubhouses. The oceanfront Private Beach Club is a three-story clubhouse that can cater to any of your needs. Featuring conveniences like showers, bathrooms, and kitchenette, an open floor plan and spacious oceanfront decks on the 2nd and 3rd floors, you and your guests will be able to enjoy each other's company as well as the beautiful views of this part of North Carolina's shoreline.
Also within the community is the Nature Park & Pavilion, which is perfect for spending time outdoors with friends and family. Take advantage of the outdoor cooking facilities, and have a picnic one day. Children and grandchildren can enjoy the playground, and maybe after lunch, stroll over to the Nature Overlook, and take in the beauty of the ancient maritime forests that are part of the community.
If you're looking to venture away for the day, keep in mind that two exciting cities are within reach. Bordering Sunset Beach to the south is Myrtle Beach, a town founded in 1938 and named for the abundance of the wax myrtle bush in the area. Myrtle Beach is considered the number one family beach in America, and a popular destination for many on the East Coast. By day you're lounging on the beach and by night you're shopping and dining until your heart's content. To the North, you'll find historic Wilmington. It's known as a "walkable city" and you'll want to walk it just to admire the beautiful 18th and 19th century homes that line the Spanish moss-covered tree-lined streets. It's an artsy town, too, with its own symphony orchestra, opera, and ballet company. For the history buff, the city offers historic tours, where you can really get to know this beautiful city.
Ocean Ridge Plantation paints a great picture of a dream destination. Within the community you'll have a beautiful home, with the option of playing a round of golf on exceptional golf courses, enjoying time in the oceanfront clubhouse, admiring nature, or skipping off to explore one of the nearby cities for a day. At Ocean Ridge Plantation there's all of that, and so much more.
Request More Information from: