Bradenton —

Florida's Bay Area Beauty
by Scott Kauffman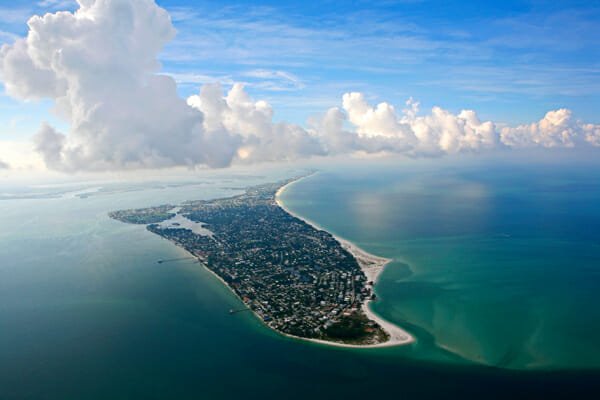 When it comes to this part of Florida's Gulf Coast, Bradenton might not be as well-known as its sophisticated neighbor to the south, Sarasota. But that's just fine for the folks flocking to the Bradenton region, which is equally rich in culture and recreational wonders
with a laidback hometown vibe all its own.
In fact, whether it's 17,500-acre Lakewood Ranch to the east, one of the America's top selling master-planned communities in 2014, or the idyllic beaches and beach towns of Anna Maria Island to the west, Bradenton and its surrounding Manatee County market has something for everyone.
For Bob Potorski and his wife, the decision to move to Florida was all about the water. Specifically, the many rivers, lakes and nearby ocean that his Tidewater Preserve community feature.
Potorski and his wife, Bridget, discovered their retirement home after visiting some friends in nearby Venice. The Potorskis initially looked at living in their friend's community, the Venetian, when they stumbled along an Interstate 75 billboard for WCI Communities' Tidewater Preserve.
"We drove in and it was just beautiful," recalls Potorski, whose family has been frequenting the region for several years, going back and forth between their other home in Pennsylvania. "With the Manatee River right there, it looks like you're on the ocean. The scenery is just beautiful."
Originally from the Poconos, Potorski says his family likes the idea of having all the "little lakes around you and waterways that can lead you to the ocean."
"I don't have a boat yet, but we plan to," Potorski adds. "Having access to the ocean and surrounding waterways … that was really attractive. You're also close to Tampa-St. Pete and Sarasota, with all of them being about a half hour away. So you're close to everything but just 20 minutes away from beautiful beaches and places like Anna Maria Island."
---
Savory Eateries
Lucky Frog, run by European master chefs, boasts modern German and Mediterranean cuisine that's a hit with folks looking for authentic schnitzel, Vienna-style.

Sage Biscuit Café's classically French-trained owners serve the very best in vegetarian and locally-sourced traditional foods for breakfast and lunch.

SandBar, owned by Ed Chiles, son of former Florida Governor Lawton Chiles, is a newly-expanded beachfront institution with a panoramic view of Anna Maria Beach.

Sugar Cubed, located in downtown Bradenton, is a sweet-tooth staple for fresh-baked goods, coffee and tea.

Waterfront Restaurant is another leading Anna Maria eatery serving quality seafood, fine wines and an extraordinary view of Tampa Bay, Egmont Key and Sunshine Skyway.
Top Things To Do
Anna Maria Beach Located on Anna Maria Island's north end, this pristine stretch of powdery sand is a perennial favorite for both Floridians and tourists alike.
McKechnie Field The longtime spring training home for the Pittsburgh Pirates is a great place to catch a Minor League baseball game in the summer.
Riverwalk Situated on the Manatee River's southern shore, Riverwalk is a public park with numerous recreational areas, phenomenal ocean views and plenty of restaurants and boutique shops.
Robinson Nature Preserve This Florida gem is a popular place for bird watching or exploring the many lagoons and clear waters of the bay via kayak or canoe.
---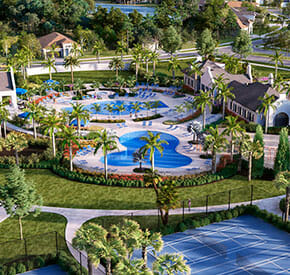 Windward at Lakewood Ranch
Sarasota, Florida
Windward at Lakewood Ranch is a picturesque community centered around a British West Indies design theme along with colonial Dutch enhancements. Island palm trees, lush landscaping and scenic sunrises are present at Windward. Outdoor enthusiasts will enjoy gathering at the resort-style swimming pool, on pickleball or tennis courts, and walking furry friends at the dog park. Come see all Windward at Lakewood Ranch has to offer!
Read More...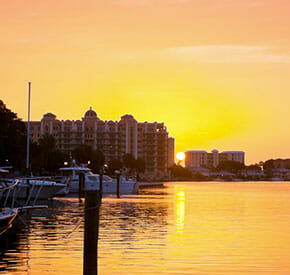 Palmer Ranch — Sarasota Lifestyle Communities
Lakewood Ranch, Florida
Endless recreational activities, country club living, tree-lined streets and the nation's top-ranked beach, Siesta Key, makes Palmer Ranch a popular and enriching retirement destination rivaling any area one is considering a move to.
Read More...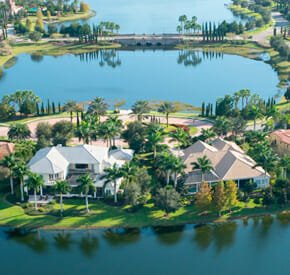 Lakewood Ranch | Best Places to Live in Florida
Lakewood Ranch, Florida
At Lakewood Ranch, it's all about the good life. Health, family, and fun are the focus. And, there's an activity to fit every lifestyle. The community hosts 54 holes of golf, a country club with two clubhouses, and tennis and athletic centers. Additionally, it's home to the Sarasota Polo Club and seven world-class polo fields. Lake Ranch polo tournaments attract players from around the world. Still, the list continues with a 75-acre premier sports campus, A-rated schools, and a hospital and preventative medical clinic.
Read More...
Your Information Request for your selected properties