Savannah, Georgia
With its beautiful public squares, fine dining, historic attractions and vivid cultural scene, sultry Savannah has something for everyone. The city's colonial architecture, funky art and Southern charm make it
a popular destination and great retirement location.
The Historic District's 22 squares, which formed a vital part of General James Edward Oglethorpe's original city plan when he founded Savannah in 1733, serve as the heart and soul of downtown Savannah and have been widely praised for their beauty. These garden-like public squares and hundreds of restored 18th- and 19th-century buildings with ornate ironwork, gingerbread trim, and picturesque fountains are the essence of old Savannah. "The most beautiful city in North America," is the way Paris's Le Monde newspaper described it.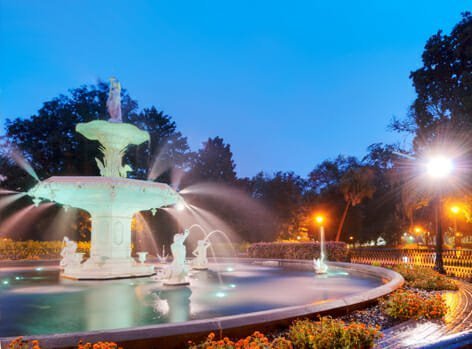 People flock to the city to experience the mild climate, Old World charm and moderately priced accommodations. Savannah consistently appears on 'Top 10' lists for attractiveness as a tourist destination and the fact that you can walk almost everywhere. Don't miss the city's fabulous Riverwalk, with over 80 shops, restaurants, pubs, galleries and hotels. As you walk along the historic waterfront, you'll catch first-hand glimpses of the city's working harbor.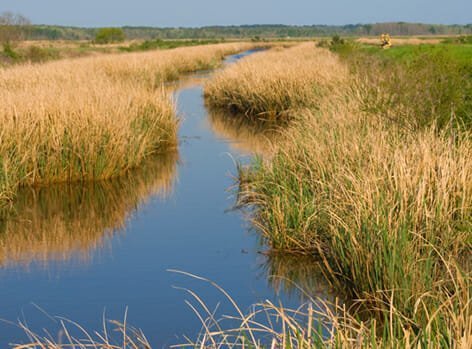 At night, the waterfront is transformed into one of Savannah's most active nightspots. Visitors are particularly delighted by the down-home Southern cooking for which the area is famous. If you're in the mood for an oyster roast, drive just 15 minutes to Tybee Island, located at the mouth of the Savannah River. Fans of John Berendt's Midnight in the Garden of Good and Evil come to see the Bonaventure Cemetery, Mercer House, piano bars and clubs featured in the book. Savannah is also famous for its ghost tours, carriage rides and haunted houses. Outdoor enthusiasts can hike, bike or swim to their heart's content at nearby Skidaway Island State Park, which borders Skidaway Narrows on the Intracoastal Waterway. Threaded with beautiful marshes and estuaries, this 588-acre preserve contains both freshwater and saltwater.
Lifelong Learning Opportunities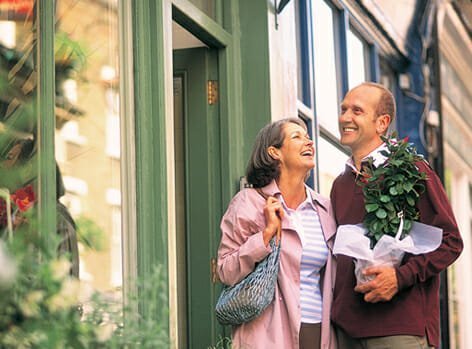 Georgia Tech Savannah is the city campus of the Georgia Institute of Technology. Georgia Southern University also maintains a satellite campus in the downtown area. Savannah Technical College, a public, two-year institution of technical and adult education, is a strong educational asset in the city. Additionally, there is Armstrong Atlantic State University, Savannah College of Art and Design, Savannah State University and South University. The Skidaway Institute of Oceanography is a marine science research institute located on the northern end of Skidaway Island near Savannah.
Medical Facilities
With two major hospital systems and more than 600 private physicians in the city alone, Savannah is the healthcare hub of a 40-county area encompassing coastal Georgia and parts of South Carolina. St. Joseph's/Candler Health System is a general acute care facility considered one of the best in the country. Its Life Care Center and Center for Heart Disease Prevention are national models. Memorial Health University Medical Center provides tertiary care to 35 counties.
Green Initiatives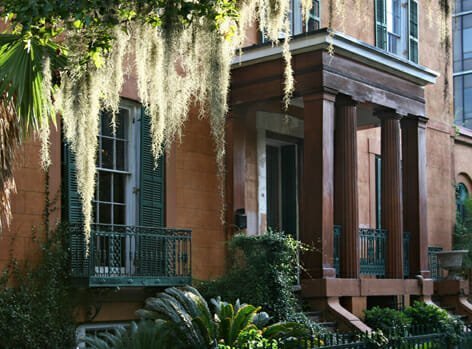 Oatland Island Wildlife Center of Savannah is the premier environmental education center in the Southeast, serving thousands of students from school systems throughout the region.
City officials have mapped the city's carbon footprint, implemented a 'no idling' policy for city vehicles, and installed motion sensors in offices so lights shut off automatically when rooms are unoccupied. They have overseen an expansion of flex time and telecommuting for its workers, the elimination of desktop printers and the installation of more efficient weatherization in municipal buildings. Savannah has signed a pledge to reduce greenhouse gas emissions 15 percent by 2020 and to adopt a bicycle-friendly commuting plan.


Find the Best of Ideal-LIVING