Best Eco-Friendly Communities
Best of the Best 2020 Community Awards
These communities were designed with the desire to preserve the environment around them. Whether they have designated land as nature preserves, have solar-powered homes, or save energy, water, and other resources, these communities provide eco-friendly spaces.
Select the communities below that you are interested in receiving more information.
McLendon Hills
West End, North Carolina
Pinehurst, NC - The heart of McLendon Hills is the 60-foot deep spring fed Lake Troy Douglas. Community volunteers and committees insure water quality testing is conducted annually and are proud to report the lake continues to be pristine and is virtually free of harmful bacteria. No gasoline boating and mindfulness regarding lawn care help keep the water clean. Woodworkers and Garden club members enjoy preserving the quality of McLendon Hills environment. A most recent project included turtle docks for lakeside neighbors. A turtle dock is moored just offshore and floats a bit above water to provide a safe sunning spot for turtles.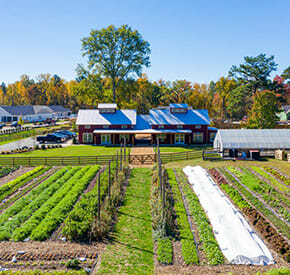 Chickahominy Falls
Glen Allen, Virginia
Glen Allen, VA - Situated on 180 acres hugging the Chickahominy River, Chickahominy Falls is redefining 55+ communities through a commitment to healthy living and special amenities that balance play with purpose. At the heart of the community is Woodside Farms, a 10-acre, four-season farm that will produce a curated mix of fruits, vegetables, herbs, and flowers selected for their health and wellness benefits for active adults.
Read More...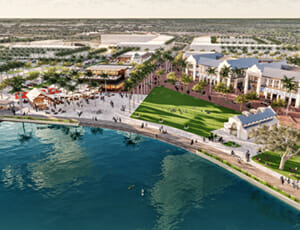 Wellen Park
Venice, Florida
Venice, FL -IMAGINE GREAT OAKS AS GREAT NEIGHBORS. To maintain and extend the good vibes within Wellen Park, the developer is undertaking a tree relocation program that entails relocating 26 live oak trees to the future Downtown Wellen Park, a vibrant mixed-use development that will serve as the premier shopping, dining and entertainment destination for the growing community. Opening Q1 2022, Downtown Wellen will include an 80-acre activity lake, restaurants, retail shops, concert and festival areas, a food truck park, splash pad and children's play area, and of course the relocated live oaks.
Read More...
Babcock Ranch
Babcock Ranch, Florida
Babcock Ranch, FL -Babcock Ranch has raised the bar for sustainable growth with an eco-friendly design that sprang from the ground up. Half of Babcock Ranch's total footprint is dedicated to greenways, parks and lakes, with an active trail system of more than 50 miles through preserved and restored ecosystems. As the country's first solar-powered town, Babcock Ranch supplies the town - and the broader region - with clean, renewable, integrated power through a collaboration with Florida Power & Light. Sustainability is woven right into Babcock Ranch's infrastructure, creating a town in harmony with its surroundings that emphasizes the social, physical, nutritional, spiritual, economic and educational well-being of its residents and businesses.
Read More...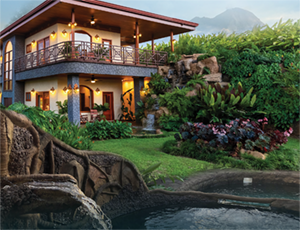 Arenal Hills — Gated Mountain Community Costa Rica
Tres Esquinas, Provincia de Alajuela, Los Angeles, San Ramon, Costa Rica
Costa Rica - Arenal Hills nestles in a fertile valley surrounded by rainforest and rivers. Homes are designed to showcase the panoramic views and forested setting surrounding the Arenal volcano. The environment is always top of mind in this community's master plan. Golf carts rather than cars are driven inside the manned entrance's parking lot. This makes it possible to utilize narrower pathways made of natural materials rather than two-laned roads paved with asphalt. The community will feature some of the most sought-after community amenities from the finest resorts around the world-private resort clubhouses, lakeside restaurant, an equestrian center, and more.
Read More...
Your Information Request for your selected properties