Beaufort —

Sunsets in the Lowcountry
by Rachael Provost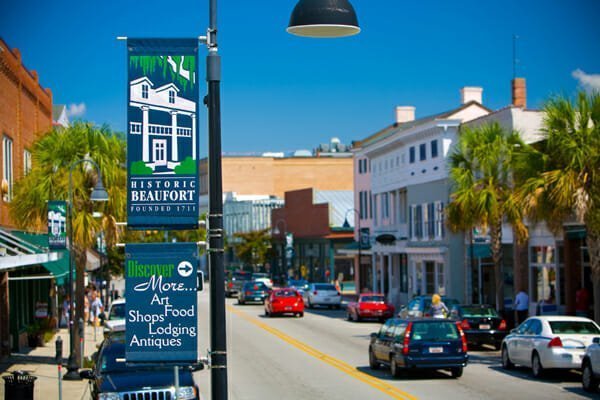 Moss-draped oaks mingle with native palmettos. A sunset paints strokes of oranges, pinks and purples on a watery horizon. You have arrived in the Lowcountry. You have arrived in Beaufort, SC.
You're in the heart of the Sea Islands, surrounded by hundreds of islands, the inhabitable ones linked together with bridges. Marsh views are available for miles. It's not hard to see how this Lowcountry gem captures everyone's attention. But it's what's inside the town that makes people want to stay, and call Beaufort home.
The best way to experience Beaufort (pronounced BEW-fort, not to be confused with North Carolina's Beaufort, pronounced BO-fort) is on a guided tour. Whether that's on your own two feet, on a bus or in a horse-drawn carriage is up to you. But the horse-drawn carriage tours give you the feeling of going back in time, perfect for delving into the town's history.
Beaufort's downtown is one of only a few that has been entirely dedicated to the National Trust for Historic Preservation. During the Civil War, the Union Troops decided to spare the town instead of destroy it, and today there are more than 50 homes—some of them private—that have been beautifully restored. Get a glimpse of antebellum and Victorian structures that tell stories of the town's past. Tours don't stop at carriage rides though. Wait until it's a little darker outside, and walk or ride around Beaufort, along with its ghosts, on a ghost tour.
Taking a tour doesn't mean you're just learning about Beaufort's history. You're passing art galleries and boutiques you'll go back to later, and scoping out places to grab a bite to eat (Beaufort is full of good eateries). You'll glimpse the Gullah culture, unique to the Lowcountry. And you'll find yourself consumed, once again, with the charming scenery that got you here in the first place.
---
Savory Eateries
Blackstone Café's grits are surely their specialty, whether you eat them at breakfast or lunch, or with shrimp. A pet-friendly patio means your four-legged critters can come too!

Foolish Frog boasts delicious food, gorgeous marsh views and stunning sunsets, whether you take them in for lunch, dinner or brunch on Sunday.

Wined It Up, Beaufort's newest wine bar, may soon be your new favorite hangout, complete with wines on tap, a specialty deli, evening tapas and so much more.

WREN Bistro and Bar, nestled in the heart of downtown, is the go-to-spot for locals looking to relax and out-of-town guests looking for exceptional food and Lowcountry hospitality.

Southern Graces Bistro offers indulgent cuisine in the beautiful Beaufort Inn, featuring scrumptious lunches, best-in-class brunches, afternoon tea and upscale

contemporary Southern gastronomy for dinner.
Top Things To Do
Beaufort Movie Tour From Forrest Gump to The Big Chill, see where Hollywood has left its mark around town.

Beaufort Strolls Bring your camera along on this two-hour guided tour through the historic district's most stunning locations.

Hunting Island Lighthouse Built in 1859, this historic lighthouse offers stunning views from its platform—167 stairs up.

Old Sheldon Church Ruins Explore the beautiful remains of Prince William's Parish Church among majestic oaks and scattered graves.

The Beaufort Shrimp Festival Competing shrimp recipes, live entertainment and more take place each year on the first Friday and Saturday in October.
---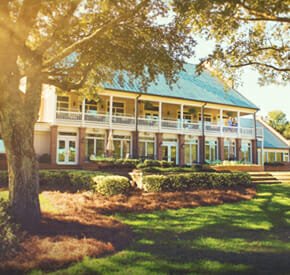 Long Cove Club
Hilton Head Island, South Carolina
Long Cove Club is the hidden jewel of Hilton Head Island, South Carolina. A private residential club filled with spectacular homes and warm and friendly people. The world renowned private Pete Dye Golf course is just one of many amenities and experiences that make life at the Club so engaging. Behind the gate, you'll find a rich palette of lifestyle options to suit every taste.
Read More...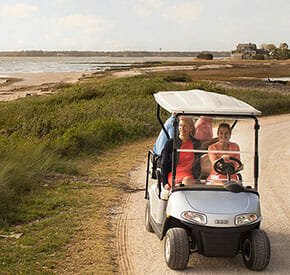 Haig Point Club
Daufuskie Island, South Carolina
Haig Point is on a sea island and the lifestyle here is very special. It has the serenity and seclusion of a most idyllic, sea island life. But extraordinary privacy isn't the only thing you'll enjoy at Haig Point on Daufuskie Island
Read More...
Colleton River Club
Bluffton, South Carolina
Lowcountry luxury lies at the base of Hilton Head's bridge at Colleton River. This peninsula community delivers on its promise of world-class golf, pristine natural surroundings, and an unparalleled water experience. With nature as the centerpiece, Colleton River's 1,500 acres epitomize Lowcountry serenity, with Spanish moss draped Live oaks and palmetto trees lining roadways. Trails wind through a blend of beautiful homes, natural terrain and 7 miles of expansive water and marsh views. The peninsula is also anchored by adjoining Victoria Bluff, an 1,100-acre nature preserve
Read More...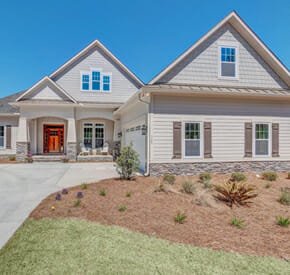 Logan Homes - Home Builders in South Carolina
Southern, South Carolina
At Logan Homes, they strive to turn your dream home into a reality. From traditional to contemporary, grand to cozy, Logan Homes offers personalized floor plans, quality craftsmanship, superior designs and decades of building experience. Whether you want to live close to town or in the country, near the beach or on a golf course, the Builder Specialists at Logan Homes can help you find the ideal community or home site to suit your lifestyle perfectly.
Read More...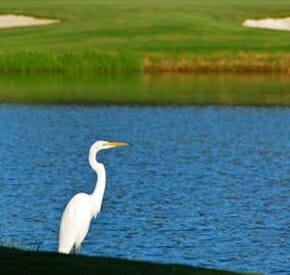 Dataw Island - Golf Communities in South Carolina
Dataw Island, South Carolina
There is a place off the South Carolina coast, near the charming town of Beaufort, where nature and luxury share center stage. Shaped by the Intracoastal Waterway and a rich Southern history, the gated golf community of Dataw Island is a pristine parcel of 870 acres waiting to be discovered.
Read More...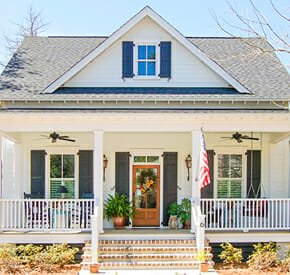 Celadon
Beaufort, South Carolina
Located in SC's Lowcountry, a mere three miles from downtown Beaufort, this beautiful master-planned community allows you to focus on a simpler, happier, healthier life.
Read More...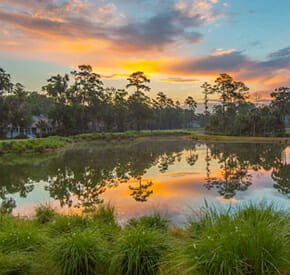 Oldfield
Bluffton, South Carolina
Set along the banks of the magnificent Okatie River, under a canopy of Live oaks, you will discover Oldfield Plantation in Bluffton, SC. Offering an incomparable natural landscape coupled by luxury amenities, Oldfield is the idyllic heart of Lowcountry through and through.
Read More...
Your Information Request for your selected properties