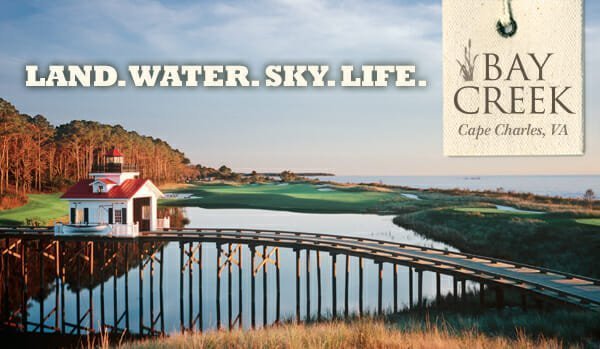 A Toast to the Roses
"Let a million roses bloom!"
That was Bay Creek founder Dickie Foster's vision when he began developing the community back in the mid-1990s.
Under his direction, thousands of roses, azaleas, hydrangeas and numerous other flowers were trucked in and planted throughout the community – to the great delight of all who are lucky enough to live and visit here.
As one resident put it, "Living here is like waking up in the middle of a beautiful garden."
Today we celebrate Dickie Foster's vision with our 'Bay Creek in Bloom' event, an annual Rite of Spring that continues to grow in popularity.
This year's celebration took place May 15 & 16. A "kick off" took place Friday night with a cocktail reception at Cassatt Park in Bayside Village, with great food, drink and music. At sunset, we took a stroll over to our private stretch of beach on the Chesapeake Bay, to reflect on our collective good fortune and enjoy a spectacular sunset.
The next morning, there was a gathering at the Bay Creek Clock Garden for the traditional 'Toast to the Roses', with a generous supply of Mimosas. Later guests were treated to a golf cart tour of featured gardens from Robert Bredimus, Bay Creek's own horticulturalist. Robert gave insight and discussed unique species of plants native to the Eastern Shore that are centerpieces throughout Bay Creek. Saturday afternoon we returned to Bayside Village Park for a sunset Garden Party featuring food, drink, music and socializing.
You're invited to attend one of our next events and take advantage of our Bay Creek Discovery Tour, featuring three days/two nights accommodations, a complimentary round of golf, access to all our member amenities (including our spacious new Beach Club and Fitness Center), a $50 gift certificate to be used at our Coach House Tavern or Pro Shop, and an exclusive community preview, all for just $229, subject to availability.
To schedule your visit, please call at (757) 331-8742 or visit www.BayCreek.net. We look forward to seeing you soon at Bay Creek!
The Blessing of the Fleet
Life at Bay Creek is filled with many blessings, not the least of which is the chance to put fresh-caught seafood on your dinner table for much of the year.
The Bay Creek community is located a short drive from the Cape Charles Town Harbor, home port to a fleet of commercial fishermen who for generations have made their living on the Chesapeake Bay.
Each spring for the last eight years, the Town of Cape Charles has celebrated the work of its watermen with the Blessing of the Fleet ceremony.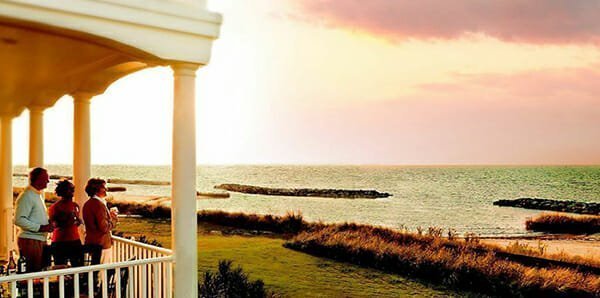 More than 150 watermen, townspeople and Bay Creek residents attended this year's event, which featured blessings from pastors representing the town's Catholic, Methodist, Baptist and Episcopal churches.
Other highlights included the traditional firing of the town's Civil War cannon and the ceremonial tolling of the bells in honor of watermen lost at sea.
"It's a great way to show how much we value what the watermen do and to say thank you for the contributions they make to the local economy," said William (Smitty) Dize, the harbormaster of Cape Charles Town Harbor.
Cape Charles is also home to an emerging yacht service center owned by Cape Charles Yacht Center. It plans to capture market share by capitalizing on the town's strategic East Coast location and the Eastern Shore's supply of experienced marine service technicians.
Fit for a King
At last count, Arnold Palmer has designed more than 300 golf courses around the world. According to Golf Magazine, his Signature Course at Bay Creek is the 7th best he's ever done.
"That's really high praise for Bay Creek," Director of Golf Joe Burbee said, "especially when you consider all the great courses he's created, and how many of them host professional tournaments, and how many turn up year after year on the lists of the best courses in the world."
Palmer's Bay Creek course truly deserves its high ranking. It's a brilliant example of the King's design mastery, an elegant combination of aesthetics and shot-making values.
It showcases four holes with stunning views of Chesapeake Bay and eight on Old Plantation Creek, with the remainder artfully framed by sand dunes and large beach bunkers. Stretching 7,250 yards from the tips, it features A-4 greens that run true and fast and 419 Bermuda fairways that are always meticulously groomed.
This is just the latest in a long line of accolades for Palmer's Bay Creek masterpiece. At its opening in 2001, both Golf Digest and Golf Magazine ranked it among the nation's Best New Courses. The Wall Street Journal puts it among the Top 100 Resort Courses in the U.S., as well as the Top 100 Residential Courses. Golf.com ranked Bay Creek as the best golf resort in the Mid-Atlantic Region, and Golf Digest ranks it among the Top 7 courses in Virginia.
The Golf Magazine recognition is one more reason to test-drive the Bay Creek golf experience. Our three-day/two-night golf packages – featuring both our Palmer and Nicklaus courses – start at just $400 per person. To schedule your visit, please call Bay Creek Vacation Rentals at (757) 331-8750 or visit www.BayCreek.net.
We look forward to seeing you soon on the tee at Bay Creek!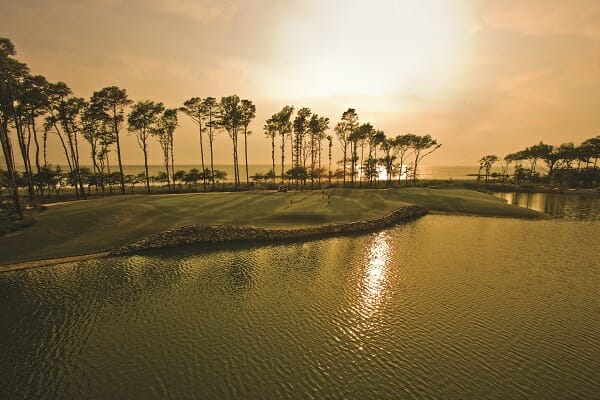 Three Very Special Weekends
If you were unable to catch Bay Creek in Bloom, you're still invited to visit us for three other Special Event Weekends.
These three weekends will take place in July, August and October, and we promise they'll be as much fun as any event we've ever hosted here at Bay Creek!
It starts with Bark in the Park on July 17th – 19th, where we invite you to bring your favorite four-legged friend for a weekend of fun & games, highlighted by our own Dock Diving contest, with a wild card qualifier to the Dock Diving national tournament.
We'll also feature the best homemade ice cream you'll ever taste – exclusively from Brown Dog Ice Cream right here in Downtown Cape Charles. If you love dogs and ice cream, you'll want to be at Bay Creek!
Up next is the second annual Songs at Sunset celebration, scheduled for the weekend of August 28th – 30th, when you can dance the night away to that good old beach music, accompanied by food trucks and, for the kids, a petting zoo and bouncy houses.
We'll conclude our special weekend series with Pork and Pearls October 16th – 18th, featuring BBQ and Roasted Oysters and a variety of adult beverages from craft distilleries around the state, including craft bourbon, rye, vodka and single malt whiskey.
Of course, any time's a good time to visit Bay Creek and discover the great things that go on here all the time. Our Bay Creek Discovery Tour features 3 days/2 nights accommodations, round of golf for 2 on one of two Signature Palmer & Nicklaus courses, $50 gift certificate at our Coach House Tavern, full member access to all our amenities, and a VIP Real Estate Tour of Bay Creek, all for just $229, subject to availability.
To schedule your Getaway, or to learn more about Bay Creek, please call (757) 331-8742 or visit online at www.BayCreek.net.
Request More Information from: