Imagine having to build a ship, one that could withstand the tricks of the sea and accommodate passengers. Imagine having to build a ship that could do that, and protect against enemy attack. A real life game of Battleship, where there is no such thing as red and white pegs to indicate the "hit" or "miss" of a missile. Scattered down the Southern coast are a few lucky wartime vessels that survived, giving us the opportunity to take a step back in history as we explore the decks and below of battleships.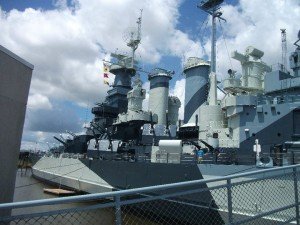 The first real battleship I was ever on was the USS North Carolina. Across the river from charming downtown Wilmington, North Carolina, sits the USS North Carolina, a battleship full of dignity and honor. We visited in the hot month of August, which made for a sweltering tour. When we came across the areas of the ship that had air conditioning, we stood reveling in the coolness for a few minutes before moving on. North Carolina fought bravely in every major offensive in the Pacific area during World War II, had many close calls and claims to having been sunk, but she stood her ground. In 1947, the ship was decommissioned, coming to rest in New Jersey, where she stayed for 14 years. But with the potential fate of being scrapped looming in her future, the people of North Carolina banded together and found a way to bring her home with the Save Our Ship campaign. Even school children saved their pennies to help bring the ship to Wilmington. The USS North Carolina arrived in 1961, and has been moored here since, standing as the State's memorial to its World War II veterans and all those who were lost during the war. For me, stepping onto this museum ship was fascinating. It never really registered how large the ship was until I was actually on it. The guns loomed over me, the anchors so thick they could be used as a bench. Inside I came across some missiles that stood as tall as me (I'm 5'4"). Being on the ship was more than just noticing her massive size, it was taking a step back in history, and understanding what it was like to be on board. This battleship has more to offer than just tours. She hosts Battleship Blast on July 4th, transforms into Ghost Ship for the Halloween holiday, and is available for many other events as well.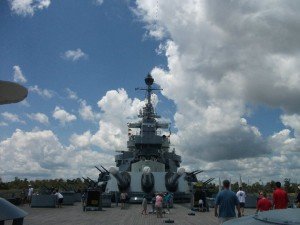 Just a few hours south, Patriots Point Naval and Maritime Museum is home to three more museum ships, the USS Laffey(destroyer), the USS Yorktown (aircraft carrier), and the USS Clamagore (submarine). Each of these ships played important roles in times of war. Yorktown helped in the Pacific Offensive in WWII. In 1970, she was decommissioned, coming to Charleston five years later to serve as the centerpiece of the museum. Laffey was part of the US Offensive against Japan in 1945. This ship was nicknamed "The Ship That Would Not Die" due to surviving five kamikazes, being struck by three bombs, and still holding her ground. Laffey is also special because she is the only Sumner-class destroyer in North America to survive, and was named a National Historic Landmark in 1986. The last of the three ships at Patriots Point is the USS Clamagore, a submarine that served 30 years in the Cold War. Clamagore makes a good attraction, too, because it is the only GUPPY III submarine to be preserved in the United States. Alongside touring each of these amazing ships, the museum offers other exhibits to explore, as well as other events. Visiting Patriots Point is like a hands-on history lesson.
Near the active Naval Station in Norfolk, Virginia, the battleship USS Wisconsin found her home as a museum ship at Nauticus, The National Maritime Museum in Norfolk. Another WWII veteran, she was the largest and last battleship to be built by the US Navy, and was decommissioned three times during her career. Visitors of the Wisconsin can take a step back in history with a self-guided tour. Or, if you cannot contain your curiosity, the museum offers the Topside Tour. This tour lets visitors peak into previously sealed off areas of the ship, like the Administration area, radio room, and more.