Bahia Principe Residences & Golf
By Becky Eades
Working at the same job, seeing the same people, and sleeping in the same house every night is what most of us do every day. Routine is part of a stable life, but have you ever craved more adventure? Sought a new routine that brought interesting people and ideas into your life? You'll be happy to know that the international lifestyle you've dreamt of isn't out of reach. Many Americans are flocking to areas of the Caribbean and South America to enjoy the luxuries of paradise. One developer, Grupo Piñero, has the right idea when it comes to finding your dream home.
Bahia Principe Residences & Golf
Located in Riviera Maya, Mexico, this residential complex offers different options when it comes to your housing preference. There are homesites, houses, and condos available for purchase. If you want a move-in ready home, Bahia Principe will have your fully decorated home ready for you as soon as you step off the plane. If you desire a more custom experience, on-site professionals can help you build your dream home. But who moves to paradise to stay indoors all the time?
One of the main attractions of Bahia Principe is the nearby beaches that offer crystal clear waters and year-round sunbathing. At the Beach Club, you can kick back and relax or get active with a variety of water sports, including snorkeling over the second largest coral reef in the world. Golf is a favorite pastime and the Bahia Principe's course is a unique blend of magnificent Mayan jungle, natural lakes, and cenotes. Additionally, local commercial centers that house schools, hospitals, and markets are only a few steps away.
Another tropical location worth considering under the Grupo Piñero umbrella is the Bahia Principe located in Playa Nueva Romana in the Dominica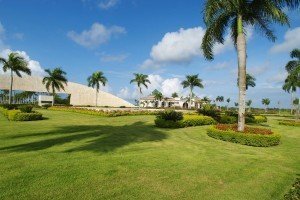 n Republic. Here you can choose among "20 different types of houses and villas…which can be fully personalized to your taste." And security is a number one priority at all of Grupo Piñero's properties. With security units and personnel, all you're responsible for is enjoying the ocean breeze, whether it's from your personal balcony or your boat. One highly attractive feature of the Dominican Republic location is its private Marina and Beach Club. With 228 vessel moorings, and full marine services for all members, this is a perk that's hard to ignore even for the occasional boat captain.
With so many amenities offered at each resort, it might be easy to let a few months pass by and never leave the comfort of your surroundings. But don't forget why you decided to make the international move in the first place. Outside the residences at Playa Nueva Romana, you'll find shopping centers imbued with bright Caribbean colors and an attitude to match. Dinner and drinks on the town? Done. Sunday brunch and shopping? Just a few minutes away. At the end of the day, when the tourists head back to the grind, you get to look around and realize you've got the best of both worlds.
---
Your Information Request for your selected properties
Montejo Plaza
Merida, Yucatan, Mexico
Montejo Plaza is located in Merida, the safest city in Mexico, Its surrounded by lush vegetation, cenotes, and first-world facilities and attractions nearby.
Read More...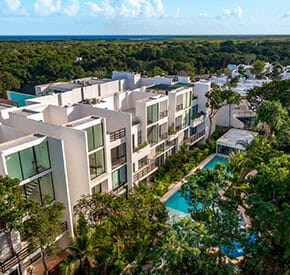 Anah Tulum Bahia Principe Resort Community
Akumal, Quintana Roo, Mexico
Anah Tulum Bahia Principe is a beautiful resort-style gated community sitting on 4.94 acres of Mayan jungle. It is an oasis where you can enjoy the Resort Living at its best since it is located within the Bahia Principe Hotel & Residential Complex. It offers exclusivity and security in a luxurious and elegant atmosphere.
Read More...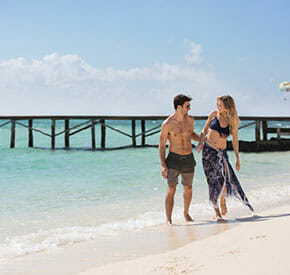 The Fives Hotel & Private Residences
Playa del Carmen, Quintana Roo, Mexico
The Fives Hotel & Private Residences is comprised of residences, suites and penthouses surrounded by numerous pools, a protected natural area with a cenote, a tennis court, restaurants, a spa, a beach club, a kids club, and other installations. Experience Playa del Carmen's exclusivity enjoy the amazing beaches of the Riviera Maya!
Read More...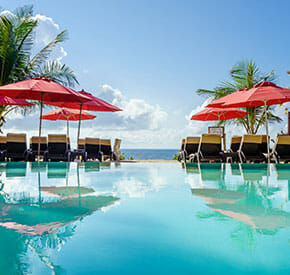 TAO Mexico
Akumal, Q.R., Mexico
TAO Mexico is one of the premier developers of real estate in the Riviera Maya, with more than 15 residential communities located in Tulum, Playa del Carmen, Akumal, and more. TAO embodies a philosophy of love and care in every community.
Read More...