Taylor Morrison Homes - Over 55 Retirement Communities
Taylor Morrison Homes - Building with You in Mind
Taylor Morrison Homes is a nationally respected builder known for superior craftsmanship and innovative designs. As importantly, though, AV Homes gets to the heart of what its customers want before the first line is drawn. And, it's this sense of connection that has led the way to award-winning homes and prized active adult communities and retirement communities. Taylor Morrison Homes believes that devotion to the craft is important, but that dedication to the customer is essential.
What to Expect
The home-building and home-buying process is often daunting. So, Taylor Morrison Homes removes roadblocks before customers even knows they're there.
While Taylor Morrison Homes doesn't build everywhere, they do build where most active adults want be. So, you'll find Taylor Morrison Homes communities in Texas, Arizona, North Carolina and Florida. The majority of Taylor Morrison communities are gated communities with resort-style amenities. 
What about green building practices?
Taylor Morrison is on it. Here's a quick list of what they offer and why.
Energy Star™ labeled home

 feature appliances, lighting, and plumbing that can reduce greenhouse gas emissions by 4,500 lbs per house/per year.

Advanced non-toxic insulation

materials can keep temperature extremes under control, diminish noise and insect intrusion, and reduce energy costs.

Eco-friendly windows

built with 'Low E' glass and channeled vinyl frames keep heat out, let sunlight in, and offer greater stability.

Radiant-barrier roof sheathing

can reduce temperatures in attics by up to 30° while still allowing moisture to escape for good roof health.

High SEER air conditioning units

will keep you comfortable, save money, and protect the health of the ozone thanks to enviro-benign refrigerant.
So, Taylor Morrison homes saves your pocketbook and the environment all at the same time.
Now For the Fun Part - Taylor Morrison:
Yes, it's tough to get excited about the mortgage end of the homebuying process. But, Taylor Morrison diffuses the dread. For starters, the minute you close you get the keys. Just like that. But, before closing day is even discussed, Taylor Morrison makes a few promises that you can count on.
The process starts with access to a team of dedicated loan consultants. And, consistent communication leads the way.
Here's what you can expect from Taylor Morrison:
     •  Diverse product offerings
     •  Industry leading technology
     •  Extended rate locks
     •  Quick and stress-free closings
     •  Consistent superior customer service
So, a quick recap: No-stress, less hassle, a variety of options, and keys in hand at the closing. The ideal mortgage company, indeed.
Time to Discover Taylor Morrison Homes
The 55+ homebuyer is discerning, wise, and intuitive. Therefore, Taylor Morrison Homes doesn't expect 55+ buyers to take investing in a community lightly. This is potentially the moment to find exactly the life they want. So, Taylor Morrison Homes invites them to spend the weekend, or two. Discovery weekends allow active adults to connect intimately with the community. After all, it's always a good idea to test resort-living, new friends, and amazing meals. 
Ready to discover ideal gated communities with resort-style living?
Available Discovery Packages
Solivita – Central FL – Close to it all, yet tucked away. Gated community with resort-style amenities, and over 240 clubs and activities – something for everyone.
Vitalia at Tradition – Port St. Lucie, FL – Gated community with resort-style amenities, close to the beach and within the town of Tradition.
**Rates vary per community, starting from $149 and up (+ tax) for 3 Days and 2 Nights!
Discover Taylor Morrison Homes retirement communities in Florida! Don't be shy! Request information by filling out the form.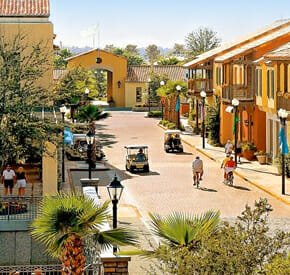 Solivita — Taylor Morrison
Kissimmee, Florida
At Solivita, every part of our 4,300 acres, 150,000-square-feet of amazing amenities and fifteen distinctive home designs was imagined and executed solely with you in mind. Boasting over 150,000-square-feet of amenities within this award-winning 55+ community, Solivita in Florida is the perfect place to call home.
Read More...
Your Information Request for your selected properties