The 2010 Ideal Home—Sustainable Building in the Georgia Mountains
The 2010 Ideal Living Home Opens September 11th and runs through December 19th. Make your plans now to visit.
Call (888) 988-6222 or visit achasta.com to learn about the discovery package.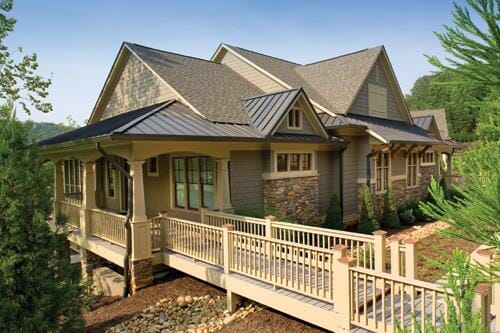 Achasta, located in historic Dahlonega, GA, is surrounded by the majestic beauty of the Appalachian Mountains, with the cool waters of the Chestatee River meandering through the golf course, offering great fishing, canoeing and natural surface walking/biking trails along the river. Expansive golf, mountain or wooded views can be found off many back porches or enjoy the view of the 10th and 18th fairways from the Ideal Living magazine's Ideal Home in Fairway Village.
Mountain retreats sit amidst the natural beauty surrounding Achasta. Homes are designed to experience outbound living through outdoor kitchens, large porches and rooms that open to breathtaking views. Golf-view, wooded or mountain-view homesites, and choosing an approved builder, ensures a home that complements the natural setting and withstands the tests of time.
The Ideal Home features state-of-the-art sustainable techniques and energy-efficient home building technologies. Fairway Village is a paired home community with large and multiple outdoor living areas, maintenance-free living and spectacular golf and mountain views.
The Fairway Village homes overlook the picturesque 10th and 18th fairways of Achasta's Jack Nicklaus Signature golf course. Imagine sitting on your spacious, screened in porch enjoying the temperate breezes that the North Georgia Mountains are famous for. These homes are most noted for their maintenance free-living, multiple outdoor terraces and porches and very spacious rooms. With two floorplans to choose from-3,180 square feet and 2,475 square feet-they have a choice for any lifestyle.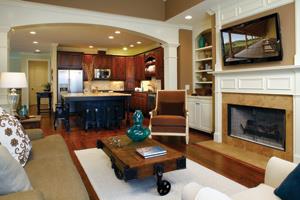 The Ideal Home is by Linger Longer Homes, a builder focused on sustainable residential homes.
Johnna Barrett of SUSTAINhouse has designed the healthy and eco-friendly interior of the home and has handpicked each product being showcased. The sustainable products and their brands used in the home's design were chosen based on their strict adherence to environmental preservation and their dedication to energy savings. The Ideal Home at Achasta represents the future of responsible sustainable construction and design. These included products were chosen because of their similar belief and passion for green living.
All materials for the Achasta home were carefully selected from local sources and many contain recycled materials. Things you won't see but will appreciate their energy saving features are:
• Icynene Insulation: Used throughout the home, Icynene manufactures its products with three objectives in mind-to create Healthier, Quieter, More Energy Efficient® indoor environments.
• LP® TechShield®: The original radiant barrier sheathing, this innovative product helps block radiant heat in the roof from entering the attic, keeping the attic cooler, lowering energy costs and making the home more comfortable.
• Maintenance-free Exterior: The exterior of the home is maintenance-free and includes a separate two-car garage. Long, wide porch areas open to the golf course and encourage family gatherings or an afternoon of cards.
What Makes the Ideal Home at Achasta so Green?
• Insulation: Water based, environmentally friendly
• Countertops: 75 percent recycled glass, porcelain and mirror in a natural corn-base resin
• Tile Flooring: Long life-cycle made with sustainable manufacturing processes
• Carpets: Old carpets and plastic bottles, recycled and recyclable
• Paint: Zero VOC, low odor, non-toxic
• Outer Decks: Plastic grocery bags, sawdust and used pallets
• Furniture & Floors: Reclaimed wood from old buildings
• Upholstered Furniture: Sustainably grown and harvested wood from managed forests
• Cast Iron Sinks & Bathtubs: 93 percent recycled and reclaimed materials
• Bedding: Organic cotton rapidly renewable bamboo fibers
• Lighting: Redused energy use with LED bulbs
• Linens & Upholstery: Organically grown natural fibers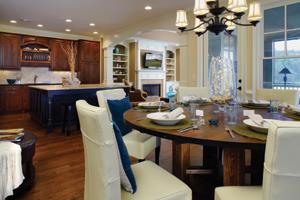 Dining Room
A 6′ round dining table made from reclaimed wood is the focal point of the space, with an antique bronze chandelier. An original oil painting by a local artist Dawn Walker hangs behind the table. Draperies of organic linen soften the space and filter light from the surrounding windows. Craftsman proportions and trim details enhance the character of the space.
Keeping Room
Natural earth tones of taupe and chocolate contrast beautifully with deep turquoise blues and spring green accents in the upholstery. The coffee table, from Southern Heritage Woodworks, is made from a reclaimed cotton bale cart. Cotton bale carts were used in textile mills throughout the south dating back to the civil war. The original cart was disassembled, cleaned, restored and reassembled. A stacked stone fireplace creates rustic warmth.
Side tables made from reclaimed wood are topped with log lamps and accessorized with antique mercury glass and recycled aqua glass accents.
Kitchen
The kitchen is surrounded by dark wood cabinets with decorative glass inserts. All of the countertops and the full height backsplash are Eco by Cosentino. The kitchen contains an expansive work island with countertop seating.
Master Bedroom
The focal point of the Master bedroom is the Canyon Bed, made from recycled wood. Soft velvet drapes and organic linens from Eco Emporium create a peaceful retreat.
Terrace Level Family Room
The terrace level family room is made for entertaining. A sectional sofa made from sustainably harvested wood and organic upholstery provides ample seating for guests. The huge family room features a gourmet bar and beautiful reclaimed wood built-ins. Dark wood bookshelves and media center are all constructed from reclaimed wood, and an old church pew provides extra seating at the bay window overlooking the golf course.
What's near Achasta?
• North Georgia College and State University-10 minutes
• Five local wineries-within 15 minutes
• North Georgia Medical Center-20 minutes
• Northside Hospital Forsyth-20 minutes
• Northern Atlanta Suburbs-40 minutes
• Hartsfield-Jackson International Airport-70 minutes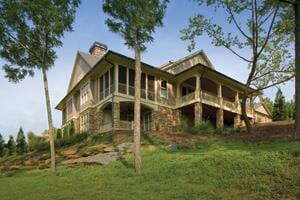 Linger Longer Homes
With a management team comprising more than 75 years of experience in homebuilding and development, Linger Longer Homes offers excellence from start to finish.
At the heart of our philosophy is a focus on design, functionality and aesthetics. With stunning exteriors, carefully designed floorplans and innovative additions, Linger Longer Homes cater to the 21st century family's desires and build homes to stand the test of time.
Every home is constructed with brand names that you trust, detailed craftsmanship and thoughtful consideration to value, quality and comfort. Linger Longer Homes utilizes the latest in best practices for construction and design and is on the cutting edge of green home building techniques. Building homes while keeping the environment in mind, they provide sustainable living at its best.
2010 Ideal Living Home Sponsors
Barrett Design • ECO by Cosentino • Eco Emporium • Closets and More • Dawn Walker Art • Icynene • Idea Associates, Inc • Jeld-Wen • Kitchen Aid • Kohler • Kwikset • Lennox • Linger Longer Homes • Masterscapes, Inc. • Mythic Paint • Orchid Ceramics • Progressive Lighting • Schrock Cabinetry • Southern Heritage Woodworks • SUSTAINhouse • Trex • UFP Mid-Atlantic, LLC • United Community Bank
All information is believed to be accurate but is not warranted. This material shall not constitute a valid offer in any state where prior registration is required.
These materials and the features and amenities described and depicted herein are based upon current development plans, which are subject to change without notice. Actual development may not be as currently proposed. No guarantee is made that the features, amenities, and facilities depicted by artist's renderings or otherwise described herein will be built, or, if built, will be the same type, size or nature as depicted or described.