Pennsylvania Retirement Communities & Resort Communities
Retire Pennsylvania
Pennsylvania is a small state - 170 miles north to south, and 283 miles  east to west. While it's undoubtedly geographically diverse, the landscape is dominated by mountains and rolling hills. Yes, the Appalachian Mountains are likely the most well-known of Pennsylvania mountain chains. But, the Pocono and Allegheny Mountains are dominant sub-ranges.
Pennsylvania does, indeed, have 57 miles of coastline along Lake Erie's shores. And, 83,000+ miles of rivers snake through the Keystone State. Farming is essential...and, good here. And, warm, humid summers and cold winters promote the healthy growth of staple crops.
Pennsylvania has thick green springs and some of the most colorful and coveted views of autumn foliage in the country. A drive through Dutch country is like visiting another time period - the backroads are so thick with nature and wildlife that development of any sort feels hundreds of miles away.
A Bit of History
Historical markers and sites loom around every bend in Dutch Country. Turn of the century Craftsman-style bungalows are so hidden by forest growth that some have molded into the landscape. And, others have been pristinely preserved and don plaques to provide a quick history lesson for passersby.
Pennsylvania towns were embedded in the formation of our country and our independence. From the Revolutionary War era in Philadelphia and Valley Forge to the Civil War Battle of Gettysburg. There are many chilling reminders of the course of our nation's fate throughout the state.
Taxes & Cost of Living
This is top-of-mind for many retirees...for good reason. And, here's the really good news. Pennsylvania does not tax income from Social Security or from 401(k) or IRA retirement accounts. All pension income for seniors 60+ is also exempt. Property tax rates are indeed higher than average, but the total sales tax rate places PA among 20 states with the lowest in the country.
And, finally the cost of living in PA also gets a shining star. It's lower than the national average.
Why Retire in Pennsylvania?
While there are many reasons to move to Pennsylvania, here's a big one. You want to be close to the city and near family, but not too close. Well first, PA is convenient to a lot of popular cities. NYC, Washington DC, and other popular cities along the northeast coast are nearby. And, if you've lived and raised a family in the northeast, then friends, family, and possibly grandchildren are likely close as well. Proximity to what you want and need is everything in retirement, so this is definitely something to consider.
Also, the climate is pretty heavenly. The landscape is jaw-droppingly gorgeous. And, the people are fabulous. So, what are you waiting for?
Don't be shy! Request information from communities below today.
Compare Pennsylvania Retirement Communities:
Lake Naomi Club
Pocono Pines, Pennsylvania
Lake Naomi Club is located in the pristine Pocono Mountains of Northeastern Pennsylvania. Our Members have continued to bring their families to Lake Naomi-Timber Trails since 1963. The charm of the individual homes and properties in Lake Naomi and Timber Trails, the country club quality of the sporting and social facilities, the planned activities for all interests and ages and the great variety of ways to live the seasons' pleasures with friends and family are some of the reasons that Lake Naomi-Timber Trails is a Five Star Platinum Club Community.
Read More...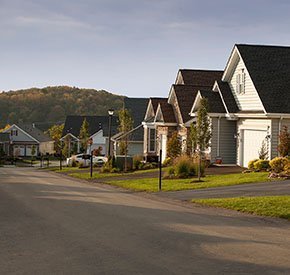 Traditions of America at Green Pond
Bethlehem, Pennslyvania
Traditions of America - developer of the most sought-after retirement communities in the Lehigh Valley and across Pennsylvania - is excited to bring the 55+ Live Better lifestyle to Bethlehem with its latest community!
Read More...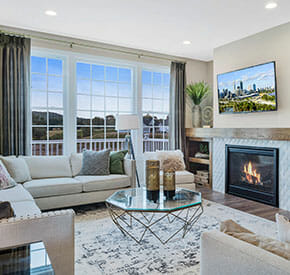 Traditions of America at Southpointe
Canonsburg, Pennslyvania
We're coming to YOU! Traditions of America is excited to bring the 55+ Live Better lifestyle to the South Hills of Pittsburgh. With downtown Pittsburgh only a short drive, Traditions of America at Southpointe is the prefect location near all that you will need!
Read More...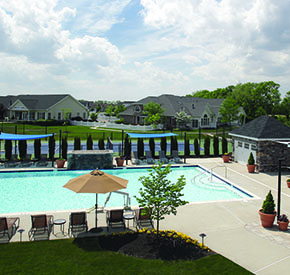 Traditions of America at Silver Spring
Mechanicsburg, Pennsylvania
Traditions of America at Silver Spring is a 55 and over community located in the #2 "least stressful place to live" in the United States -Greater Harrisburg, PA. Ask any of our homeowners and they'll say a move to this active senior living community is a stress-free decision!
Read More...
Amblebrook Gettysburg
Gettysburg,
Amblebrook is so much more than a community. It is where small town America meets modern culture. It is a way of life that incorporates the full spectrum of your well-being, including health and fitness, lifelong learning, social engagement, arts & culture, family connections, and the goodness of nature.
Read More...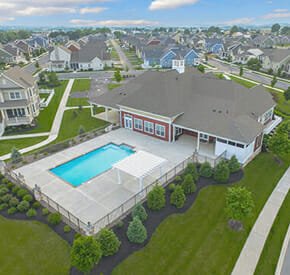 Home Towne Square
Ephrata, Pennsylvania
The 55+ community of Home Towne Square, by Landmark Homes, is situated near Ephrata, PA, about an hour from Philadelphia, in the charming Pennsylvania Dutch Country. Landmark Homes designed Home Towne Square to reflect the culture and tradition of the Dutch Country, including an Arts & Crafts homestyle.
Read More...
Traditions of America at West Brandywine
Dowingtown, Pennsylvania
Traditions of America - developers of the most sought-after retirement communities in the Lehigh Valley and Lancaster area - is excited to bring the 55 Plus Live Better lifestyle to northern Chester County, one of the most sought-after locations in the suburbs of Philadelphia.
Read More...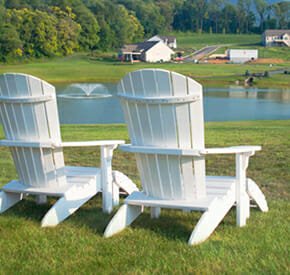 Stonecroft Village
Womelsdorf, Pennsylvania
The 55+ community of Stonecroft Village, set in the beautiful Tulpehocken Creek Valley of Berks County, PA, was designed with relaxation, natural beauty, and recreation in mind, to be enjoyed alongside neighbors 55 and over at a similar stage in life.
Read More...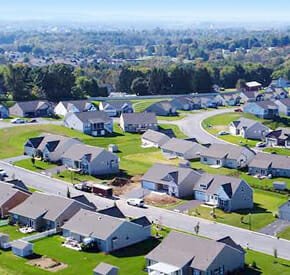 Crossings at Sweetbriar
Lebanon, Pennsylvania
Located in tranquil Lebanon, PA, with a vast expanse of scenic farmland to the north, and recreation, shopping, dining, and medical centers just to the south, Sweetbriar offers a relaxing lifestyle for adults 55 and over in a low cost of living area, yet with all the simple conveniences of life nearby.
Read More...
Traditions of America at East Petersburg
East Petersburg, Pennslyvania
This active lifestyle community is situated in the best of both worlds: set amidst the picturesque, quintessential landscape of Lancaster County, East Petersburg residents will be surrounded by scenic countryside, meandering roads, and the sparkling Little Conestoga Creek, yet minutes from fabulous shopping, dining, world-class golf, and superior health care.
Read More...
Willow Valley Communities
Lancaster, Pennsylvania
Willow Valley Communities is recognized as a nationwide leader in innovative senior living. At the forefront are award-winning, stunning homes and apartments in over 90 different floor plans. The meticulously landscaped 210 acre campus is three miles outside of downtown Lancaster, PA. Willow Valley Communities offers inspiring programming and an impressive array of amenities, clubs, restaurants, and events.
Read More...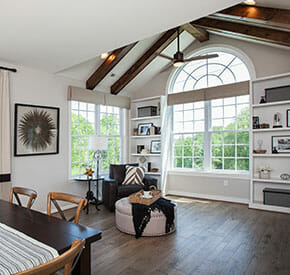 Traditions of America at Richland
Gibsonia, Pennslyvania
Traditions of America - developer of the most sought-after retirement communities in the Pittsburgh area and across Pennsylvania - is excited to bring the 55+ Live Better lifestyle to Richland Township. Explore this active lifestyle community!
Read More...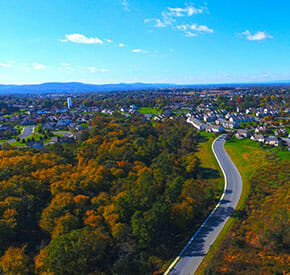 Cortland Park
Mechanicsburg, Pennsylvania
Cortland Park, a 55+ community in Mechanicsburg's prestigious Winding Hills, is Landmark Homes' newest upcoming addition to the neighborhood. Set among 380 acres of scenic Cumberland Valley countryside, Winding Hills offers an experience unlike any other: a resort-like community comprised of distinct homes, surrounded by nature, but minutes from the area's best in dining, shopping and recreation.
Read More...
Your Information Request for your selected properties