Create Your Ideal Life on the West Coast: California Gated Communities
You might know California by its iconic landmarks and regions, like the Hollywood sign, the San Francisco Bay bridge, Redwood forests and Napa Valley Wine Country. But outside of the spotlight, California has more to explore. Its diverse geography gives you a little taste of everything, from its long shoreline along the Pacific coast to the Sierra Nevada mountains in the east, to the Mojave Desert in the southeast and so much more. It's also full of cities bustling with excitement and ready to showcase their history, intriguing cuisine, culture, entertainment and shopping. So, why should you choose a community in California?...
The Landscape
The fact that California is home to the highest mountain peak—Mt. Whitney—and the lowest point—Death Valley—in the contiguous US should be evidence enough of the diversity of the landscape and all it offers. If you're looking to maintain an active lifestyle, outdoor adventure does not disappoint in the Golden State. From hiking to water sports, you're covered. Just a trip to the Yosemite National Park will give you access to biking, fishing and golfing, and ice skating and cross-country skiing in the winter. Out on the coast, beaches are plentiful and ready to share sun-filled days full of relaxing on the sand, beachcombing along the shore or taking to the water to surf.
The Wine
California is recognized as a wine haven, bottling world-class wines from grapes grown on vines in gorgeous countryside. The famed Napa and Sonoma Valleys boast a multitude of wineries that offer up a taste of California in a wine glass. If you're feeling up to it, take a journey along the Napa Valley wine route—the Silverado Trail—and stop into wineries to try everything from big-bodied reds to more delicate sparkling wines and all the vintages and varietals in between.
The Climate
Depending on where you are in the state will determine the weather, but you can expect most of California to have warm, dry summers, and mild, wet winters. As you move inland, summers change to hot and dry, and winters are cool and wet. It's at higher altitudes that you'll find a climate similar to the coveted four-season cycle. But no matter where you are in the state and no matter the time of year, it's safe to say that, in general, the climate is pleasant year-round.
Living in CA
High quality of life and top health care options are just two reasons that California should make your list for places to retire or relocate. It's also important to note that Social Security benefits are not taxed. Bundle that with beautiful nature, vibrant cities and its rich history, and you've got a destination that's hard to beat.
When you're in a state this big, it only makes sense to make it a permanent (or at least more permanent) place to live. Explore gated and resort communities, 55 plus communities and others that give you access to everything you already know about California—and everything that you have yet to discover. If you find one that sounds like your ideal place to call home, set up a trip to come visit it person and get a taste of what it would be like to spend your golden years in the Golden State.
Don't be shy! Request information for as many California vacation and gated communities as you'd like. There is no limit.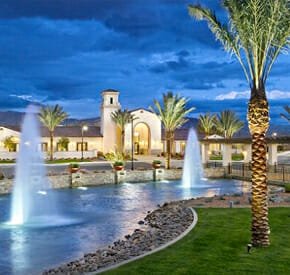 Your Information Request for your selected properties