Alabama Retirement Communities
The southern state of Alabama is rich with many things, sun and warm weather being a big draw. While this may be the initial draw to Alabama retirement communities and active adult communities, there's a pretty extensive list of good reasons to settle in the Heart of Dixie. For starters, arts and culture, a long trail of history, sugary sand beaches, mountains, and football are a few standouts. Did we mention football? The NCAA Crimson Tide and the Auburn Tigers are front and center among among Alabama's stadium of perks. Then, there's the U.S. Space and Rocket Center, which is kind of a huge destination for tourists from around the world.
...
No Winter and Mountains to Sea
If you decide to visit Alabama in January, be prepared. It will be warm. Potentially very warm. There are the occasional two weeks in the so-called winter months that temps drop below 50, but it's rarer than normal. So, no matter what puts you in active adult status (aside from snow skiing) you'll likely be able to enjoy it year round. Whether it's 365 days of golf you're looking for, tennis, hiking, or hitting the beach, all activities are open year round. Additionally, Alabama is known for its biodiversity. You can enjoy the mountains in the morning and walk on the beach before nightfall.
Like You or Not, People are Nice
This is the South. And, while urban Alabamans can be, as in any city, face-paced and aloof, not many locals know how to be anything but friendly. Whether you mesh or not, people are going to be nice to you. And, it's hard to argue that this is anything but good.
Lower Cost of Living, Retirement Tax-Friendly and Good Food
No one wants to pay more than they have to, especially in retirement. While Alabama has the southern charm, natural beauty, biodiversity, and rich culture that retirees seek, it lacks a comparatively high price tag on day-to-day life. As for taxes, retirees are in heaven here. No matter how much money one makes in retirement benefits, none of it goes to the Alabama government. And, that's what we call tax-friendly. Alabama is the culinary capital of traditional southern cuisine. Not only is it famous for its barbecue, banana pudding, and country fried steak, but it's also the #1 fried catfish destination in the country. And, as of the 21st century, it has become a fine dining destination with dozens of James Beard nominees scattered across the state.
Sweet Tea and Smaller Crowds
Sweet please!! Even unsweetened tea drinkers are persuaded to the sweet tea side in Alabama. You'll want to listen to and drink from the glasses of the experts down here. And, where there's sweet tea, there's a different pace. So, settle in and enjoy the moment in Alabama. Even the beaches here are a happily kept secret from the summer crowds.
Discover Alabama
No good secret is kept forever. So, get to Alabama soon.
Explore Alabama Retirement Communities: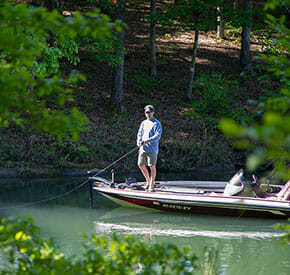 Shoreside at Sipsey
Double Springs, Alabama
NEW Lakefront Homesite on Lewis-Smith lake! Bring your RV! Looking to get out of the city and away from it all, but don't want to drive hours to do it? This beautifully wooded WATERFRONT homesite boasts over 270 feet of dockable waterfrontage on pristine Lewis Smith Lake and adjacent to Bankhead National Forest.
Read More...
Your Information Request for your selected properties