The William Scott House:
Built to Pamper Its Owner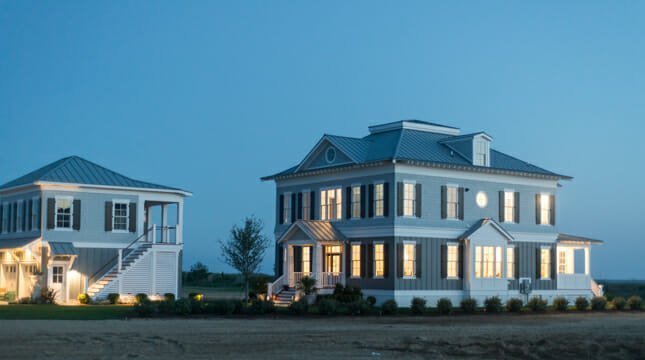 With its Shingle-style architecture, round nautical windows, and private covered terrace overlooking the Chesapeake Bay, the three-story William Scott House embodies both refinement and whimsy. Named for an investor and Pennsylvania Congressman who was largely responsible for building the rail line that ran down the Delmarva Peninsula to Cape Charles, this home does a fantastic job of bringing the outside in. Its incomparable water views are especially breathtaking from the terrace attached to the second-floor master bedroom, but all 3,623 square feet offer a sense of bright, airy openness.
For Jason Lambertson, founder of Gateway Builders, the views are an unmistakable benefit of calling the William Scott House home. "Whether you look out the kitchen, breakfast room, living room, or master bath, it's all about the water. As soon as you open the door, you feel drawn to the rear of the home and the great views of the Chesapeake Bay," he says. "I also appreciate the ten-foot ceilings, custom wall treatments, and luxury perks like the sauna and steam shower in the master bath. Both the interior and exterior of this home are designed to pamper its owner."
As grand as the William Scott House may be, its shakes and board-and-batten siding hearken back to the classic coastal architecture of the late 1800s, creating a sense of timelessness that is reinforced by the exposed rafter tails and the lattice columns featured on the front portico. A rear porch runs the length of the main level of the house, including the breakfast room with all glass and sweeping water views.
The William Scott House's spectacular view of the Chesapeake is a large part of what drew Mr. Lambertson and Gateway Builders to the project. "We were looking for the opportunity to build the perfect beach house for Bay Creek," he says. "A home with indoor and outdoor living spaces that capture the summer breezes and the perfect sunsets."
Builder Quote:
Jason Lambertson of Gateway Builders
"We created a stunning entry that makes a statement with black and white marble in a diamond pattern, black trim, and black pocket doors. The entry will make you remember this home."